Hachinohe
The Port Town in Aomori
Add to my favorite places
Hachinohe is a city hugging Tanesashi coast in Aomori prefecture, in the north of Japan's main island Honshu. Facing the Pacific Ocean, its port is renowned for one of the biggest fish markets in the country. At night, visitors discover a friendly downtown where they can enjoy drinks and delicious skewers in the Yokocho district.
Large city located on the eastern coast of the Tohoku area, Hachinohe's main industry is fishery, and its fishing port is working at full capacity. Due to its situation in the north of the Sanriku Coast, it was severely hit by March 2011 tsunami. The city has recovered since, thanks to its inhabitants' involvement with their territory.
Traces of human occupation in the area date back to prehistoric times. Remains of the Jomon period (first millennium BCE) have been excavated and are now displayed in the Korekawa Jomon Kan archeological museum. The area was later successively ruled by the Fujiwara clan (Heian period, 794 - 1185) and the Nambu clan (Kamakura period, 1185 - 1333) and Hachinohe was under the rule of the Morioka domain during the Edo period (1603 - 1868). During the Meiji Era (1868 - 1912), domains were abolished, and Hachinohe was attached to Aomori prefecture. Only a few traces remain of this rich feudal period, of which the historical site of Nejo Castle 🏯 is worth mentioning.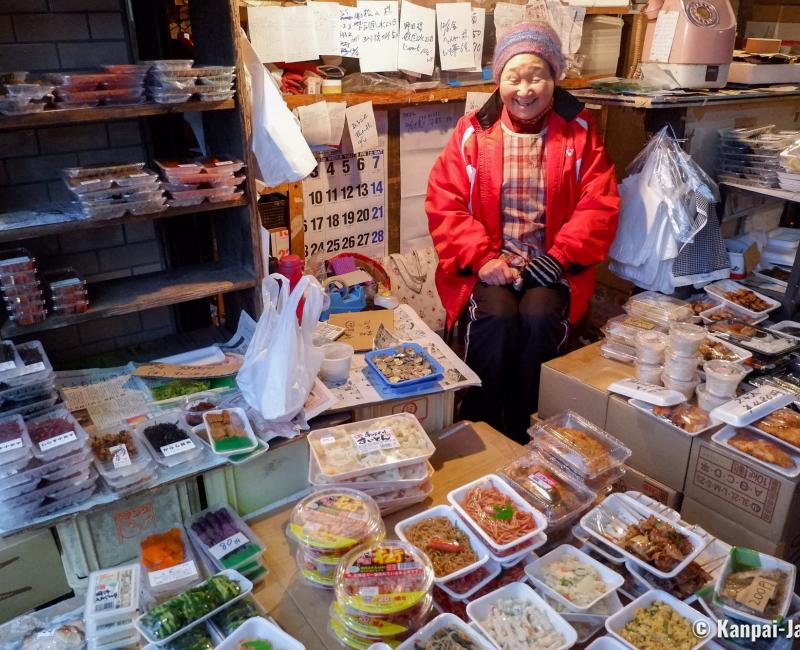 Early morning at the fish market
In Hachinohe's port area, accessible by local train from Mutsu-Minato station, fish and seafood markets take place every day in two different sites. It is therefore possible to find and taste fresh fish every morning, aside wintertime (from January to mid-March).
Mutsu-Minato Ekimae Asaichi market, located just opposite the tiny station, is open every day from Monday to Saturday and offers a very pleasant atmosphere. Sheltered under a concrete building opened on the outside, several old Japanese men and ladies work at fresh fish stalls. Tourists will enjoy the hardy and friendly atmosphere of the place. Everybody offers a smile and a cheerful "ohayo gozaimasu!" morning greeting. Note that Saturday is the busiest day.
Fish, shellfish, algae, and seafood are sold here at an affordable price. The ice containers, unloaded from boats during the night, are guarantee of the fish' s perfect freshness. We recommend taking breakfast at the market's restaurant-cafeteria that offers a Japanese traditional meal with rice, miso soup and of course delicious raw or cooked fish.
Open on Sunday, from mid-March to late December, the bustling Tatehana Ganpeki Asaichi market welcomes a lot more people. Spreading on a large 800 meters long wharf, more than 300 vendors open their stands at the back of their vans in one of Japan's biggest fish markets. One can naturally find fresh or cooked sea products, as well as other local specialties such as flowers or clothes.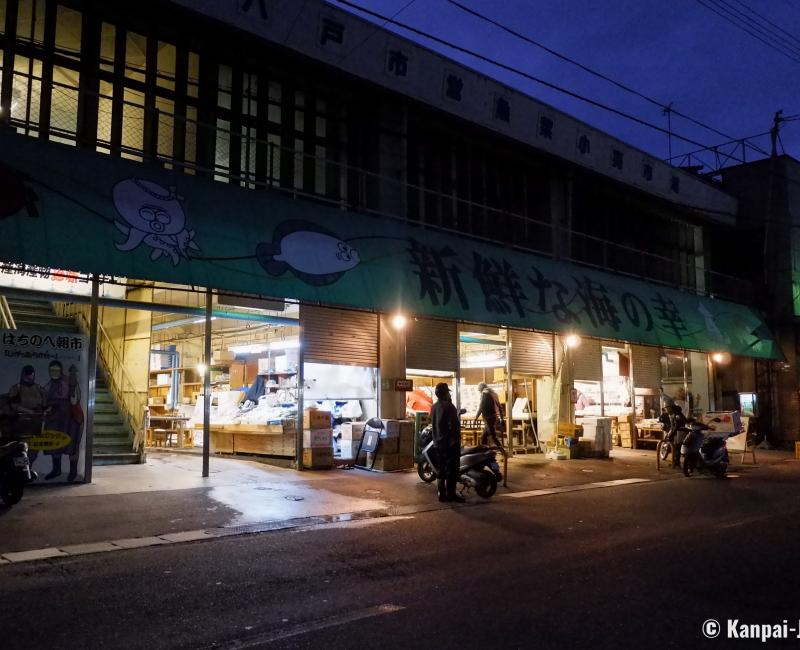 Bar hopping in the Yokocho alleys
One of Japanese cities characteristics are the Yokocho, consisting of groups of streets lined with small typical bars and eateries, a must-go for a convivial and laid-back drink with friends. Hachinohe's downtown is home to eight such alleys, dedicated to after-work drinking:
Miroku-Yokocho,
Harmonika-Yokocho,
Tanukikoji,
Nagayokocho-Rensagai,
Goban-gai,
Rocho-Rensagai,
Hachinohe-Showadori Street,
Hanakoji.
They are mainly frequented by the locals, but occasional travelers can go and put to test their Japanese language skills. Feel free to ask your way at the surroundings' stores, as these streets can be hard to locate.
Situated close to each other, the Yokocho alleys are fun to walk and we recommend trying several bars in the same evening. Each eatery has its own specialty dish, and most of the time, the choice includes:
Tempura fried vegetables,
Seafood / raw or cooked fish,
A bowl of ramen 

🍜

noodles,
Oden Japanese hotpot,
Kushikatsu fried meat skewers; or,
A local specialty.
We especially enjoyed two eateries: Niku & Peace specialized in local meat, and Hechima with delicious kushiyaki grilled meat skewers. One of the Yokocho's institutions, the Bar Prince, is run by a lovely couple and displays an unusual decoration with its ceiling covered in its customers' business cards.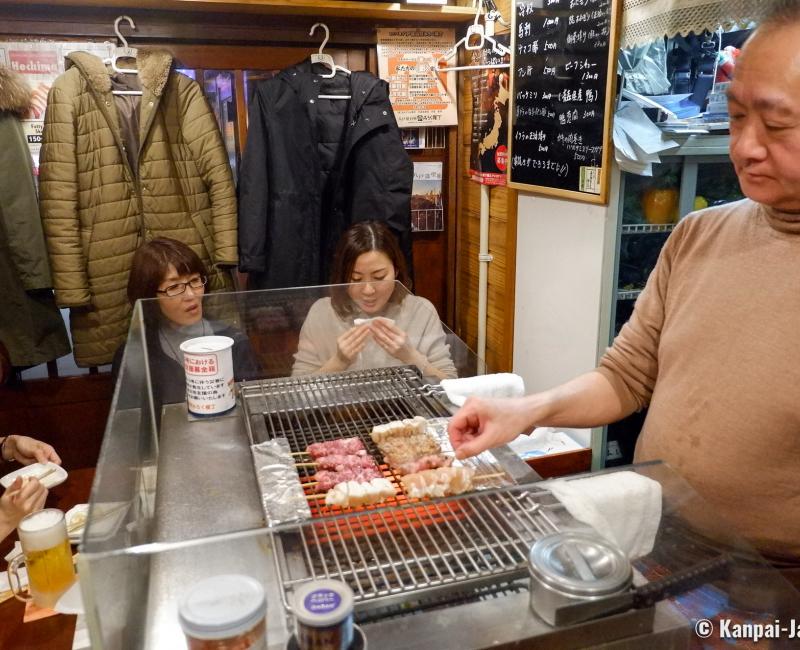 A convenient stopover
Hachinohe is a large human-scale provincial city, inhabited by friendly residents. Travelers who visit northern Tohoku might find convenient to stay in the city, especially lively in the morning and the evening. Several hotels are in the downtown, in the vicinity of the Yokocho alleys and the port. We can recommend Hachinohe's Dormy Inn for its simplicity. This western style hotel 🏨's small rooms are clean and well fitted with enough comfort for a one or two nights stay.
Lastly, the JR and Aoimori Tetsudo (Shinkansen 🚅 and local lines) railway network allows to move around easily in the city and its surroundings. In spring 🌸 and summer, Tanesashi Coast offers refreshing walks or bicycle rides.
This article was written after a tour sponsored and organized by
Akita
and Aomori prefectures to promote the #feeltohoku destination. Kanpai has been invited and guided but keeps a total freedom of editorial content.