Yakitori
The Delightful Japanese Skewers
⏱ 4 minutes
In Japan, yakitori refers to grilled meat on a skewer. It is often served as an appetizer in the evening and shared between several diners for a convivial and gourmet time. The skewered bites can be chicken, beef or pork meat but also vegetables, and are cooked and enjoyed with one of the 2 kinds of traditional seasonings.
In Japanese, the term yakitori was created using the following words:
焼き yaki meaning "broiled" or "grilled"; and,
鳥 tori meaning "bird".
Yakitori indeed originally referred to the grilled chicken meat skewer, usually paired with a fresh Japanese beer 🍺, to enjoy after work as a light evening meal.
Recent introduction of meat in the Japanese diet
The every day widespread consumption of meat in Japan is quite recent, especially as meat consumption has been banned for a long time due to the influence of Buddhism. During the Edo period (1603 – 1868), the smell of cooking meat was even considered appalling.
It was only from the Meiji Era (1868 – 1912) and the opening of the archipelago to the West that local poultry and beef farms developed and allowed the population to adopt a diet with an increased intake of meat.
The yatai street-food stalls were the first to sell yakitori. As chicken breast was still quite expensive, other parts of the bird, considered less noble and therefore less expensive, were also prepared in skewers, for example cartilage and innards. The skewers were cooked on a grill similar to a barbecue, using a specific charcoal that helped hiding the smell of grilled meat. Yakitori became a widespread and popular dish.
Yakitori's popularity soared again in post-war Japan, thanks to the introduction of intensive industrial farming from the United States. Other eateries, such as the izakaya pubs, followed yatai's example and added to their menu the delicious grilled meat skewers at an affordable price.
Yakitori is now integral part of the Japanese popular gastronomy and it would be a shame not to try it, except, naturally when on a vegetarian or vegan diet.
A large choice of meat types and vegetables
Yakitori comes in a large range of meat bites to grill. As a matter of fact, the Japanese do enjoy smooth textures but also more crunchy ones and strong flavors, that can sometimes surprise a Western visitor. Below is an overview of the most popular skewers in the archipelago:
Chicken Yakitori
もも momo: chicken thigh;
むね mune: breast;
ささみ sasami: part of the breast with lower fat and more proteins;
四つ身 or よつみ yotsumi: chicken breast;
つくね tsukune: chicken meat ball;
ねぎ間 or ねぐま negima: chicken and green onion;
手羽先 tebasaki: chicken wing;
せせり seseri: chicken neck meat;
軟骨 or なんこつ nankotsu: chicken cartilage;
とりかわ torikawa: chicken skin;
ぼんじり bonjiri: chicken rump;
砂肝 sunagimo: gizzard;
レバー reba: liver;
ハート or ハツ hâto or hatsu: heart.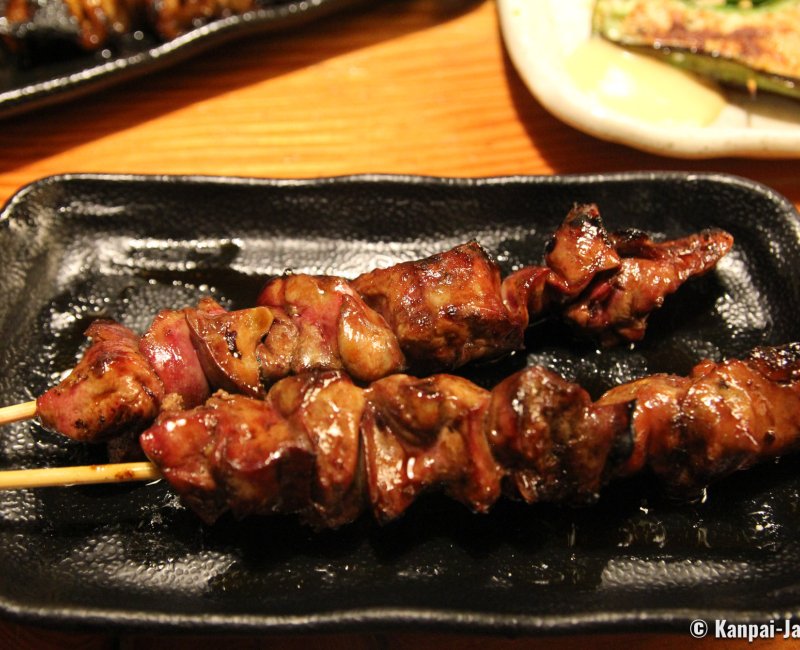 Beef Yakitori
牛串 gyukushi: beef meat skewer;
ハラミ harami: skirt steak.
Pork and vegetable Yakitori
豚ばら butabara: pork back ribs without the bones;
カシラ kashira: pork cheeks;
アスパラベーコン asupara bekon: asparagus and bacon;
エノキの肉巻き enoki no nikumaki: mushrooms and bacon;
ピーマン piman: pepper, often filled with ground chicken meat.
As for seasoning, 2 types are available, to chose upon ordering:
タレ tare, a thick sauce in the teriyaki style, with a slight sweet and savory taste, made with shoyu soy sauce, mirin sake and sugar; or,
塩 shio, with only a little pinch of salt on the meat.
Other condiments can be used for extra flavor, such as minced ginger, white or black sesame seeds, yuzu flavored mustard, shiso leaves or a bit of umeboshi salted plum puree.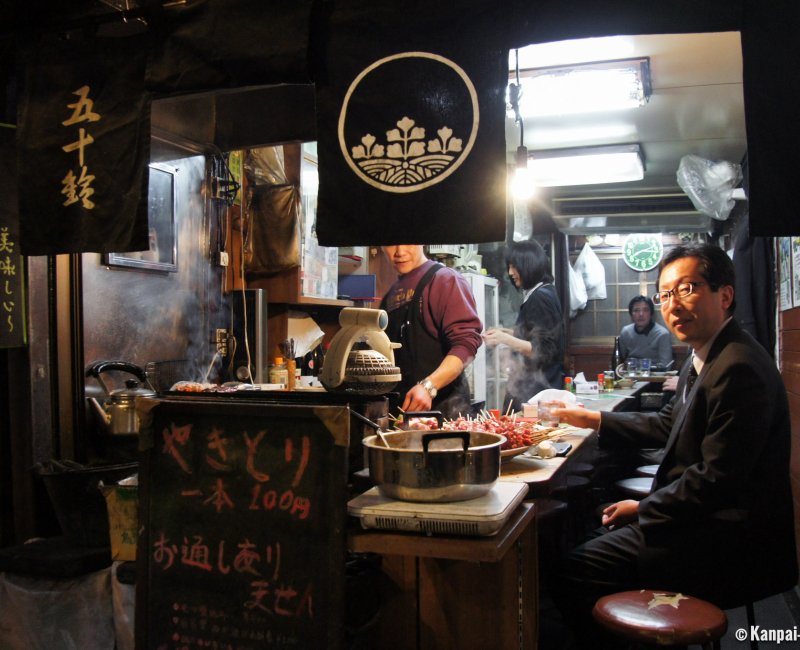 Where to eat good skewers in Japan?
Many chicken restaurants or yakitori specialized eateries can be found across the archipelago and are usually good. The izakaya bars, usually open from late afternoon, are gathered around train 🚅 stations or in yokocho night district, and are also typical places to have a drink sided with brochettes. Note that some izakaya specialize in the cooking of variety meat only. Some restaurant chains also offer a good money for value; for example the following yakitori chains in Tokyo:
Bird-Land (バードランド) in Asagaya and in Ginza have excellent menus to eat for an average of ¥6,000 (~US$40.60) and ¥8,000 (~US$54.13);
Shinkei (神鶏) operates several good joints in the capital, with an average budget between ¥3,000 (~US$20.30) and ¥4,000 (~US$27.07), and,
The famous Torikizoku (鳥貴族) whose restaurants are crowded with students and young workers on a smaller budget: ¥2,000 (~US$13.53) and ¥3,000 (~US$20.30).
Overall, we recommend avoiding konbini and supermarkets, that sell ready-to-eat brochettes but often fattier and less tasty. However, the basement food aisles of department stores such as Isetan, Lumine ou Takashiyama have good Japanese delicatessen and quality meat counters.
The yakitori brochettes are often served in pair, and are a typical Japanese food to share with friends or family. Summer matsuri festivals are the ideal times to enjoy skewered meat from specialized yatai food stalls while partying in the streets with the locals. Lastly, Osaka, and specifically Shinsekai district, has a local variation which is as popular and as delicious: the kushikatsu breaded skewer.