Koyo Seiga
The Ibushi Tiles Mill in Himeji
Add to my favorite places
Koyo Seiga is a Japanese factory of traditional Ibushi tiles located in Funatsu district, in the north-east of Himeji in the Kansai area. The silver color ceramic "Ibushikawara" roofs are testimony of Japan's traditional heritage from the era of feudal lords and castles.
Hyogo prefecture is home to the famous Himeji Castle, one of the few fortified monuments of Japan that survived fires and wars. Thanks to the great renovation works undertaken between April 2010 and March 2015, visitors can enjoy again the pristine white of its walls and the silver sheen of the Ibushi tiles shining bright under the sun.
Nowadays, of Himeji's forty Ibushikawara mills only one remains. It is a small company of ten employees founded in the 1920s called Koyo 🍁 Seiga, that undertook the task of manufacturing the tiles for the castle's restoration. Of a total of 80,000 tiles, 75,000 were replaced.
Using natural materials, and due to a making process taking one month and a half, the making of the Ibushi tiles cannot compete with the industrial production. In the past, houses were built to sustain time and weather, for transmission from father to sons. Nowadays, creating tiles that can last more than a century is not necessary anymore; the industrial tiles made to last about twenty years seem enough for most of the Japanese. Furthermore, the demand for tiles is going down.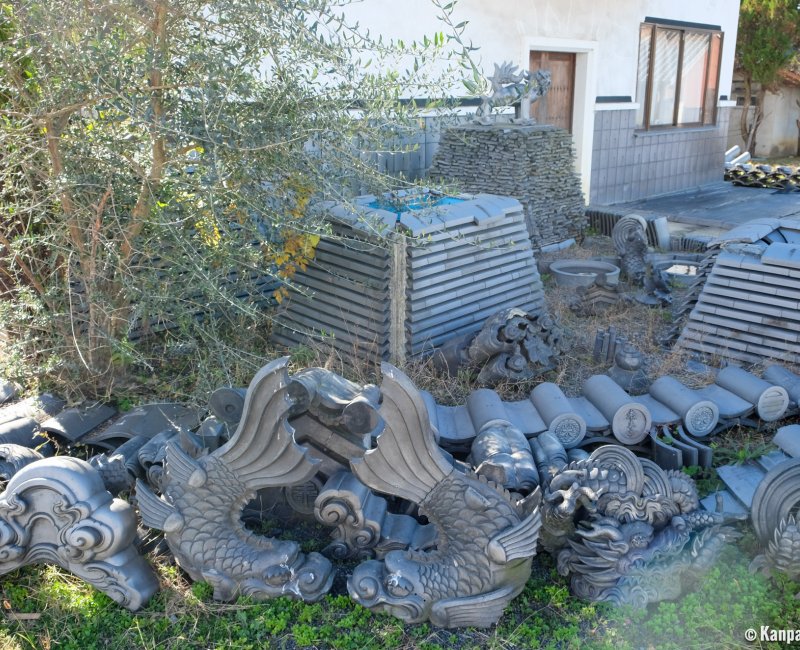 Artisanal manufacturing
Koyo Seiga manufacture all their tiles artisanally using carefully selected clay, which is mixed with water to form a paste ready for molding. Once the tile is formed, it must rest for two weeks before firing. Contrary to most potters who fire 🔥 their tiles during one to two days, here the firing process takes four days, with a temperature in the kiln reaching 1,165°C (2,129°F). The manufacturing ends by the cooling, which is also natural.
The tile's natural silver-grey color, supposed to last more than fifty years, is obtained by oxidating its surface through the firing and cooling process. Traditional roofs of Japanese castles 🏯 and temples are therefore not painted.
The tiles' size is reduced by 4 % during the firing process. When renovating cultural properties for example, the tile maker must therefore precisely anticipate the molding, as the slightest mistake, even by five millimeters, would imply to start all over again!
The visit of Koyo Seiga can be worth the detour to discover its artisanal craftsmanship when staying longer than a day in Himeji. However, to benefit from English explanations it is necessary to book in advance.
Moreover, it is possible to have a free tile made with your hand imprint. It will be displayed in the street in front of Koyo Seiga, which is an original way of leaving a trace in the history of Japan.
This article was written after a tour sponsored and organized by Hyogo Prefecture Tourism Association. Kanpai has been invited and guided but keeps a total freedom of editorial content.