Awaji Hanasajiki
Awaji's Wonderful Flower Fields
Add to my favorite places
Awaji Hanasajiki is a large floral park located in the north of Awaji-shima Island, in Hyogo prefecture in Japan. At an altitude of about 250 meters above sea level, the seasonal flower fields underline the unobstructed panorama on the sea and the straits closing Osaka Bay. It offers wide spaces and various facilities for a picnic on site.
Awaji Hanasajiki Flower Park was inaugurated in April 1998 in Hyogo prefecture. It extends on a natural plateau on a 15 hectares superficies, at an altitude between about 235 to 298 meters with gentle slopes going down towards the seaside. The path winds through large flower fields and flower beds changing colors according to the seasons. It is an ideal place for an outdoor picnic with family or friends where everyone can have some privacy.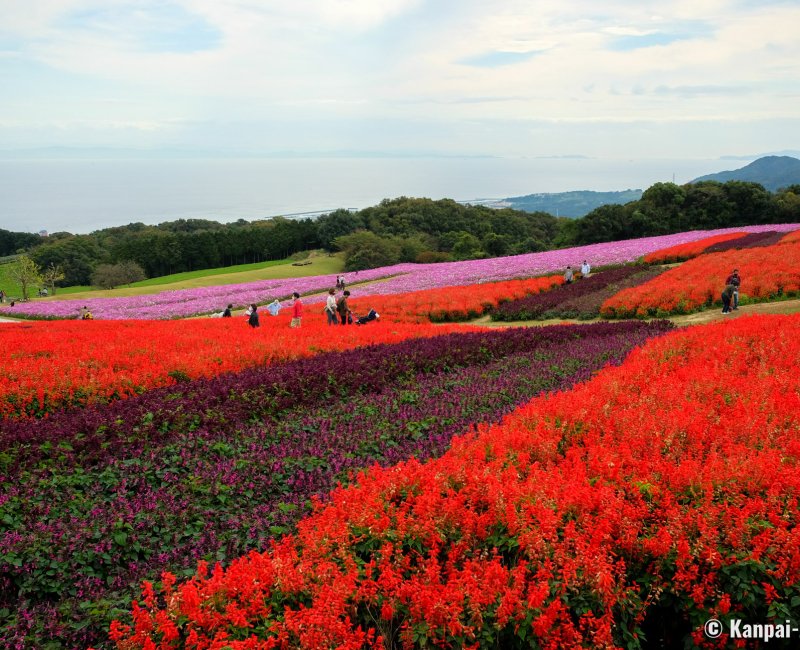 Unobstructed panorama on the northern end of Awaji-shima
Even from the heart of the northern lands of Awaji Island, the sea is always visible and the blue of the water blends with the sky in the background. On a clear weather day, the unobstructed panorama allows a view up to several kilometers away on:
The Akashi Strait and the large Kaikyo-Ohashi bridge;
The Osaka Bay and the small Ura Port below;
The Kitan Strait and Tomogashima rocky islands; and,
The Seto Inland Sea.
The main building hosts a visitors' centers, a cafe-restaurant, and a local souvenir shop, with a large wooden terrace overhanging the park towards the north of the island. When strolling among the flowers, you will find other small wooden platforms arranged to better enjoy of the landscape.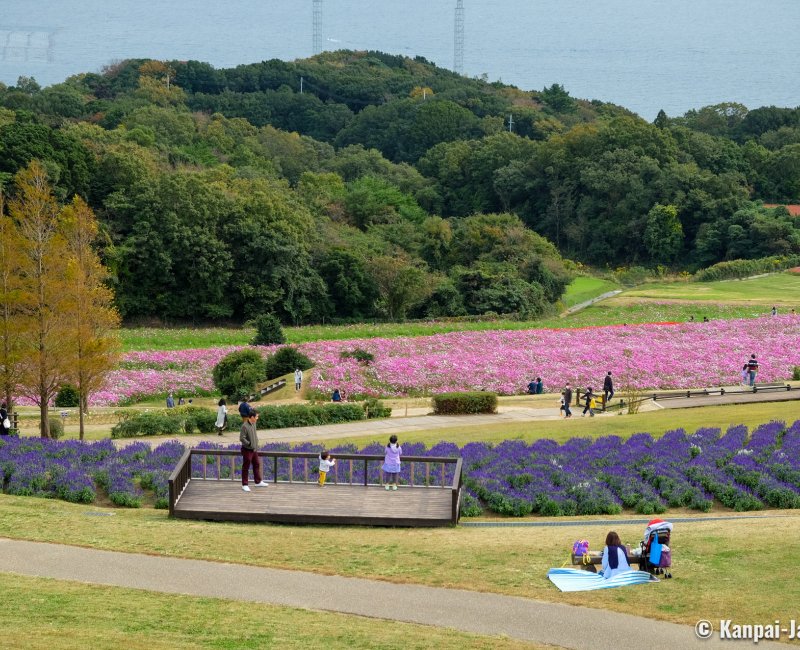 Yearly flower calendar
The plants at Awaji Hanasajiki are perennial and bloom each year at the same period to amaze the visitors. It is therefore possible to plan one to several visits of the park to admire one's favorite flowers or colors, according to the following flower calendar:
A large variety of plants are offered to the view. Thus, in October, there are wonderful pink, white and even yellow cosmos, the latter color being quite rare in Japan. Awaji Hanasajiki celebrates a nature that is both ephemeral and everlasting, two concepts particularly reflected in Japanese people's daily lives, starting by the Shinto rituals.
It is possible to continue exploring the surroundings at the Awaji Country Garden, a farm located within 5 minutes' walk from the park. The site offers the discovery of the island's agriculture, and to taste local specialties, such as the Awaji beef and onion hamburger at the eatery Saf Saf (サフサフ).