Yokoyama Observatory
The Lookout on the Islands of Ago Bay 
Add to my favorite places
Yokoyama Observatory is a view point on the side of Mount Yoko, at 203 meters of altitude, affiliated to Shima City, in the south of the peninsula in Mie prefecture. On clear weather days, it shows an unobstructed panorama on the Ise-Shima Natural Park and the dozens of small islands of the Ago Bay. The area is also a starting point of forest hiking trails.
More than a simple view point on the side of the road, Yokoyama Observatory is a viewing platform arranged and equipped to welcome sightseers traveling in the area. Located at an only 3 three kilometers distance from Shima-Yokoyama station (Kintetsu Line), Mount Yoko is easily accessible:
In about 45 minutes' walk for hikers; or,
In a few minutes by car 

🚙

, and the parking is free.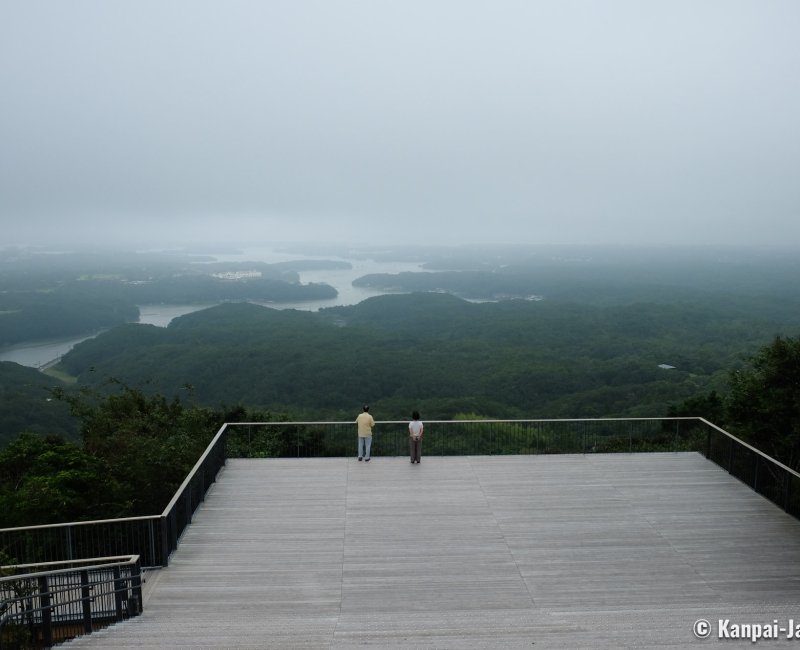 Panoramic observatory from Mount Yoko
On site, a large wooden terrace (Yokoyama Tenku) is overhanging about 200 meters above the sea, giving an unobstructed panorama on the surroundings. The visit is recommended when the weather is clear to fully enjoy the view on:
The mountain ranges of the south of Shima peninsula;
The urban fabric of Shima City;
The pearl culture farms, and especially;
The Ago Bay, renowned for its ria coastline and its sixty islets.
It is a unique and always amazing view in Mie Prefecture, with the green of the Ise-Shima National Park lush vegetation blending in the blue hues of the Pacific Ocean. It is even more interesting from the second observatory, which is indoor and at the back of the platform, above the Mirador Shima cafe. This small, glassed-walls shop serves regional delicacies and refreshments such as delicious soft ice creams to enjoy in summer. Note that the shop only accepts cash as a payment.
The whole place can accommodate persons with reduced mobility and strollers thanks to a gentle slope access instead of stairs.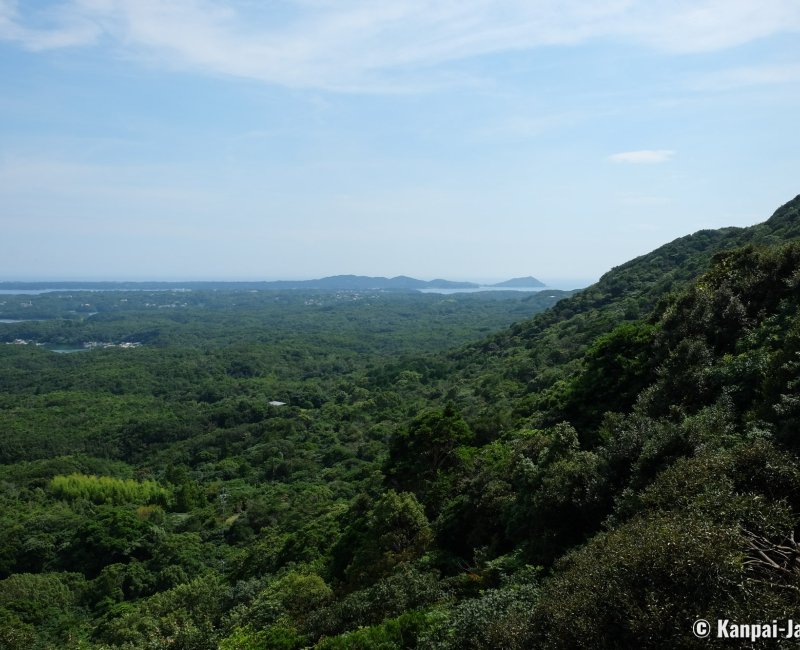 Hikes and other view points
In addition to the observatory, Mount Yoko has many other points of interest to discover thanks to several easy hiking trails. Such as:
Komorebi Terrace (木もれ日テラス) and Soyokaze Terrace (そよ風テラス) also built like balconies on nature;
Miharashi Observatory (みはらし展望台) located about 10 minute's walk from the largest platform, it is the highest viewpoint from the mountain. Accessible only on foot, it is less frequented and is quiet and small;
Sozo-no-mori Yokoyama Forest (創造の森横山) located15 minutes down the Observatory, has a Visitor Center and several gardens with seasonal blooming (cherry trees in spring, followed by irises and hydrangeas in summer).
Mount Yoko's panoramic observatories offer a marvelous introduction to discovering the south of Shima peninsula. The wonderful view on Ago Bay's islands is an invitation to come down the mountain and continue the visit along the indented coastline, renowned for pearl cultivation and traditional fishing.
This article was written after a tour sponsored and organized by Mie Prefecture Tourism Association. Kanpai has been invited and guided but keeps a total freedom of editorial content.