Hinjitsukan
The Former Luxury Inn on the Ise Shrine Pilgrimage Route
Add to my favorite places
Hinjitsukan is an authentic former inn converted into a museum, located in the Futami area at the eastern end of Ise City in Mie Prefecture, Japan. This luxury residence, designated Important Cultural Property in 2010, was a guest-house for high-ranking pilgrims, including members of the Imperial Household, on their way to Ise Jingu.
Built in the end of 1886 in Futami, facing the Ise Bay, the Hinjitsukan guest house hosted VIPs and important pilgrims going to visit the shrines of Ise in Mie prefecture. It consequently received many members of the Imperial Household over the years, especially Empress Eisho (1835 - 1897) and future Emperor Taisho (1912 - 1926) who stayed here for about 1 month in 1891. The old inn was converted into a municipal museum in the early 2000s, and appears as a testimony traditional Japanese architecture's luxury and refinement, as well as an artistic sample of the country's modernization and opening to the West at the time.
The 2 floors and twenty rooms of the residence display western influences, especially in the furniture and lighting fixtures. The floors, ceilings and walls were decorated in the purest Japanese tradition with chiseled wood, tatami floors and calligraphy paintings exhibited in each room. The building is moreover surrounded by a harmonious Japanese garden of which one can have a comprehensive view when exploring the house.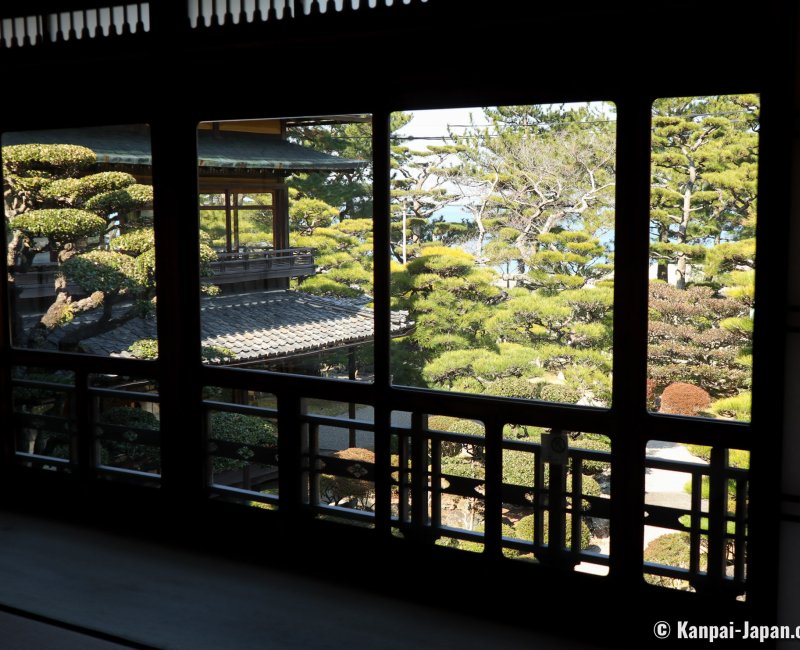 Two large and remarkable traditional rooms
2 luxurious large rooms are particularly impressive:
Ohiroma, a huge banquet room of a 120 tatamis (about 200m²) superficies, lit up with candlestick lights on chandeliers and partly ornamented by a ceiling of the Momoyama style and a full-size Noh stage. It is one of the largest tatami rooms in Japan.
Goten no ma, a luxurious Japanese suite still in original condition, commanding several views on the garden and on the Ise Bay.
The Hinjitsukan is donning the colors of the various nationwide celebrations all year round. For example, on the traditional Hina Matsuri 🎎 held on March 3, the residence displays plenty of colorful Japanese dolls starting in February. Easy to fit in an itinerary including the visit of Ise Grand Shrine and the "husband and wife rocks" Meoto Iwa, the house is as remarkable as historical, lulled by the gentle sound of the sea.