Oiwasan Nisseki-ji
Waterfall Meditation in Toyama
Add to my favorite places
Oiwasan Nisseki-ji is a Buddhist temple in Kamiichi, a town located in the east of Toyama Prefecture's capital. Its main pavilion is a National Historic Site and shelters an impressive Fudo Myoo carved into the stone. Pilgrims visit the place all year round with the intent of practicing meditation under the waterfalls, dressed in white clothes.
According to the history passed down by its monks, Oiwasan Nisseki-ji is an approximately 1,300 years old temple, and its founding dates back to 725. It was burnt down 500 years ago, but reconstructed by lord Maeda, the times' governor of the Kaga domain who resided in Kanazawa. He indeed financed the restoration of Nisseki-ji as a token of gratitude after his wish for heirs was granted.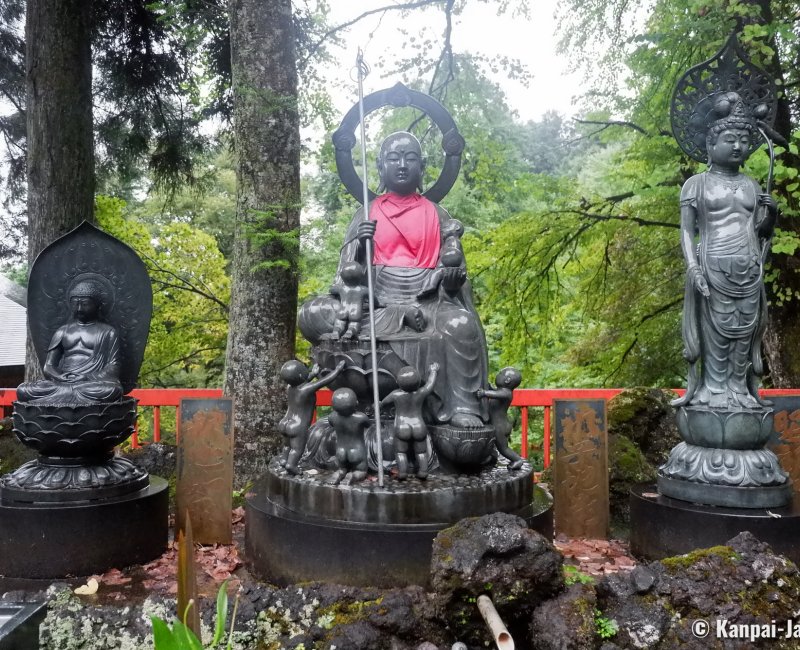 A fascinating Fudo Myoo stone carving
The main hall of Oiwasan Nisseki-ji is resting directly against a rock wall that makes a natural delimitation of its inner room. There, immersed in semi-darkness, an intimidating 3 meters high image of Fudo Myoo (or Acala) was carved into the stone.
Fudo Myoo is one of the 5 Wisdom Kings and the symbol of immutability in Japanese Buddhism. His wrathful look wards off demons and his swords cuts the ties of karma so that humans can detach themselves from their wrong behaviors.
Monks at the temple regularly hold fire 🔥 purification rituals called Goma that are part of Fudo Myoo's worshipping. Wood plates on which worshippers have written vows or prayers are burnt during these ceremonies.
It is by the way possible to take part to a shabutsu session, a meditation based on a Buddhist image. At Nisseki-ji, participants draw a picture of Fudo Myoo following a ready-made pattern, in silence and quietness.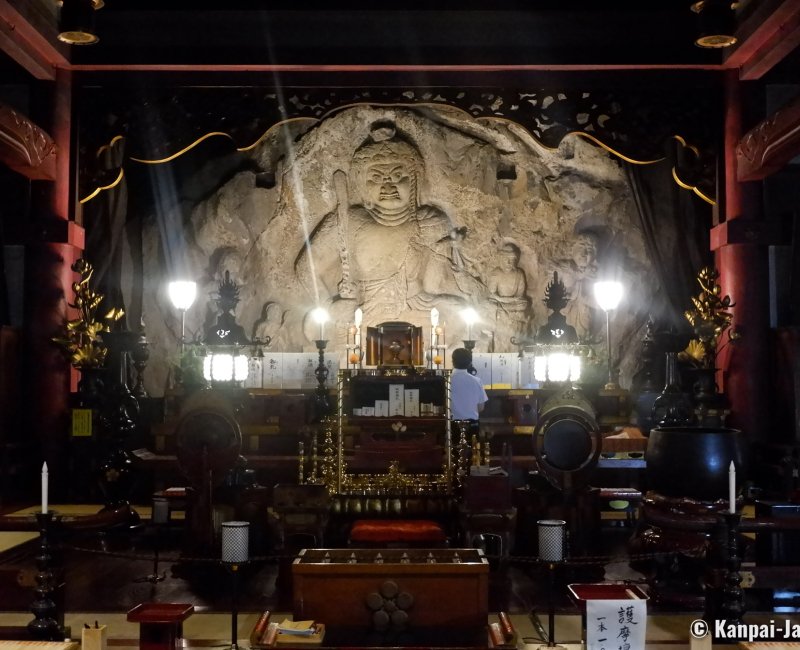 Purification by water
Another particularity of this spiritual site is its space dedicated to outdoor meditation. In addition to the purifying fire, the clear water of the mountains flowing abundantly here is also a natural element of purification. It is used for spiritual training and meditation under a cold waterfall, with each of the 6 falls symbolizing:
A primary element of Buddhism : Earth, Water, Fire, Air, Space (or Emptiness) and Mind (or Consciousness); and,
A part of the body to purify : eyes, nose, ears, mouth, neck and torso, and the whole body.
At least 2 Sundays per month, it is possible to watch men and women dressed in white practicing this spiritual exercise. Waterfall meditation is open to everyone upon prior reservation.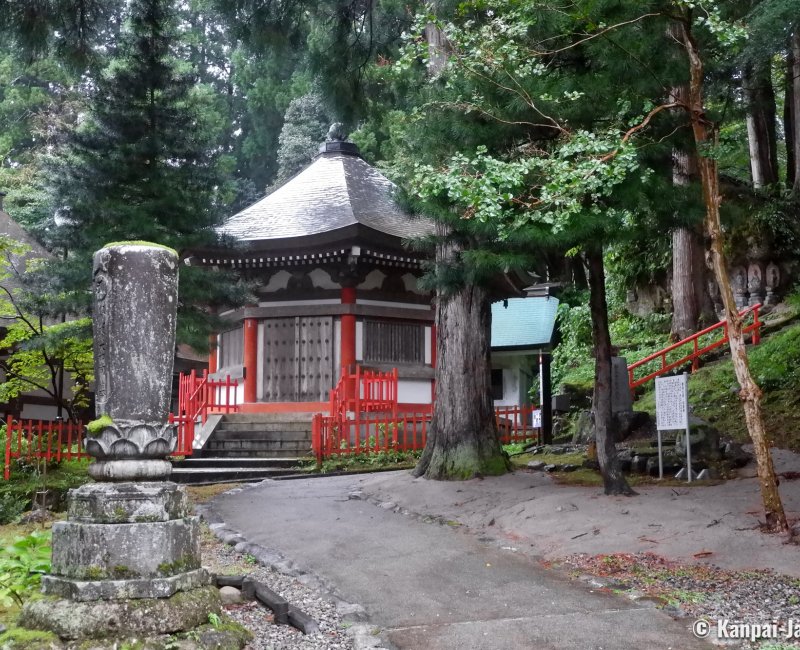 Several Buddhist pavilions in the forest
Oiwasan Nisseki-ji also has notable pavilions hidden in the forest that are worth the discovery, such as:
The 3 story-pagoda Sanjunoto dating to 1845 and the last of its type in Toyama area. Due to a lack of time and resources, its construction was never completed and the 15 meters high pillar supporting the building is visible as the outer walls were never built.
The small Akaku-kutsu cave, was built at the end of the 19th century and is related to a protection set by famous Buddhist monk Kobo Daishi (774 - 835) to fight a major epidemic c. 818. The cave is home to a talisman that supposedly chases away bad luck for people who are living difficult times. Another small altar displays a beautiful and colored wooden sculpture of Jizo Bosatsu, the protector of children and travelers.
Behind the waterfalls, the Aizen-do hall is sheltering a small statue of Aizen Myoo, an other Myo-o entity. Pictured with a red-colored body, he is sitting on a lotus and surrounded by flames. Aizen Myoo is the king of passion and love; his bow and arrow remind of Cupid of the classical mythology.
Away from the city, in the heart of a forest mountain and near the Tateyama Kurobe Alpine Route, the spiritual site is attractive for visitors interested in the Buddhist cult and its specific practices in Japan.
This article was written after a tour sponsored and organized by
Tokyo
Metropolitain Government
to promote the #HOKURIKU×TOKYO destination. Kanpai has been invited and guided but keeps a total freedom of editorial content.