Murodo
The Highest Point on the Alpine Road
Add to my favorite places
Murodo is a volcanic plateau culminating at 2,450m (8,038 ft.) above sea level, and the highest place of the Tateyama Kurobe Alpine Road. A landmark for hikers in the area, the place features a road station and mountain refuges. Murodo's beautiful volcanic landscapes can also be enjoyed from well-marked hiking trails.
Sensitive visitors may get dizzy before arriving to Murodo Station, due to the bus ride on the hairpin turns road on the Tateyama Kurobe Alpine Route. Murodo is sitting above the clouds surrounding the summits of the Tateyama Mountain Range and is neighboring Yuki-no-Otani, the famous snow wall carved each year in early spring 🌸, from mid-April to mid-June.
The entry point for many hikes
Murodo Plateau offers beautiful family-friendly walks in discovery of its lakes that were initially volcanic craters, and its alpine fauna (especially Raicho snow birds) and flora. Murodo is also the starting point for more difficult mountain trails, only advisable to experienced hikers.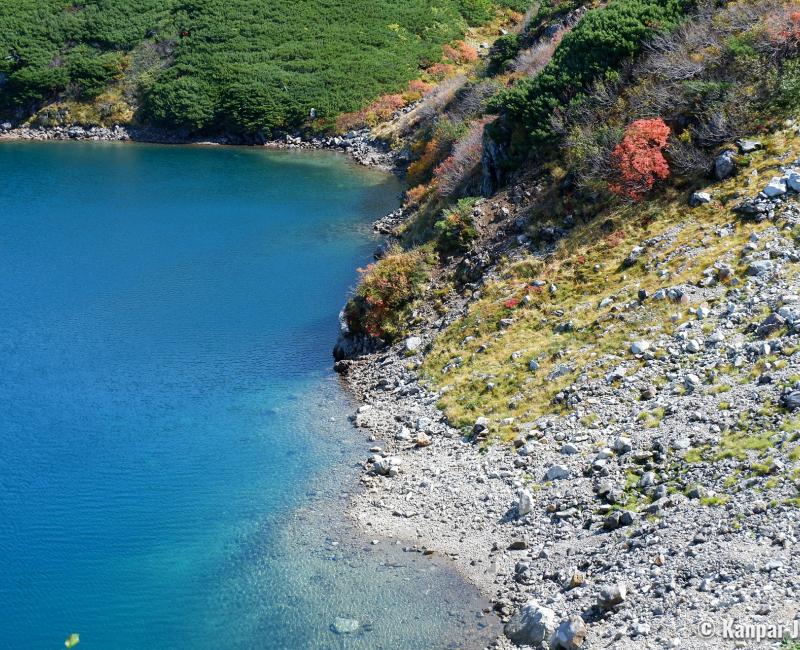 Discovery of the volcanic plateau
Several walks of a few kilometers long were laid out with cobblestone paths and plenty of benches, and are ideal for occasional walkers and / or those who cannot spend a long time on site. Murodo's various vantage points are thus easily accessible:
Mikurigaike, the largest body of water and the center of the area : a trail loops around the lake and gives view on its marvelous crystal clear blue waters. Nearby, Mikurigaike Onsen is Japan's highest natural hot springs facility.
Emmadai is an elevated viewpoint on Murodo's Jigokudani (Hell's Valley): a path through the valley did exist but it was closed in the last years due to volcanic gases eruptions.
Chinoike, nicknamed the "lake of the Tateyama Mountain Range's hell" or the "devil's hole": the blood red color of its water is due to a high concentration of iron oxide and makes for a surprising visit.
Rindoike and Midorigaike, others blue crater lakes from which fumaroles frequently arise.
Raichozawa, the mountain huts' area, with wood cabins and a camping grounds -- allow a 2h30 walk on a round-trip from Murodo bus terminal, with an average difficulty.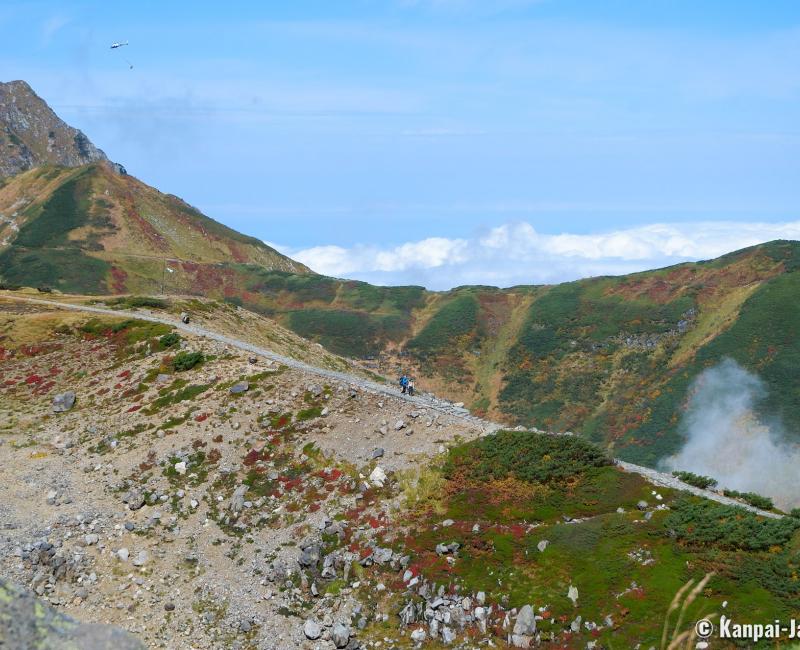 Hikes departing from Murodo
The plateau is a convenient access to longer trails and to climb the surrounding summits, such as:
Mounts Murodo and Jyodo that give a beautiful elevated point of view on the whole area -- allow a 1h30 hike to climb and 1h to go back.
Mount Oyama (3,003m) part of the Tateyama Mountain Range: a Shinto shrine, where a few priests live, was built at its top -- allow a 4 hours' walk on a round-trip, on a difficult hike. It is also possible to continue to the other peaks of the range, Mounts Fuji-no-Oritate and Onanji,
And even to Mounts Tsurugigozen, Masagodake, Bessan and Tsurugidake which are high mountain areas and require a high preparedness level -- allow several hours starting from Raichozawa road.
Or go down to Tengudaira plateau, then Midagahara humid zone: this ancient pilgrimage trail crosses several flat landscapes (wetlands) and mountains -- allow at least a half-a-day walk.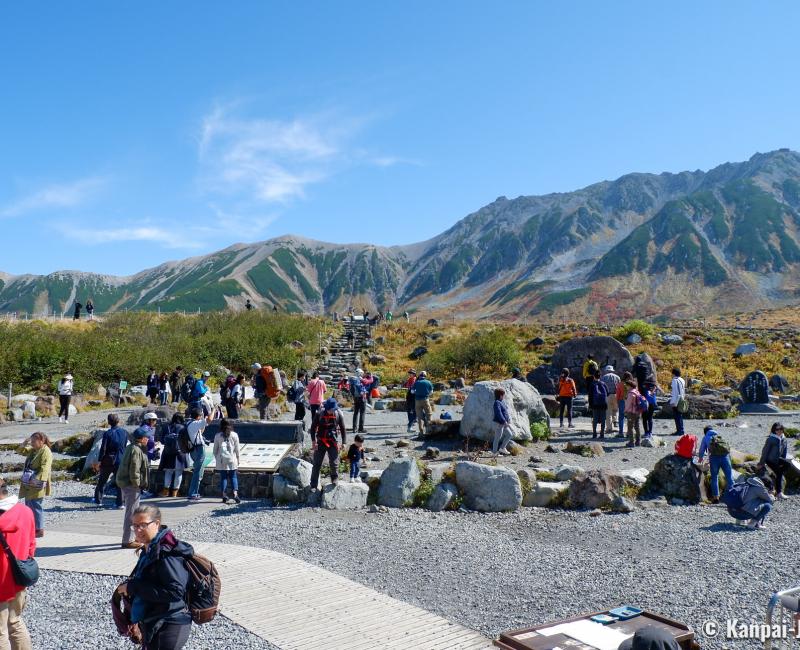 A convenient road station in the heart of the mountain
Murodo-daira plateau has been largely developed and thus provides many services available from spring to autumn 🍁 when the Alpine Route is opened for sightseeing. Around the bus terminal, also called Murodo Station, featured services are for example:
Various accommodation facilities (hotels, mountain refuges, camping facilities) with a reasonable comfort and sometimes fitted with shared onsen 

♨️

hot baths,
A nice cafe and two restaurants serving Japanese and French cuisine,
A post office 

📮

,
An information bureau for hikers, providing valuable advice about weather conditions and the site' specificity,
A shop selling souvenirs and groceries, and,
A baggage check service.
Once you are up there, we recommend staying a couple of days to maximize the chances of good weather conditions to go hiking and enjoy the mountain landscapes at the best periods:
From mid-April to May for snowy scenery and skiing,
In summer, for the blooming of Alpine flowers,
When the sun shines, enjoy resting an entire afternoon at a picnic area in Murodo, while admiring nature, read a book or nibble some snack.
This article was written after a tour sponsored and organized by
Tokyo
Metropolitan Government
to promote the destination #HOKURIKU×TOKYO. Kanpai has been invited and guided but keeps a total freedom of editorial content.