Kyoto Botanical Gardens
The Pastoral and Vegetal Museum in Kitayama
Add to my favorite places
Kyoto Botanical Garden is located in Kitayama, a couple of minutes from central Kyoto by subway. About 12,000 rare or common plant species are gathered in its grounds and its greenhouse is one of the biggest in Japan. This living museum of an easy access offers very pleasant educational and bucolic family-friendly trips.
Established in 1924, Kyoto Botanical Gardens is Japan's oldest public botanical garden. Limited on the west by an affluent of the Kamo river, it spreads on 24 hectares divided in several spaces, with beautiful colors all year long, and shelters a conservatory greenhouse. The garden is notably renowned for its 500 Japanese cherry trees 🌸 blooming in spring and its maple trees reddening in autumn 🍁.
An authentic and family-friendly outing
Its size makes the place unusual and it is mainly frequented by Japanese visitors. Thanks to its location off the beaten tracks, it has succeeded in keeping its authenticity forsaken by the tourist crowd, even in spring or in autumn. The main entrance, in the south, is equipped with a parking. The most convenient entrance when using the public transportation is Kitayama-mon gate, at the north-eastern angle of the garden. It provides access to the various and large sections of the park:
On the right, a forested area protects the surroundings of the small Nakaragi shrine. This north-western area includes a perennial plants garden, a bonsai exhibition, plum trees and cherry tree groves that bloom in spring, and a river (lined with maple trees that become red in autumn) connecting to the lotus pond towards the south-west of the garden;
The conservatory greenhouse, the water lily pond and the children playground can be reached by walking towards south ;
The camphor trees alley leads to the south-east part where large lawns spread, surrounded by hydrangeas and peony gardens, bamboo groves and a Japanese garden;
The southernmost area is home to, among other marvels, a rose garden and a Western style garden.
In spring, Kyoto City dwellers enjoy picnicking in the large central lawns, that also welcome events or concerts. The Botanical Garden is a convivial place to live and enjoy relaxing, taking pictures or a simple family stroll.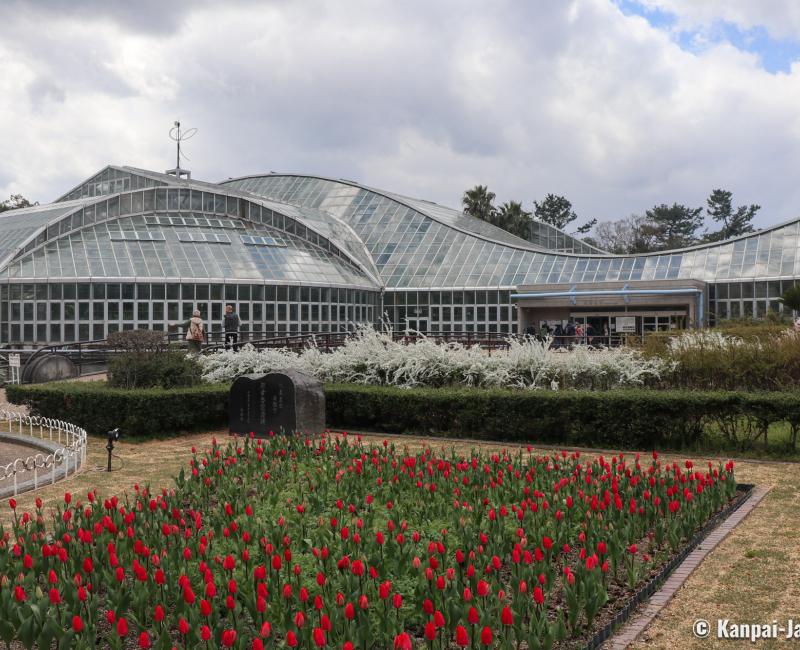 First and foremost a botanical conservatory
The park is also home to the largest greenhouse of Japan, that spans on a little bit less of one hectare and shelters about 4,500 plant species. It was built in 1992, renovated in 2013, and includes seven sections to discover through a predetermined course:
A humid tropical greenhouse;
A space for tropical plants exploited for humankind's needs (cocoa tree, coffee tree, banana tree, mango tree, etc.);
An air-conditioned garden;
A dry tropical garden;
A night garden;
An Alpine garden, and,
A space for orchids and bromeliads (plants of the same family as pineapple).
The visit ends in a temporary exhibition gallery.
Seasonal animations are offered in the garden all year round: initiation to plants preservation, floral expositions or simple night openings to admire the flowers under a different lighting.