Shimogamo
One of Japan's Oldest Shrines
Add to my favorite places
Shimogamo-jinja is an old 12th century Shinto shrine, located in Demachiyanagi in the north of Kyoto. It is the counterpart of Kamigamo-jinja a few kilometers away to the north. The thunder god Kamo Wakeikazuchi's mother Kamo Tamayori-hime and his father Kamo Taketsune are worshiped in this shrine enlisted in the UNESCO World Heritage.
Shimogamo's official foundation date is unclear, but it is considered to date back to the second half of the 7th century. It makes Shimogamo-jinja one the oldest Shinto shrines in Japan, but also in Kyoto. The present-day buildings were built from 1628, and the two main ones were built in 1963.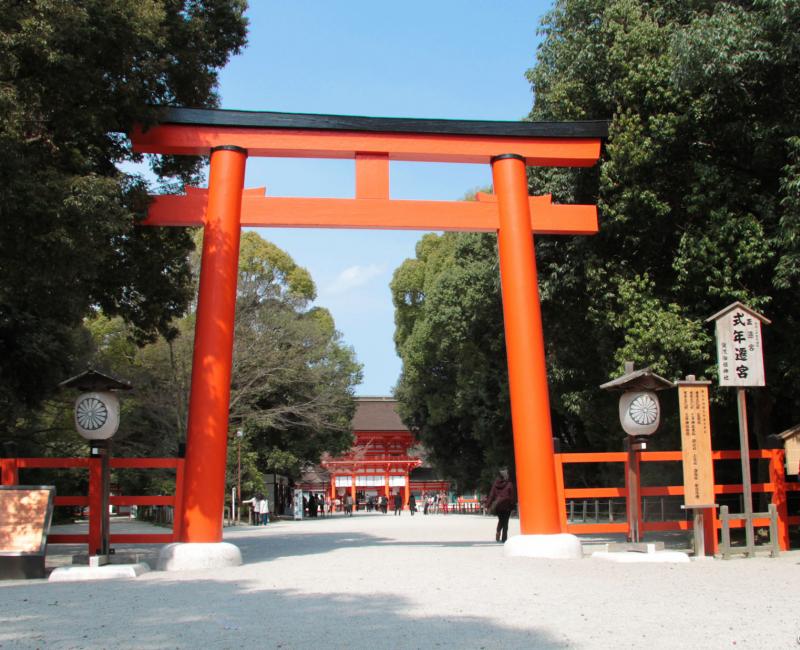 Between a primeval forest and a sacred river
Shimogamo-jinja is in Tadasu no Mori ("the forest of atonement"), a wood said to be an old-growth forest, never maintained by humans and that survived several fires 🔥. A great vermilion torii ⛩️ gate welcomes visitors at its entrance. It also shelters a little secondary shrine, Kawai-jinja, where unusual ema plates are in use: they picture a woman's face to draw. In summer, the several centuries old trees provide a pleasant shade and coolness. The reddening of the foliage in autumn 🍁 is splendid. In the vicinity, the former villa of the Mitsui Family and its wonderful Japanese garden are open to the visit, at the confluence of the Kamo and Takano Rivers.
In Shimogamo's grounds, the main pavilions are dedicated to thunder god Kamo Wakeikazuchi's parents, Kamo Tamayori-hime and Kamo Taketsune, while a sacred river called Mitarashi (御手洗川) crosses the compound and is used for washing feet in purification rites.
The wide alleys of the shrine are usually quiet and little frequented but they become lively with celebrations and other rituals often performed by the Shinto priests. Aoi Matsuri festival, held in May in Kyoto's Imperial Palace and in both Kamo shrines, is one of the major yearly events in Shimogamo.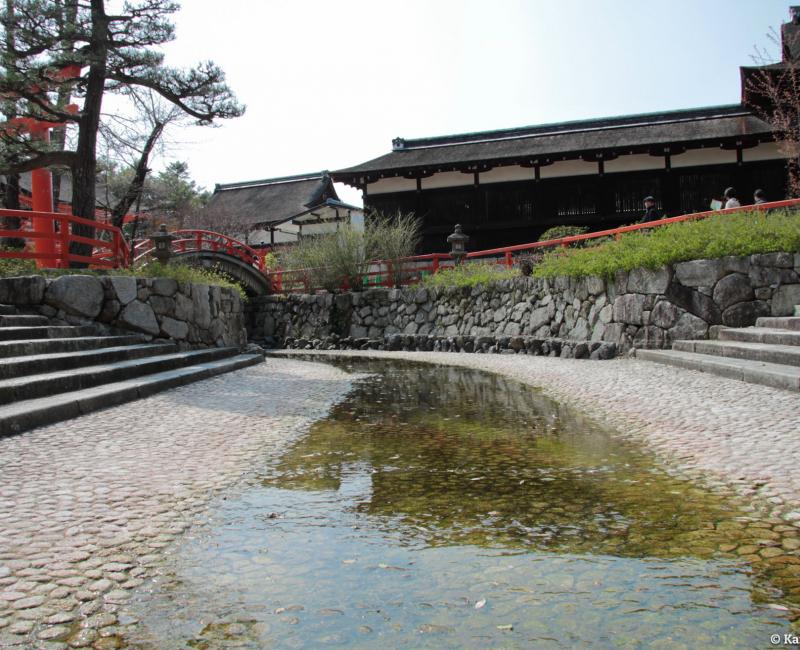 The shrine's modern developments
The shrine was described by writer Tomihiko Morimi in his novel Uchôten Kazoku (2007), adapted in anime for Japanese television in 2013 as The Eccentric Family.
In March 2015, Shimogamo-jinja struggled to collect the necessary funds to perform the periodical renovations of its buildings, the Shikinen Sengu occurring every 21 years. The necessary budget amounted to ¥3 billion (~20.1 million dollars), to which the Japanese government contributed with a ¥800 million (~5.4 million dollars) subsidy, and many individuals donated. However, the shrine had to put up part of its lands for rent: a luxury apartment complex was constructed in 2017 on an area that was not on the UNESCO's list. With 107 apartments on 3 floors buildings, the 50 years rent contract should provide a ¥80 million (~US$535,586) revenue each year.