Eikan-do
The Temple of Momiji Foliage
Add to my favorite places
Eikan-do is a Buddhist temple of the Seizan branch of Pure Land Jodo sect, located on Shishigatari-dori avenue in the east of Kyoto. Founded in 863, it was named from its most important monk Yokan (or Eikan) in the 11th century. The place is especially popular in autumn during the vibrant season of koyo.
Red maple leaves 🍁 amateurs' favorite, Eikan-do is one of the must-sees in November in Kyoto. In autumn, the temple is very crowded at any time of the day and until evening, for its nightly illuminations. Visitors must be patient and progress slowly outside and inside the temple's grounds, under the supervision of the temple's staff.
Aside fall's effervescence, the temple usually benefits from a quietness that suits the Buddhist origins of this ancient and important place of worship. Eikan-do first belonged to the Shingon sect, before being designated the first temple of Seizan branch in the 12th century.
An original statue of Amida Buddha, named Mikaeri-Amida with the head turned as if it was looking back over its shoulder, is the Important Cultural Asset to admire in its dedicated hall. Other designated artworks are to be enjoyed, such as paintings from Kamakura period (1185-1333). However, visitors are mainly attracted by the splendid outdoor views.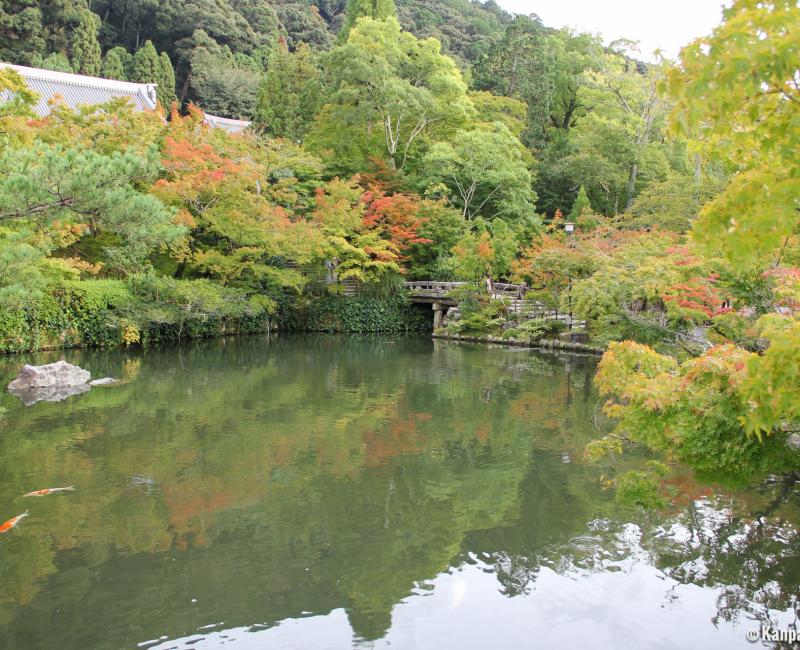 A lush garden on the hillside
Located at the foot of Higashiyama mountain, the religious complex includes about fifteen pavilions connected by a marked path named Garyuro, made of wooden passageways and flights ✈️ of stairs winding between the green spaces, and the main pond Hojo. Buildings seem engulfed in the garden's lush vegetation, mainly composed of Japanese maple trees and mosses. Visitors can thus walk in the buildings in socks while enjoying a green stroll under the roofs' shade, protected from weather conditions.
At the back of the compound stands Tahoto Pagoda, the last edifice built in 1928. The pagoda is open to visit part of the year and offers a panorama above the trees on the temple's grounds with Kyoto in the background.
Eikan-do is somewhat hidden away from the greatest touristic avenues, but it is worth the visit for its well-tended gardens and its quietness. As it can be very crowded in November, we recommend the visit early in the morning and / or on a weekday.