Nanzen-ji
The impressive Zen entrance to Kyoto
Add to my favorite places
Nanzen-ji is an important Buddhist temple of the Japanese Zen Rinzai school, nestled among vegetation at the foot of Higashiyama mountains, in the east of Kyoto. A favored destination during seasonal changings, especially in spring and in autumn, the temple offers an eclectic discovery, between history of Japan, Zen philosophy and beautiful landscapes.
In the past, travelers on the Tokaido road could enter Kyoto by its eastern side, from Lake Biwa through Hinooka and Keage. Nowadays, this road crosses the forest of the Higashiyama mountain range and leads directly to one of the city's famous Buddhist temples, Nanzen-ji. In the same manner as its famous counterpart the Silver Pavilion, Nanzen-ji, literally "the Zen temple in the south," is an ancient aristocratic villa converted in a place of worship after its owner's death.
It was emperor Kameyama who commissioned the construction of his palace on the ruins of an ancient temple in 1264. He felt the need to exorcise the spirits of this ancient place of worship and, for this purpose, called in several renowned monks. The one who succeeded in purifying the site was Mukan Fumon, Tofuku-ji's head monk. Emperor Kameyama hence chose Tofuku-ji's authority when he entered priesthood. His residence was elevated to the status of Rinzai Zen temple in 1291.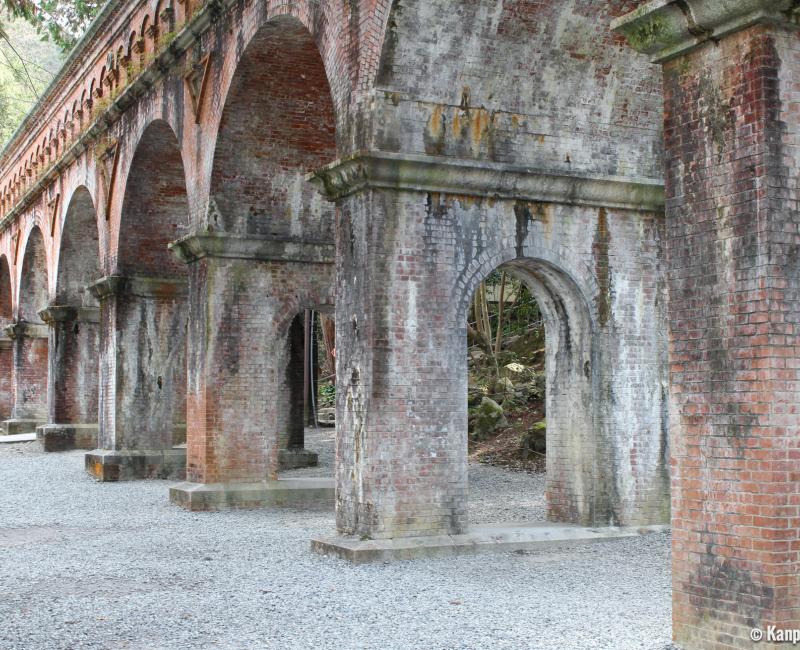 The visit starts at the Sanmon gate, a huge wooden building symbolizing the entrance of the sacred enclosure. It was built in 1628 to commemorate warriors killed during the siege of Osaka (1614-1615). Then a stone path crosses the gardens, renowned for their blooming cherry trees 🌸 in spring. The path leads to the Dharma Hatto, a magnificent pavilion despite its recent construction in 1909. Most of the edifices were indeed destroyed by fires 🔥 and rebuilt during Edo period (1603-1868).
After a walk under Suirokaku aqueduct arches, that were used to transport water from Lake Biwa to Kyoto, visitors reach Dai-Hojo, the central pavilion. It is made of several rooms decorated by famous painters Kano Tanyu and Kano Eitoku in the 16th century . Nanzen-ji temple, in addition to hosting artworks worthy of a museum, can boast one of the most beautiful Zen dry garden, named "Crossing of the tiger cubs garden."
Kabuki theater amateurs will be thrilled to recognize the place where a classical scene of the play Sanmon Gosan no Kiri is set: notorious robber Ishikawa Goemon, the Japanese Robin Hood, climbs the stairs of the great Sanmon gate to declaim in awe: "What a magnificent view!"