Tenju-an
The Small Zen Jewel at Nanzen-ji
Add to my favorite places
Tenju-an is a small temple of Japanese Zen Rinzai Buddhism, located at the foot of Higashiyama mountains in the east of Kyoto and is subsidiary to the neighboring Nanzen-ji. Its famous dry garden is enhanced in autumn by the reddening leaves of Japanese maple trees.
Tenju-an was built in 1337 at the request of Kokanshiren, Nanzen-ji's fifteenth head priest, and destroyed during the Age of Warring States (Sengoku period) in the 15 - 16th centuries. The present days pavilion and main gate date back to 1602. The buildings are not open to the visit, but public is welcomed in the beautiful japanese gardens.
Tenju-an's entrance is located to the south of Nanzen-ji's great Sanmon gate. Except in November during koyo 🍁 season, the place is surprisingly quiet. A path crosses a small bridge, goes through a porch and continues as a paved alley that reaches the main hall in a couple of strides.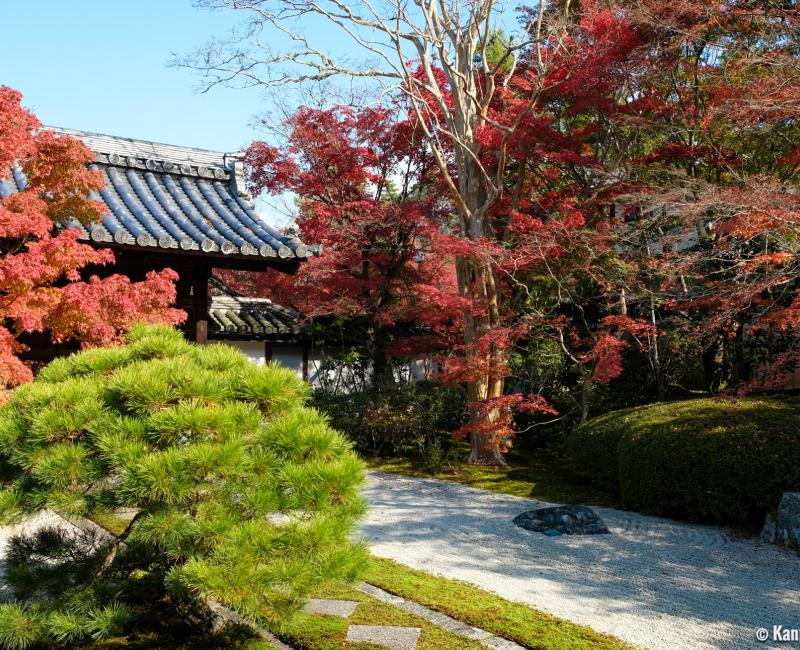 Two gardens for two different atmospheres
On the left, a path leads to a first green space, the "east garden." The soothing landscape of this karesansui dry garden, made of gravels, rocks and mosses, surrounds the main hall on its left and rear sides. The building's veranda is even available for sitting to take the time to enjoy and observe the beauty of the place.
The path continues under a small porch with a roof covered in moss marking the entrance to the second garden, the "south garden." A modern-looking, narrow wooden bridge crosses a first pond toward a bamboo grove in the background. After walking along the bamboo grove, another narrower stone path crosses the other, larger pond located in the western part of the garden.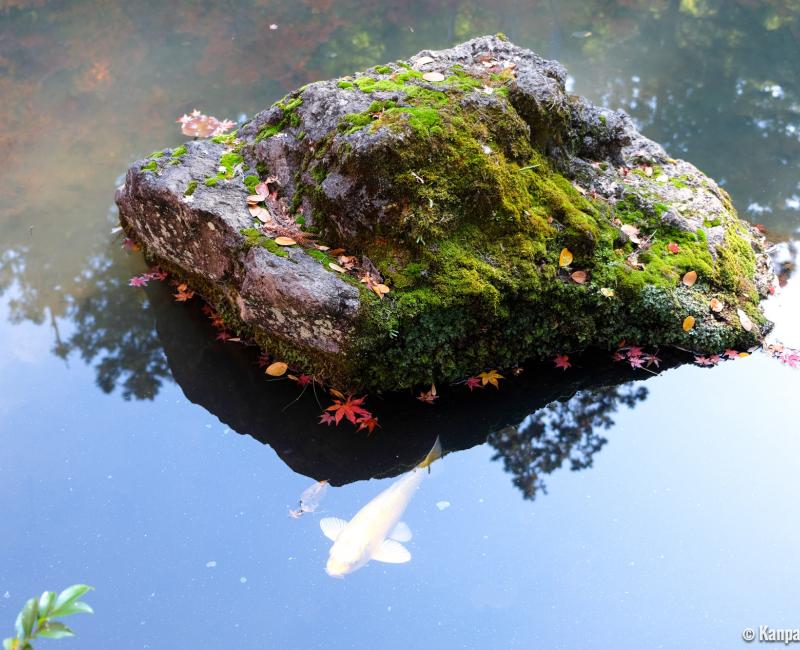 The water seems strangely agitated: countless wonderful koi carps swim peacefully across the water lilies, looking for some Good Samaritan willing to feed them. The main hall is always visible in the background, as if playing hide and seek behind the marvelous Japanese maple tree leaves.
Tenju-an is particularly crowded in autumn, as is the whole eastern part of the former imperial capital during the koyo foliage season. However, it is a great haven of peace and freshness on the rest of the year. We recommend not to miss this timeless Zen halt, in addition to the visit of the neighboring Nanzen-ji.