Kani Doraku Kyoto Honten
🦀 Affordable Crab Restaurant in Japan
Add to my favorite places
Kani Doraku Kyoto Honten is a crab restaurant located at the intersection of Teramachi-dori and Sanjo-dori streets, in the former imperial capital's commercial downtown. Kani Doraku is a very popular chain in Japan and its Kyoto Main Shop's front displays the brand's distinctive billboard featuring a large crab moving its articulated legs.
Founded in 1960, the Kani Doraku restaurant chain opened its 1rst seafood joint in the San'in area, but its iconic shop is located in Osaka's Dotonbori and opened in 1962. A Kani Doraku restaurant is easily identifiable thanks to its white facade decorated with a huge red crab with moving legs. There are currently about 40 restaurants scattered mainly in the Kanto (Tokyo) and Kansai areas.
The restaurant became successful in the 1960s thanks to its famous kani-suki recipe, a type of crab nabe Japanese fondue that became the establishment's signature dish. Kani Doraku helped spread the consumption of crab in a rather urban population, living far from the North-Pacific fishing areas and for whom the crustacean is a luxury food.
In Kyoto's lively downtown shopping district, Kani Doraku Kyoto Honten is faithful to the chain's concept. Customers are welcomed in a traditional style lobby, decorated with an aquarium inhabited by living crustaceans.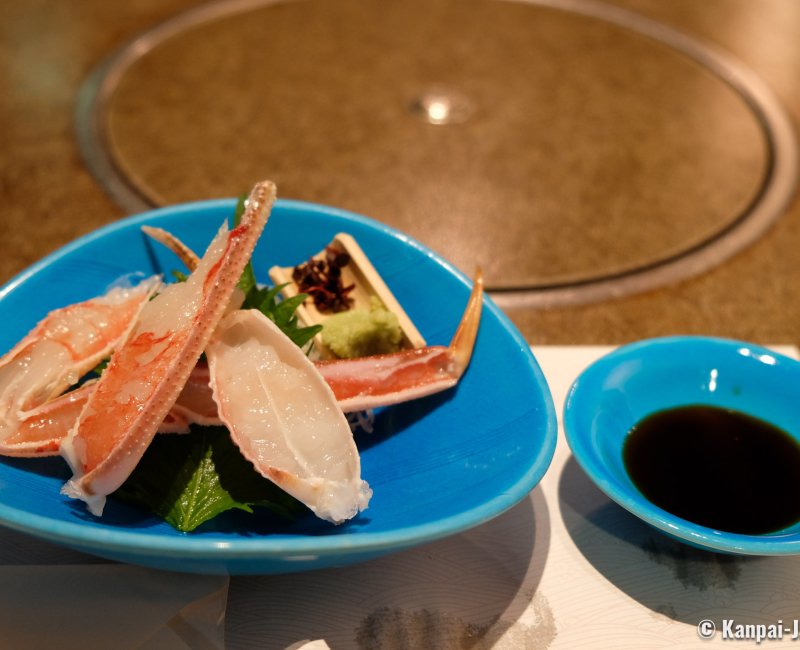 Gastronomic crab-based menus
While crab is the main ingredient, the menu is quite diverse and dishes are available in many variations:
With different menus, including cheaper courses for lunch, seasonal courses, celebration courses or children's meals;
A rich card, to taste one's own selection of dishes or to order an extra for the hungriest ones; and more recently,
A special selection to take away is being offered since the 2020 Covid pandemic, mainly ready-to-eat sushi and maki cold bento 

🍱

.
Whether you just discovered the restaurant or are a regular, we recommend ordering a gastronomic menu, that includes a variety of crab-based dishes, such as crab meat stewed in a stock, or crab legs raw flesh. More original recipes such as a crustacean custard-like cream, and obviously the famous kani-suki crab hot pot are also included. Lastly, the meal is closed by a fresh and sweet hint, with a matcha tea flavored vanilla ice cream scoop.
Moreover, the restaurant provides an assotment of various crab species to taste, with prices varying accordingly:
Snow Crab, a large sea spider caught in the Pacific Ocean's cold waters, and the species the most commonly eaten;
Red King Crab, a more sought-after and therefore more expensive crustacean; and,
Horsehair Crab, ケガニ kegani in Japanese or Erimacrus isenbeckii per its scientific name, a local species mostly found in Japan, caught off Hokkaido shores in the Sea of Okhotsk.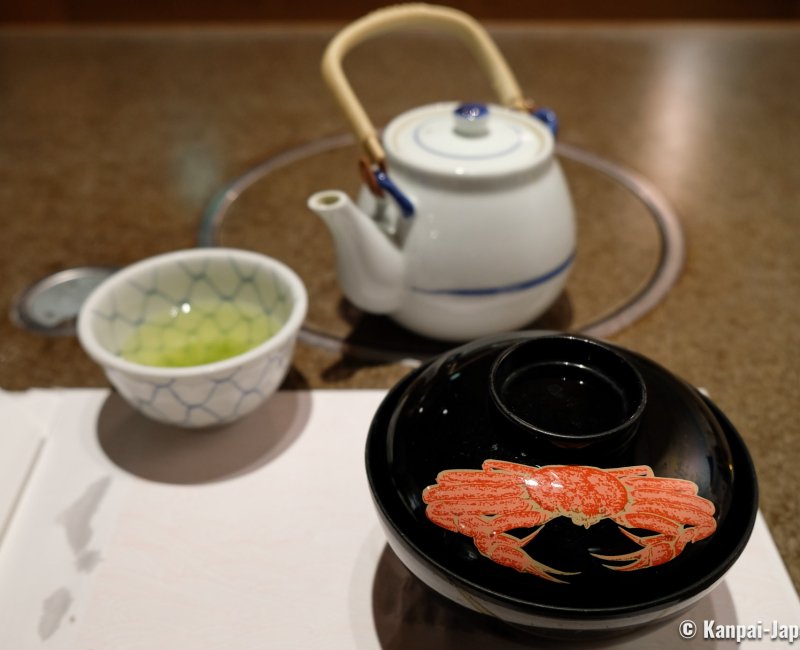 Interesting value for money
Kani Doraku Kyoto Honten serves a quality cooking at very affordable prices. As a matter of fact, crab is still quite an expensive sea product in Japan and is therefore often prepared in small quantities and mainly served as sushi 🍣.
The restaurant explored the concept of variations on a single base ingredient to successfully offer a wide range of textures and flavors.