Kamo-gawa
The Wild Duck River in Kyoto
Add to my favorite places
Kamogawa is a Japanese river running in Kyoto from north to south, in Kansai area. Inhabitants and tourists love strolling on its banks and it certainly is a must-see of the ancient imperial capital. Kamo-gawa is also called the "Wild Duck River."
Kamo River runs in the center of Kyoto on about six miles from Demachiyanagi northeast of the city (towards Shimogamo shrine) to the south, not far from Fushimi Inari, where it joins Yodo-gawa. In the west of the city, it has a less popular equivalent: Katsura-gawa.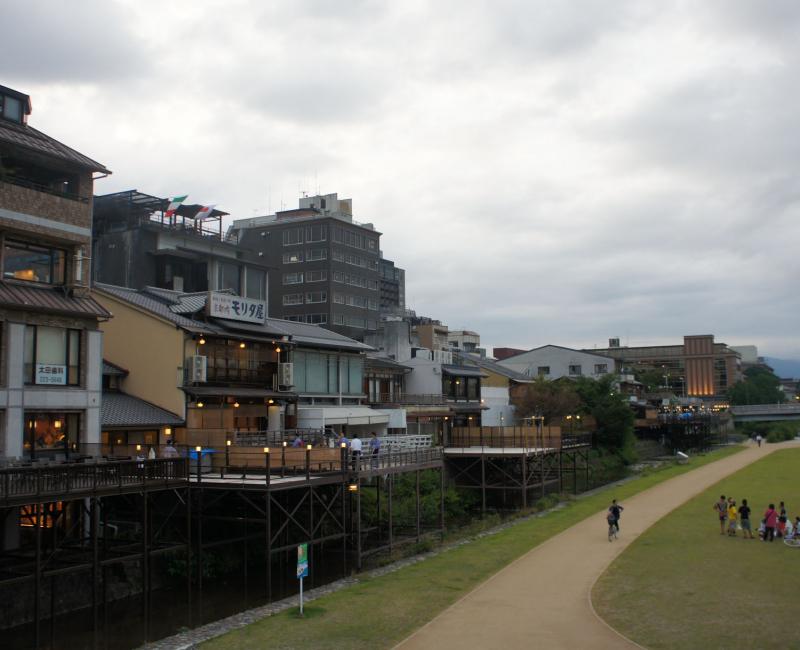 Kyoto's Greenbelt
Built on a huge groundwater, Kyoto offers with Kamogawa an impressive and very enjoyable water area, pleasant in all seasons (except when typhoons 🌀 hit). All along, locals and tourists walk or ride their bike 🚲 or dwell a moment on the grass that borders the river.
Around Gion, Pontocho restaurants lay out large terraces, offering customers a very pleasant view, especially on the many birds that wander around the river. In the evening, Kamo-gawa becomes more romantic with the many lights that illuminate it. The north of the river, beyond Demachiyanagi, is also renowned for their numerous blooming cherry trees 🌸 in spring, displaying the ideal scenery for a picnic or simply to relax.
A nice path to visit the city on bicycle
Kamogawa's banks are used for soft mobility and connect several touristic and cultural sites of the former imperial capital. We thus recommend the following course:
Rent a bicycle in downtown Kyoto or in Gion district,
Begin your ride in Pontocho,
Ride up along Kamo river to join its mouth in the north of the city,
Ride the riverbank down on the opposite side to go back to your starting point.
On your way, you can stop anytime you please to enjoy a beautiful place, admire the scenery and take a couple of pictures as a souvenir.