Seikado
Pewter Craftsmanship in Kyoto
Add to my favorite places
Seikado is a family business specialized in pewter craft, located in Kyoto, Japan. The company was founded in 1838 and is renowned for its mastery of metal, creating artworks and objects for daily use. Genbei Yamanaka, its current chairman and 7th generation of artisans, welcomes customers in a beautiful, small shop and opens his workshop for amateurs to create an original metal art piece.
🚧 Renovation in Progress
The opening of the workshop for pewter object making experience is expected in summer 2023.
Called Heian-kyo during Japanese antiquity, Kyoto has gained a fascinating aura from its imperial capital's past. The city has attracted many gifted artisans to work under the then ruling nobility, who contributed to the development of Japan's unique architectural, cultural and artistic heritage.
Ever since, craftsmanship continued to thrive and Kyoto doesn't fail to its reputation of ever evolving traditional Japanese capital. Seikado is a perfect example of craft perpetuation: established in 1838, at the end of the Edo period (1603 – 1868), this craftspeople family specialized in tin work and successfully lived through times, their creativity showing no sign of decreasing, quite the contrary.
Seikado workshop supplies the Imperial Court and the country's temples and shrines, and now enjoys a great reputation, especially regarding worshipping items' design, such as cups used for offerings, as well as the making of utensils for the Chanoyu tea ceremony, which are hand-made from pewter, copper, brass or silver.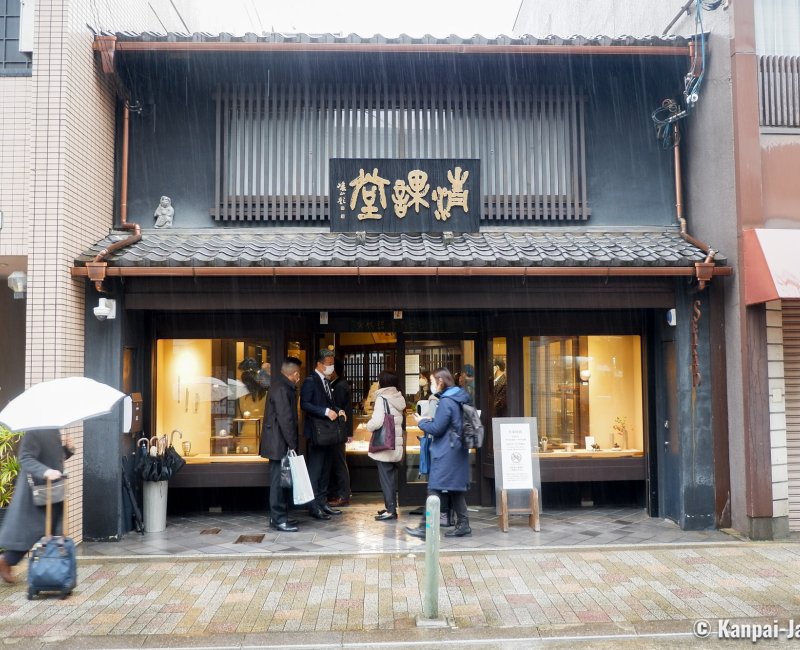 Shop and crafts gallery in Teramachi
In the heart of the city, the Seikado art gallery is ideally located in a shop displaying a sober traditional architecture, on Teramachi-dori avenue parallel to Kawaramachi-dori, between Kyoto City Hall and Kyoto Gosho Imperial Palace. This flagship store is opened to the general public and displays Seikado's main creations as well as collaborations with Japanese and international artists. Exhibitions are frequently renewed to match the new collections.
Seikado's artworks use specific metal alloys selected for their functional properties, such as preserving the temperature of the contents they were created for. In addition to their convenience, the company's champagne buckets, Japanese sake 🍶 (nihonshu) carafes, and beer 🍺 glasses are true artworks. The artisans have perfectly overcome the technical limitations to craft uniform materials and make varied forms, textures and patterns on each of their products.
The shop is also selling every day items that can be easily used at home such as:
Incense burners;
Vases;
Glasses and plates of various sizes; or,
Finely chiseled tea boxes.
Those interested in learning more on pewter craft techniques should be able to visit Seikado's atelier, located a little further away about a fifteen minutes' drive from summer 2023.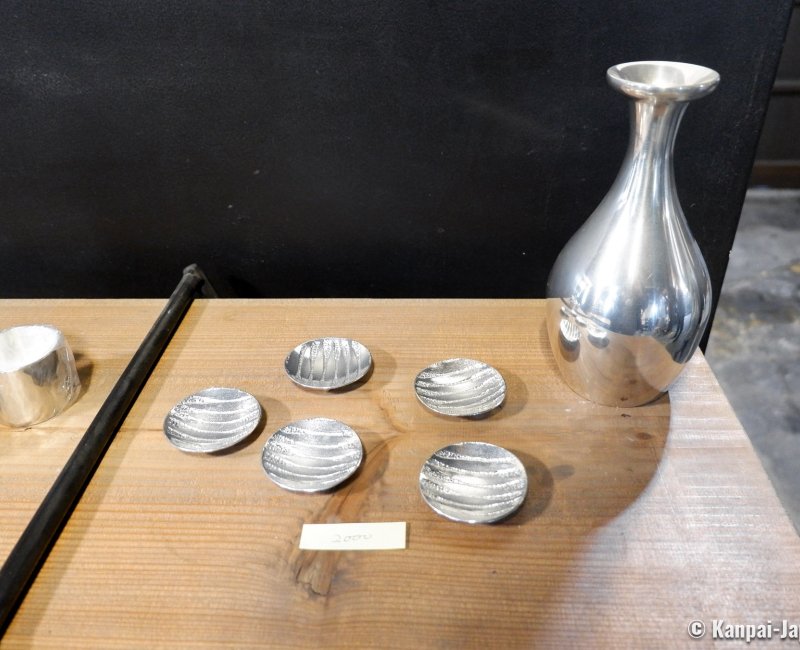 Tin craft workshop
Genbei Yamanaka, the current head of Seikado, has indeed decided to open his workshop so that people could try creating a small metal object. In his workshop, a large table accommodates a group of 4 maximum per session, to manually shape a simple pewter plate into an object that can be used every day, for example, a sake cup.
The master craftsman, who is representing the 7th generation of his family, starts by a short introduction to the Seikado company history, and how its artworks have always succeeded in meeting the needs of each era. Then, the practice starts with explanations on basic metalwork notions and observation of finished products samples that help better understand the expected result.
Using basic tools, each participant starts to shape their items, whose general shape quickly appears. The work continues by erasing the flaws on the material, then end with the finishing touch, that is to say the creation of a texture and / or a pattern by hitting the surface with various little hammers. Mister Yamanaka supervises each creation with a watchful expert eye and is happy to help when necessary or if the use of a machine is required.
The experience of pewter sake cup making is particularly interesting and unique, especially for those who enjoy arts and crafts. Note that the workshop, in Japanese and only upon prior reservation, will be available from summer 2023. Visitors who don't speak Japanese but would like to attend the workshop may find useful to be accompanied by a bilingual guide in Kyoto.
This article was written after a tour sponsored and organized by Kyoto City to promote Fushimi's sake. Kanpai has been invited and guided but keeps a total freedom of editorial content.