International Manga Museum
The 300,000 Japanese Comic Books Library
Add to my favorite places
The International Manga Museum is a library dedicated to the Japanese Ninth Art, located in the center of Kyoto, not far from Nijo Castle. Opened in November 2006 in a former elementary school, the gallery displays a collection of more than 300,000 books: most are in Japanese, but one can also find few manga in English.
Perhaps because it's not located in a city naturally thought as the manga capital, the International Manga Museum remains quite unknown from travelers in Japan. But there is another reason: this museum is quite far from the common picture of the manga reader in the West: generally, the pimply teenager addicted to Naruto.
A huge collection of Japanese manga available for reading
Built as a large library on three floors, Kyoto's Manga Museum is actually very quiet. It holds an endless collection of volumes: 300,000 (!) manga and documents according to the official brochure. Its central point is an impressive piece of permanent exhibition on the history of manga.
From its origins until today, each bookshelf offers hundreds of available volumes, classified by year of release. Like others, we got caught up and spent a good time reading a few volumes of Dragon Ball with a nostalgic smile. You can also take a manga and go read it on the courtyard terrace, where Japanese children were practicing baseball during our visit.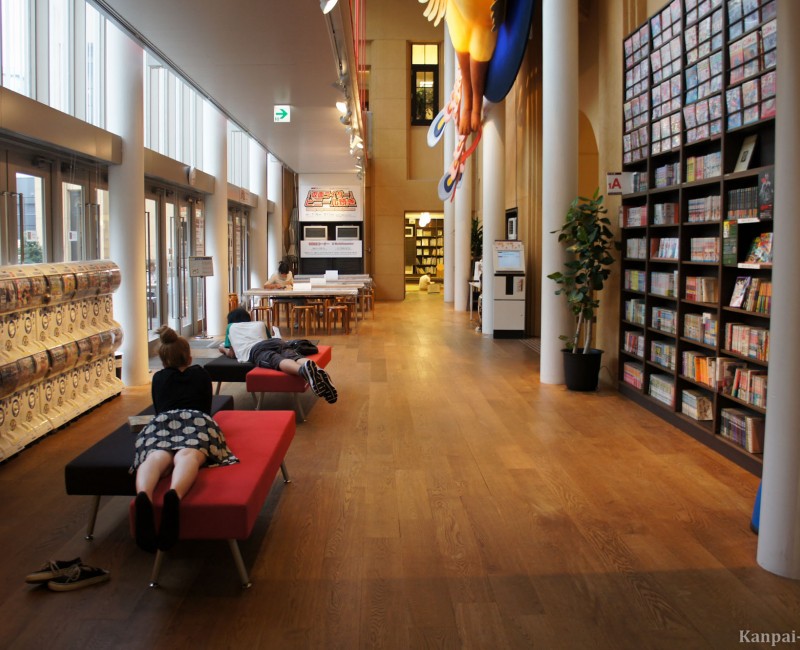 Obviously, all manga presented in this Museum are in their original language, that is of course Japanese. There are, however, a few western comics and graphic novels. If you are not a Japanese speaker, you will find explanations in five languages, including English, in the provided guide.
At the exit of the International Manga Museum, a small merchandise shop will help you relieve your wallet of some Yens 💴!