Nijo Castle
The Former Tokugawa Shogunate Residence
Add to my favorite places
Nijo-jo is a Japanese castle located in downtown Kyoto. Built in 1603 for shogun Tokugawa Ieyasu, it was the residence of the first shogun of the Edo period. The whole site is inscribed in the UNESCO World Heritage List since 1994.
🚧 Renovation in Progress
Honmaru-goten Palace is closed for renovation works until 2023
Nijo Castle 🏯 is an unexpected discovery among the countless temples of Kyoto. Located in the heart of the former Japanese capital, it spreads on 27,5 hectares (66 acres), with two large main buildings and beautiful Japanese gardens, a space enclosed by moats.
Despite a prestigious status and the proximity of Kyoto Imperial Palace, the Tokugawa shoguns seldom used Nijo Castle, and only on their occasional visits to the old city. It was however the place where two major decisions of Japan's history were proclaimed: the beginning of the Tokugawa era and its end. At the beginning of the Meiji Restoration in 1867, the ownership of the Castle was transferred to the Imperial Household. It was used as an imperial villa and hosted the banquets for Taisho Emperor's enthronement in 1915.
Preserved architecture of the Edo period
The initial castle, Honmaru-goten, was built in the heart of another squared enclosure surrounded by moats. While the keep was destroyed in one of the many overhauls of the site, it remains a vast construction, with beautiful tatami rooms and paintings of the Edo period. Taking pictures inside the building is forbidden, but it is possible to visit halls, reception rooms and even the shogun's private quarters, where he received his wives and concubines. Honmaru-goten was designed Important Cultural Property and has been undergoing renovation and safety works that are expected to end in 2023.
Ninomaru Palace is a wonderful group of 6 connected buildings, constructed in the shoin-zukuri style, characteristic of the early Edo period. Designated National Treasure, it shelters among other artworks, wall paintings of the Japanese painting Kano School and beautiful wood carvings. The Palace should also go through renovation between 2024 and 2036, in several steps.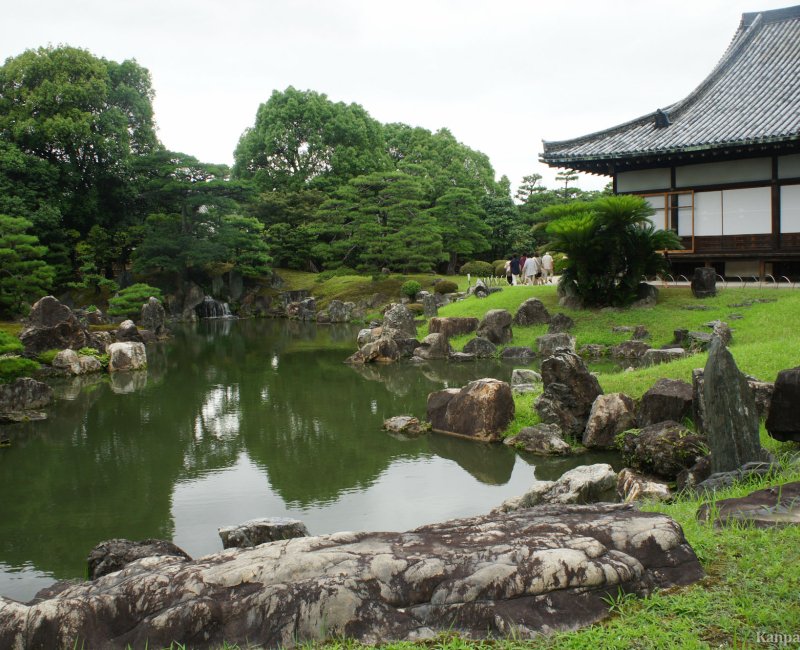 Three remarkable gardens
The 3 gardens have lost their initial appearances, due to fires 🔥 and neglect, but they did were given back their former glory thanks to their transfer to the Imperial Household. Ninomaru Garden was designated Place of Scenic Beauty in 1953, Honmaru Garden displays influences of Western style gardens, and Seiryu-en garden is a traditional Japanese garden, with tea houses.
Strolling in Nijo Castle's grounds is very pleasant: the gardens are well-maintained and complemented at the end of winter by plum tree blossoms, and in early spring by cherry tree 🌸 flowers, as well as handy facilities to eat and take a rest. Nijo Castle is conveniently located in the north of Kyoto's center, a few meters away from the International Manga Museum.