Yasaka Koshin-do
Kyoto's tiny, colorful temple
Add to my favorite places
Yasaka Koshin-do is a temple located in the tourist district of Higashiyama in eastern Kyoto. Constructed during the Heian era (794-1185), the temple is popular today not for its history, but for its aesthetics: because it is colorful, it recently became a perfect spot to take artistic photographs for social media.
Although it is considered a Buddhist temple, Yasaka Koshin-do is actually dedicated to Shomen Kongo, also known as Koshin-san, a protective warrior from Taoism. Koshin-san helps those struggling in their daily lives and punishes evil people. Moreover, this temple also honors the Sanzaru, or three wise monkeys 🐒. Therefore, we can find these three monkeys presented in distinctive positions meaning "see no evil, hear no evil, speak no evil."
Balls of bright, photogenic fabric called kukurizaru are the temple's main attractions. They hang everywhere, even on numerous garlands inside the temple, and create gorgeous, colorful walls that present a totally "Instagram-worthy" background perfect for publishing a nice picture on social media or posing for a portrait. Japanese people do not hesitate to visit the temple in their traditional yukata 👘.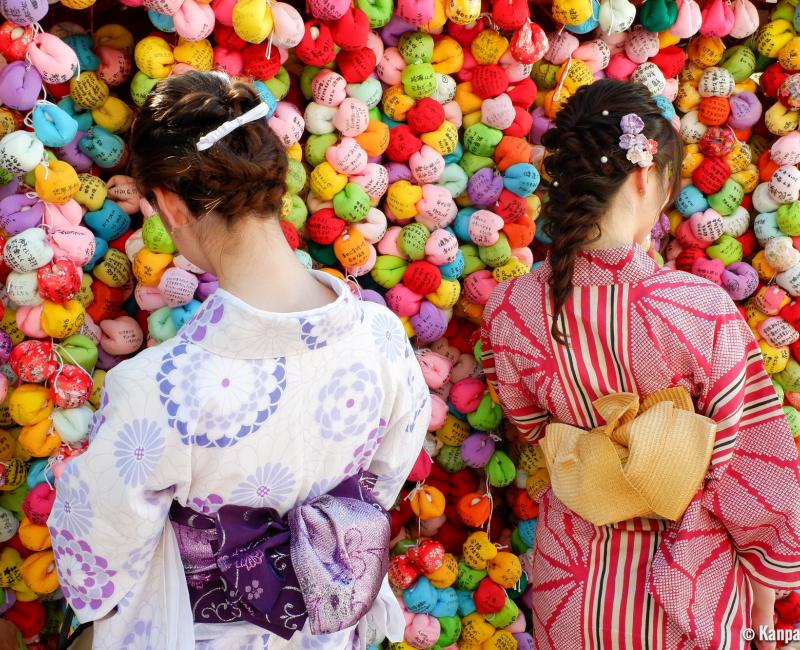 The small, spherical kukurizaru replace the ema, classical wooden tablets on which wishes are written. According to a Taoist belief, for a prayer to be granted, we must give one of our desires to Koshin-san. Indeed, if wishes do not come true, this is due to a person's excessive desires. Thanks to kukurizaru, we can capture one of our desires in a ball by writing a good resolution on the fabric and hooking it on a garland so the warrior god can take this desire and grant our wish.
Walking down the typical street of Ninenzaka, just past the Hokan-ji Pagoda in the midst of restaurants and souvenir stores, we can discover Yasaka Koshin-do's discreet yet vivid entrance. During the day, it is rare to be alone in the small temple. Young women, couples and tourists looking for original pictures love the place. Its ease of access and location just a few steps from Kiyomizu-dera may explain its popularity.
Even if the place itself is not a Kyoto "essential," it remains pleasant to observe, for a short while, people walking around the garlands like bees in a field of flowers. During the winter, Yasaka Koshin-do reveals its gorgeous landscape under snow—and, during this season, without the crowds.