Kodai-ji
The Maple and Bamboo Temple in Kyoto
Add to my favorite places
Kodai-ji is a temple of the Rinzai School of Japanese Buddhism, located in Higashiyama in the east of Kyoto. Its magnificent gardens are a tribute to Japan's cultural heritage and unveil their beauty in autumn.
Kodai-ji was founded in 1605 by Kita-no-Mandokoro (deceased in 1624), the widow of Toyotomi Hideyoshi (1537 - 1598), one of the great unifiers of Japan, to pray for his eternal rest. The temple's construction was supported by Tokugawa Ieyasu, and its name derived from Kodai-in, the name Kita-no-Mandokoro received when she entered the convent.
Aside its historical interest, Kodai-ji is one of the few temples in Kyoto holding Momiji 🍁 light-ups to enjoy the red maple trees under their best light.
Night illumination of momiji maple trees in autumn
Like the other places offering evening openings, such as the Kiyomizu-dera nearby, Kodai-ji is victim of its own success in the fall period. You will have to be very patient and brave to endure the flocks of visitors, while trying to admire the view as much as possible and bring back pictures doing justice to the beauty of the garden that was supposedly created by Kobori Enshu and designated Place of Scenic Beauty.
In addition, note that the use of a tripod is completely forbidden in Kodai-ji. Of course, the rule might easily be overturned, and you probably won't be kicked out, but the alleys are so narrow and crowded that it would be difficult anyway.
The other highlight of the temple's grounds is its incredible bamboo forest, that is even better than Arashiyama's. One can indeed walk further inside and the light-up add a magical air to it.
Other illuminations are staged throughout the year according to the season's blooming, especially in spring for the cherry trees 🌸 and in July for Tanabata 🎋, a celebration whose symbolic is closely related to the couple worshiped here.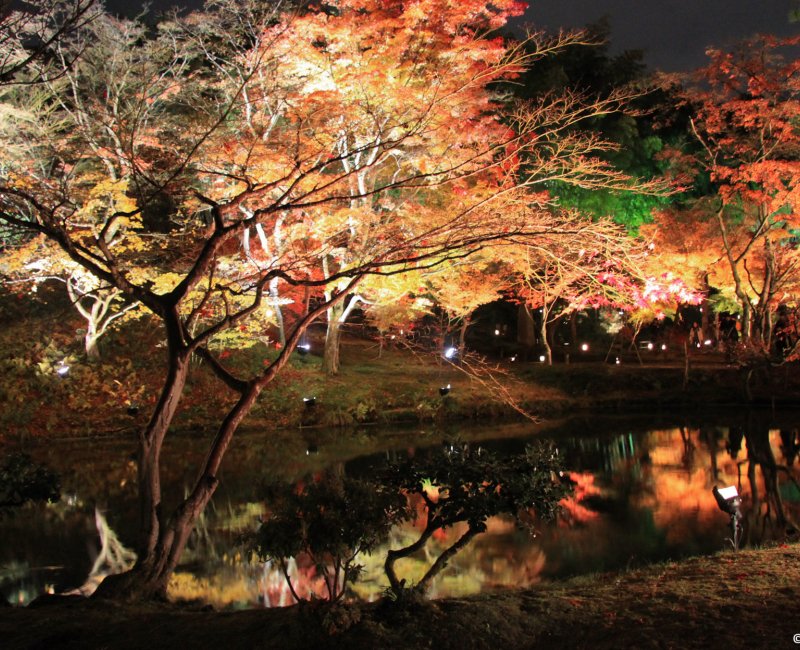 Traditional temple dedicated to Hideyoshi and Kita-no-Mandokoro
The Kodai-ji complex is quite large. It also shelters an eponymous museum displaying 16th and 17th centuries paintings and calligraphies, including 2 painted scrolls picturing Kita-no-Mandokoro and Hideyoshi. The temple is famous for its collection of maki-e lacquerware, that were trending during the Azuchi-Momoyama period (1573 – 1603).
A typically Japanese modern oddity, the temple hosts the "Android Kannon Mindar", a robot reciting the Sutra of the Heart, of which a goshuin seal to its image is even available. Those who prefer a more conventional Kannon can go to Ryozen Kannon, a huge sitting statue whose enclosure is just next to the south-east of Kodai-ji.
Be it for cultural or aesthetic reasons, Kodai-ji should be on your short list of must-see temples in Kyoto.