Mito
Ibaraki's Quiet Capital
Add to my favorite places
Mito is the largest city of Ibaraki prefecture, located about a hundred kilometers to the north-east of Tokyo. It is renowned for Kairaku-en, a traditional Japanese garden where plum trees bloom beautifully at the end of winter. Its human-sized downtown provides a sensation of quietness and is ideal for a leisurely walk.
Mito is an ordinary middle-sized Japanese city, with its own JR station, whose vicinity is convenient, with a counter for the local tourism office, and plenty of shops, cafés and restaurants. As for moving around, all touristic sites are within reasonable distances so it is easy to go on foot, by bus and even by taxi. Mito's most interesting places are located around its center.
Lake Senba: swans and cherry trees
From Mito station south exit, we recommend going to Lake Senba, the city's vast pond, contiguous to the famous Kairaku-en garden, the major attraction for most of Mito's visitors. Its banks are set up for a pleasant and bucolic stroll of about three kilometers long, under the shade of the blooming cherry trees 🌸 in spring.
On a side note, the architects and garden designers who created Senba Boardwalk took inspiration from the famous West Lake in Hangzhou (China). They thus reused the concept of a boardwalk on piles that grants a nice feeling of floating when walking on it.
During their stroll, visitors will mainly meet Mito's inhabitants who come here to relax or exercise. They are very friendly and keen to chat, especially about their city and do not hesitate to give some interesting visit advices. Moreover, many wild birds live on the lake throughout the year, and it is not surprising to have a close encounter with swans or ducks. They are not shy as they are used to the human presence. Swan pedal boats or rowboats are available for rent to enjoy this peaceful natural environment.
In the background of the lake, the Mito Art Tower stands out. This tower displays a very original contemporary architecture and we recommend the wider views on the area from its observatory. Other things to see: the museums, and especially the Museum of Modern Art, Ibaraki that exhibits a collection of about 3,900 artworks, including those of Yokoyama Taikan, Ogawa Usen and Nakamura Tsune.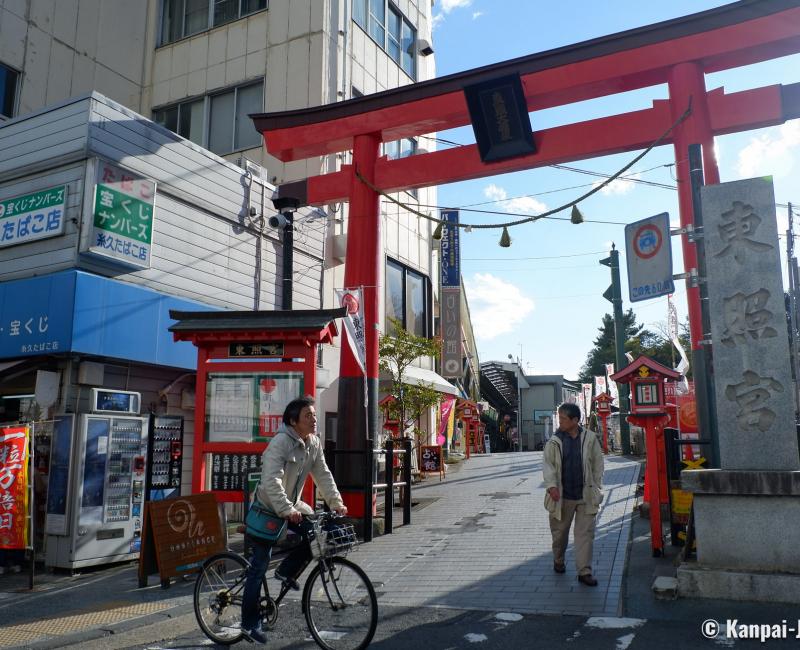 Reminders of the city's feudal past: Kodokan and Toshogu
Leaving the large avenues' straight-lines to go back to the north of the JR station, a maze of outdated alleys are the remaining traces of the city's historical past. Once a major feudal city and a clan's capital during Edo period (1603 – 1868), Mito has since lost most of its authentic buildings, such as its castle 🏯. Today still remains the Kodokan, Mito's domain (han) school for samurais and lords' children, established in 1841 by Nariaki Tokugawa (1800 – 1860).
Lastly, the visit of downtown Mito ends with the small Toshogu shrine, built in 1621 on the order of daimyo Yorifusa Tokugawa (1603 - 1661) to honor his father, the famous shogun Ieyasu Tokugawa (1543 - 1616). The original building was destroyed by WWII bombings and the present-day pavilion was built in 1956.
In the surroundings, and before boarding the train 🚅 for the return trip, stroll by a small typical covered shopping street and drop by one of its eateries, that are as good as charming, to have a snack with natto, the specialty dish in Mito.