Narita-san Park
The Relaxing Environment of the Temple-City
Add to my favorite places
Narita-san Park spreads in the continuity of Shinsho-ji temple in Narita City's downtown. This vast haven of peace offers a relaxing stroll in a green environment structured around three ponds in a Japanese garden. The park is also renowned for its plum blossoms in February and autumnal colors in November.
Narita-san Park extends on a large superficies (more than 16 hectares) in the east of the Buddhist compounds to which it is connected by a set of stairways. The most popular access, when coming from Narita-san Shinsho-ji temple, is below the Great Pagoda of Peace, descending a large stone stairway down to the fountain. The straight walkways, lined with meticulously pruned trees and bushes are reminiscent of Western-style gardens.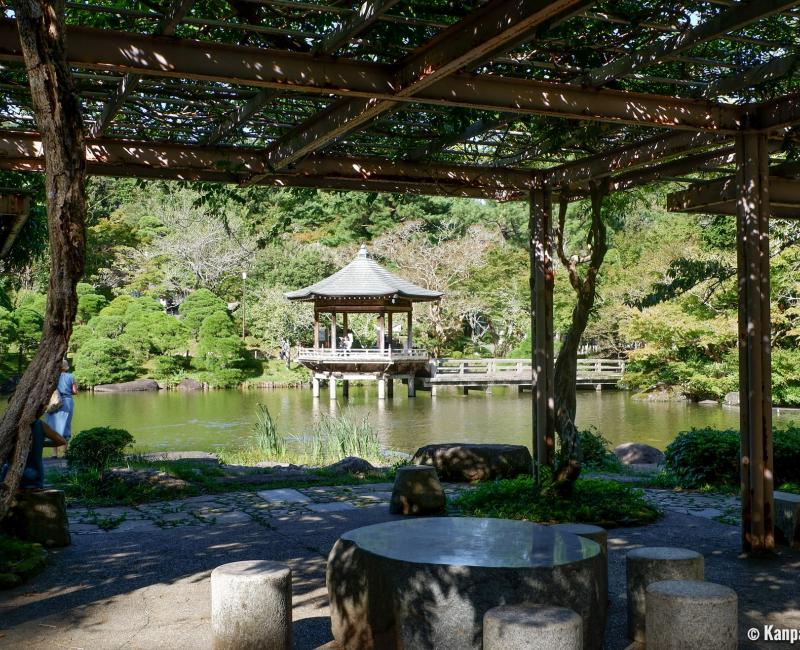 A floating pavilion in a Japanese Zen garden
This impression however dissipates as one walks further in the park's vegetation and the key elements of a classical Japanese garden start to emerge. The main one is a bucolic stroll around three successive ponds, each of them being larger than the former. It is the most pleasant part of the walk, with little stone bridges to cross while searching for lanterns 🏮 hidden in the vegetation or observing the koi carps swarming at the surface of the water.
The third and largest pond is adorned with a floating pavilion named Ukimido, from which one can quietly enjoy an unobstructed view. On the opposite shore, the stone embankments as well as the vegetal cover offered by a big wisteria also provide an ideal setting to relax while watching this soothing landscape. Nearby, the Calligraphy Museum, opened in 1992, exhibits a collection of Chinese and Japanese artworks from various periods.
Walking the majestic, shaded paths lined with large steles wind lead towards the park's heights and Narita-san temple. The scenery reminds, although to a lesser extent, of the ambiance on Mount Koya and its large graveyard Okunoin, in the heart of the forest. Which it is not very surprising as both sites belong to the same Shingon Buddhist school, founded by Kobo Daishi.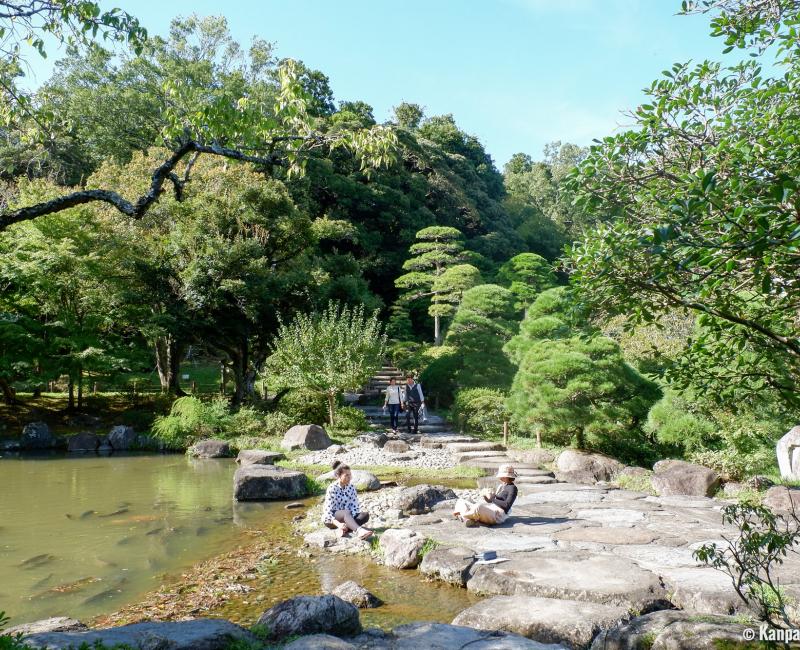 To each season its vegetation
With numerous Japanese maple trees growing on its grounds, Narita-san Park is a nice place to visit during the koyo 🍁 period in November. From mid-February to mid-March, the small, enchanting forest of 500 plum trees is in bloom for a beautiful show and the Ume Matsuri festival is the occasion of staging outdoor tea ceremonies on the weekends, among other events.