Maguro Shokudo Shichibeimaru
Natural Tuna Restaurant in Miura
Add to my favorite places
Maguro Shokudo Shichibeimaru is a maguro tuna restaurant, in the south of the Miura peninsula. Specialized in fresh and natural tuna, the restaurant serves at any time of the day simple and delicious dishes, based on fish sourced through local fishing.
The restaurant Maguro Shokudo Shichibeimaru proudly represents the fishing activity at Misaki Port, in the south of Miura. With direct ties to the peninsula's fishing boats, the restaurant is supplied with fresh fish daily, so it can offer a different and seasonal selection every day. Raw fish amateurs are 100% guaranteed to find fresh ingredients.
With good and simple meals, the menu mainly includes:
Sashimi plates; and,
Donburi, the rice dish with various toppings served in a bowl.
The dishes are sided with plain rice, miso soup and tsukemono marinated pickles. The presentation on a tray is mouth-watering and typically Japanese, with several bowls and small plates. Green tea or light beer 🍺 such as Asahi or Kirin make a good association with the food.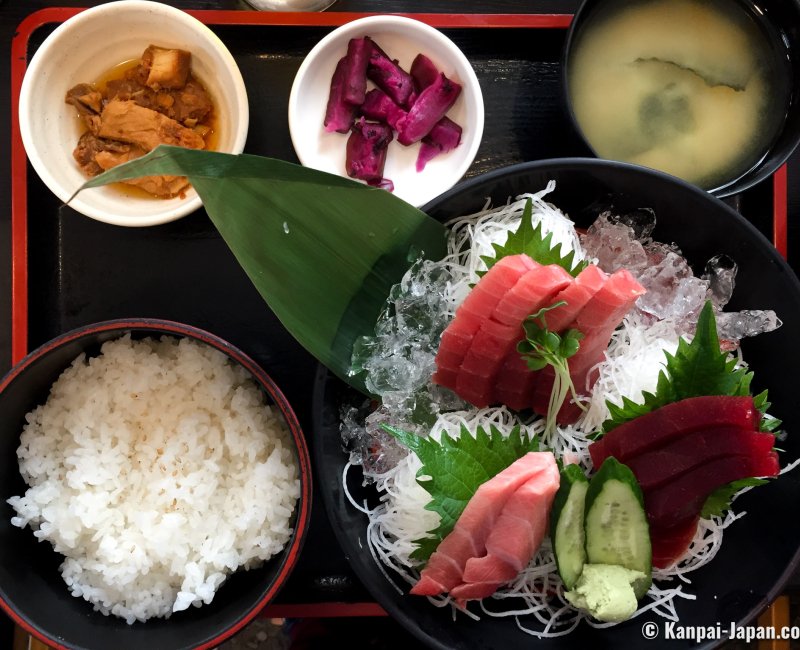 Red tuna and other fresh fish tasting
The restaurant's specialty is the maguro tuna, whose flesh color varying from bright red to pale pink indicates its fat level and therefore its softness. It is pleasant eaten raw, in slices, or cooked like a steak from the sea. Other fish also make it to the menu depending on the day's catch. For example, octopus or scad (a type of mackerel) can also be served.
Shichibeimaru serves fresh fish in appropriate portions, after which you can continue visiting the city on a full stomach.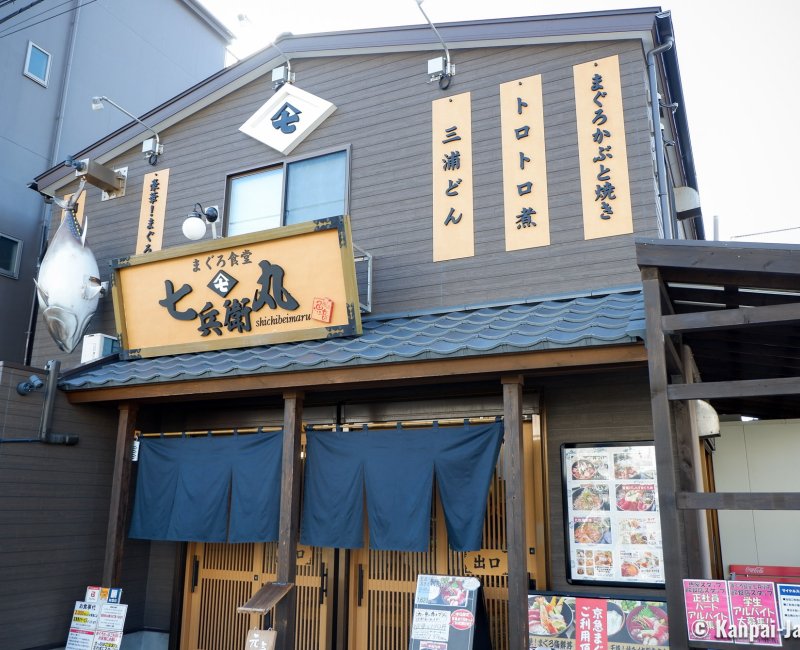 Uninterrupted service on the daytime
Lunch is considered the main service; however, the restaurant is open from morning to the middle of the afternoon and serves as long as there is still fish in the kitchen. One can therefore find something to eat beside the usual 12 p.m. – 2 p.m. time slot.
The restaurant room only offers tables and chairs in a classical setting, without possibility to privatize an area or to eat on a tatami floor for example. It makes the place easily accessible to people with reduced mobility and to young children (highchairs are available). A kid's menu, with suitable tableware, is also available to cater to families.
The restaurant Maguro Shokudo Shichibeimaru is unpretentious and offers a simple cuisine, local and tasty. Tuna amateurs will be delighted to find quality fish, extremely fresh and at an affordable price in Miura.