Kitaguchi Hongu Fuji Sengen
The Northern Gateway to Mount Fuji
Add to my favorite places
Kitaguchi Hongu Fuji Sengen is a Shinto shrine in Fujiyoshida City. Located on the northern side of Mount Fuji, it was for a long time the only access to the sacred mountain's ascension. While a bit difficult to reach, this splendid and bewitching place of worship with faded colors is one of the must-sees of the area.
Kitaguchi Hongu shrine was built in 788, with the intent of protecting the region's inhabitants from Mount Fuji 🗻's eruptions. Three Shinto deities are worshiped, included the goddess of Mount Fuji Konohana-no-Sakuya, also called the "cherry blossom princess."
A long, wide cedar trees alley gives access to the spiritual site, bordered by stone lanterns 🏮 nicely covered in moss. The formal entrance is marked by an impressive an 18-meter wide red torii ⛩️ gate. There is a custom to rebuild the gate every sixty years (the last reconstruction was in 2014), each time with a bigger structure than the previous one. At the small Temizuya purification pavilion, wash your hands and mouth while admiring its dragon sculptures.
Then, two huge sacred cedar trees stand on each side of the main hall Haiden. It was built in 1615, at a later stage of the shrine's history, but it was designated Japan's Cultural Property. Two big masks 😷 of tengu 👺 are hanging on the facade. Tengu are half-human, half-bird creatures, comparable to kami (the Shinto deities). On the right, a large range of protective amulets are available for purchase.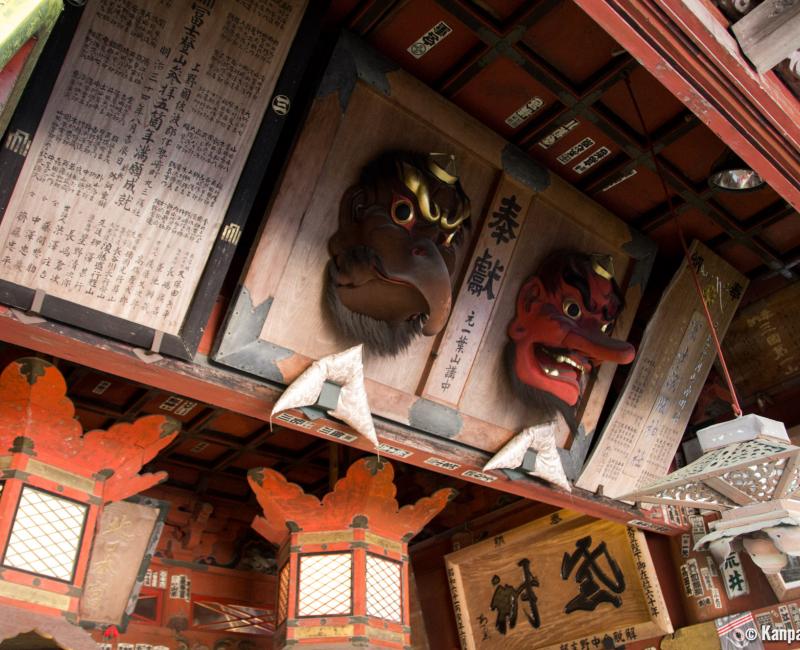 The ascension of Mount Fuji
At the back end of the shrine precincts, on the right side, after passing by a small stone torii and an altar, a path goes south towards Mount Fuji. It is the historical trail to the volcano 🌋's summit. Kitaguchi Hongu Fuji Sengen shrine is traditionally viewed as the beginning of the Fuji-san pilgrimage and is a really nice way to start the climb for enthusiastic hikers.
The shrine is enveloped in a mysterious and bewitching atmosphere. The ancientness of the monument is brought out by its old wooden buildings, whose red hues still retain some beauty. Strolling in the grounds while contemplating the various smaller pavilions is very pleasant.
A bonfire festival in relation to the shrine takes place every year, on August 26 and 27. Wooden pyres of three meters high are constructed in the surroundings of Fujiyoshida's main street and set on fire 🔥 at night. Attending this celebration can be a good opportunity to spend the evening or the night in the area.