Mount Kachi Kachi
Observation Deck on Kawaguchi and Fuji-san
Add to my favorite places
Mount Kachi Kachi is a small mountain that offers a pleasant view of Lake Kawaguchiko, which is located at the foot of Mount Fuji in Yamanashi prefecture's Five Lakes region. The ropeway carries visitors up 1.075 meters in 3 minutes. A hiking path also allows backpackers to reach the top in less than one hour.
"Kachi-kachi" is one of the Japanese language's numerous onomatopoeias and refers to the sound of brushwood in fire 🔥 or underfoot.
A visit to this mountain offers visitors the opportunity to discover Kawaguchiko. On its southeast extremity, at Kohan Station, the bottom of this little mountain opens up into two branches:
a ropeway (460 meters long, 30° incline) that climbs progressively from the lake, and;
a charming wooded hiking path.
The climb involves two stages. From Kawaguchi, which is already 865 meters high, the first and main plateau is Fujimidai (1.075 meters) and features several observatory panoramic decks. On the northwest side, visitors can see the whole lake, and on the south side, Nakabadaira offers one of the finest views of Mount Fuji 🗻, which can be discovered, along with the Fuji-Q Highland theme park 🎡, at the bottom. On clear days, even the Minami Alps (Mounts Akaishi and Arakawa) are visible. Photographers are sure to be delighted.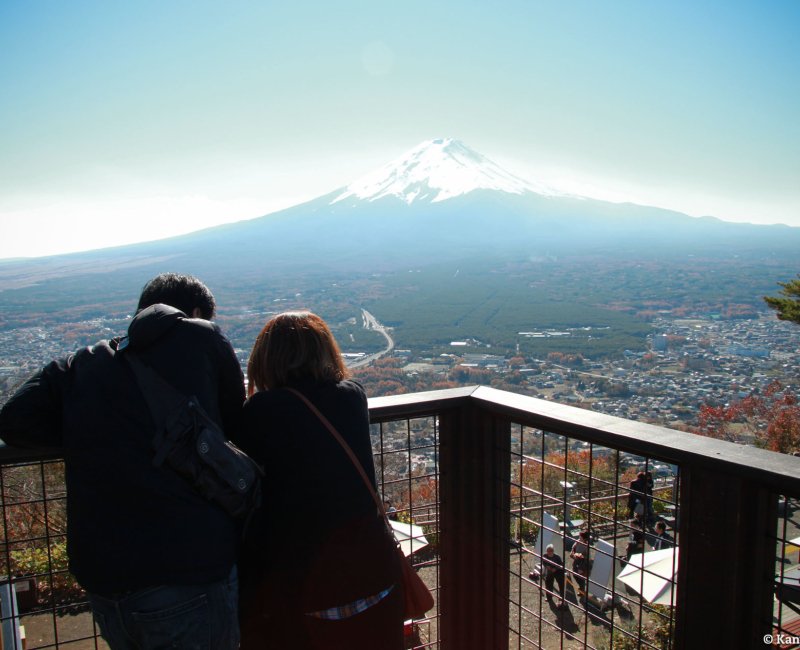 Children are entertained with characters from the gruesome "Mount Kachi Kachi story" revived by Japanese author Osamu Dazai. Once upon a time, a tanuki, seeking revenge on a man who had captured it, fed him with a broth made from his wife. But the couple had a tamed rabbit that took upon him to avenge his masters and did it in playing painful tricks and tortures on the tanuki. One of the tortures consisted in burning the tanuki alive, while it was carrying a bundle of wood. Unaware of the fire, the animal wondered what was the "kachi kachi" sound. The rabbit replied that it was the usual sound of the mountain, hence the name "Kachi Kachi Yama". More recently, a modern tea house opened on the platform, offering visitors a chance to taste the local specialty, the Tanuki Dango 🍡.
From Fujimidai, a path climbs to a small shinto shrine located on top of Mount Tenjo a little higher up. If you have planned a night in Kawaguchiko, this is a possible starting point for a 3-4-hour hiking trail toward Mount Mitsutoge. From this old path, which climbs 1.785 meters, the views of Fuji-san are gorgeous.