Heijo
The Former Imperial Palace in Nara
Add to my favorite places
Heijo is the former imperial palace of Nara, located in the north-west of the city, that was in use between 710 to 784. This vast architectural complex was recently reconstructed on its original site, including the large Suzakumon gate, the Daigokuden main hall, the Toin Teien garden and a museum dedicated to the history of Heijo-kyo, named after the former imperial city.
In Nara, the park benefits from the greatest reputation, thanks to the Todaiji temple and Kasuga Taisha shrine, but the first capital of Japan is nonetheless withholding other astounding sites. The capital was named Heijo-kyo in 710 (literally the "capital on the plateau"). As a matter of fact, its location is no coincidence, as the area's flatland was the ideal place to build one of the first strongholds of the archipelago's history.
At the times, the country's central government was settled in the north of the city, in an area named Heijo-kyu spreading on about 120 hectares nowadays. It was designed to copy the layout of Chang'an, the Chinese capital at the times, and the imperial palace grounds spread on no less than 2,500 hectares enclosed behind clay walls, on 6km from east to west and 5km from north to south. There were 12 gates, and 3 of them, the main ones, were built facing each cardinal direction (except north).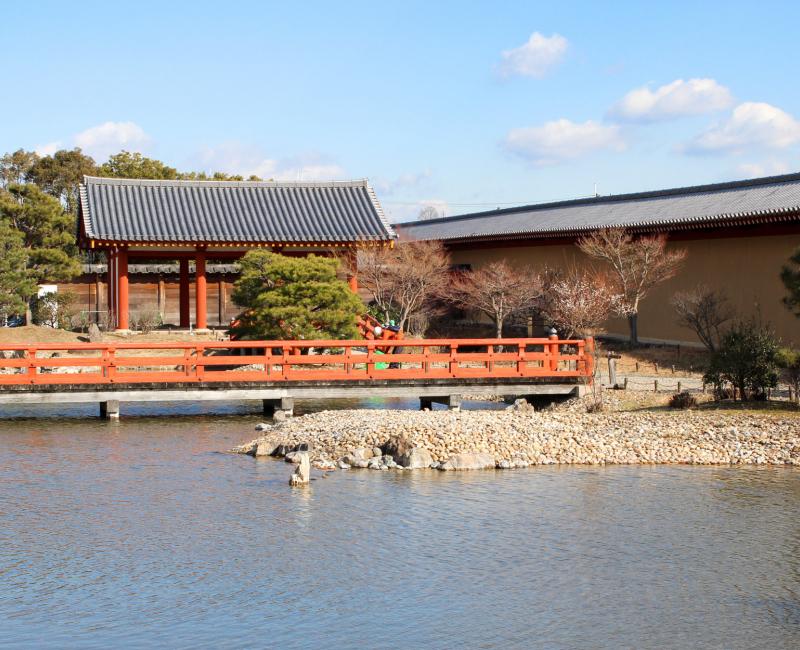 Buildings for official ceremonies such as Daigoku-den and Chodo-in and the emperor's residence To-in were completed by offices allocated to ministries and many officials who were in charge of creating the bases of the budding government and conducting the country's affairs whilst monitoring the rising influence of the Buddhist clergy.
Today, archeological excavations are still ongoing (since 1959!) in the area which was the place of great celebrations for the 1,300th anniversary of Nara in 2010. The wealth of the ancient capital and its area is on par with those of Kyoto, its neighbor and successor. However, the site, while registered in the UNESCO World Heritage List, is not that easy to access, and its large enclosure (more than one kilometer per side!), including the great gate Suzakumon, two museums dedicated to the area and the palace, and the archeological excavations exhibition hall, may discourage some visitors.
Heijo-kyo is nonetheless worth the detour and provides a unique and peaceful experience, far from the tourists' crowds. History amateurs will therefore head north-west when exiting Nara station, whereas most visitors will flow towards east, to Nara Park.