Todai-ji
Nara's Great Buddha Temple
Add to my favorite places
Todai-ji is a Buddhist temple in Nara, on Honshu Island. This great eastern temple is renowned for Daibutsu-den, the largest wooden structure in the world, that shelters a huge bronze Great Buddha statue.
Although Todai-ji shares its kanji with the name of Tokyo University, this is really all they have in common. Todai-ji is, indeed, the most famous and probably the most visited temple of the delightful town of Nara.
A must-see in Nara
This is mainly due to its architectural masterpiece, a majestic sitting Buddha bronze statue no less than 18 meters tall and 250 tons in weight, ranking between its Kamakura (13 meters) and Nokogiriyama (31 meters) counterparts, although still lagging far behind the most recently built standing Buddha representation of Ushiku (120 meters!).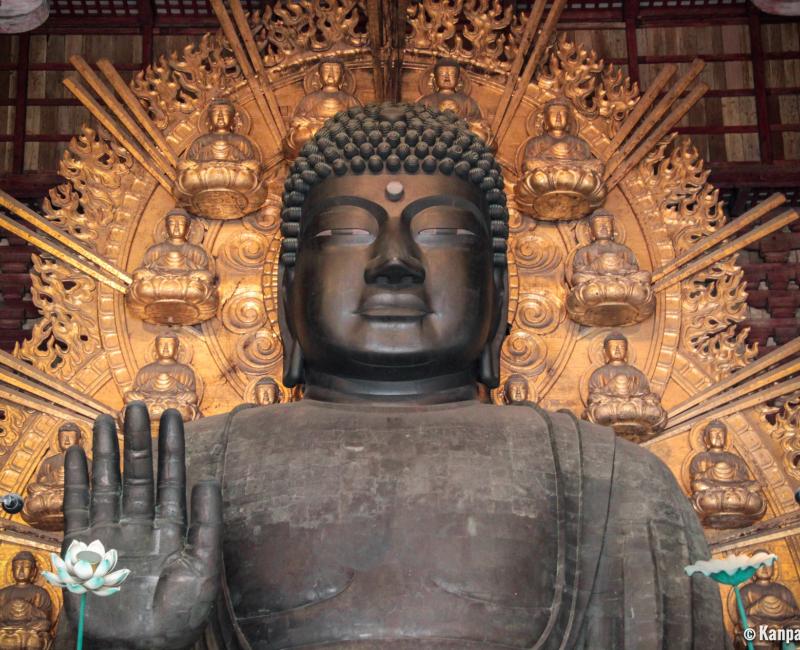 Admire the oldest Daibutsu in the world
But it is also, and maybe most importantly, the oldest of them all since it was built in the middle of the 8th century, at a time when Nara was still the capital of Japan. Other monumental, awe-inspiring statues stand by its side and make for an extremely rich visual experience.
The statues are hosted in the magnificent building of Daibutsu-den, last rebuilt to two-thirds of its original height after a fire 🔥 in 1692. It nonetheless remains, to this day, the highest wooden construction in the world. Little wonder that it is a listed Unesco World Heritage Site.
You will see Todai-ji, which means "Great Eastern Temple", on your left hand side as you make your way from the station to its large park. There is no missing Nandai-mon, its large wooden gate, a favorite passage for shika deer. On the way to the temple lies a lake with a tiny islet in the middle which harbors a Shinto torii ⛩️ gate.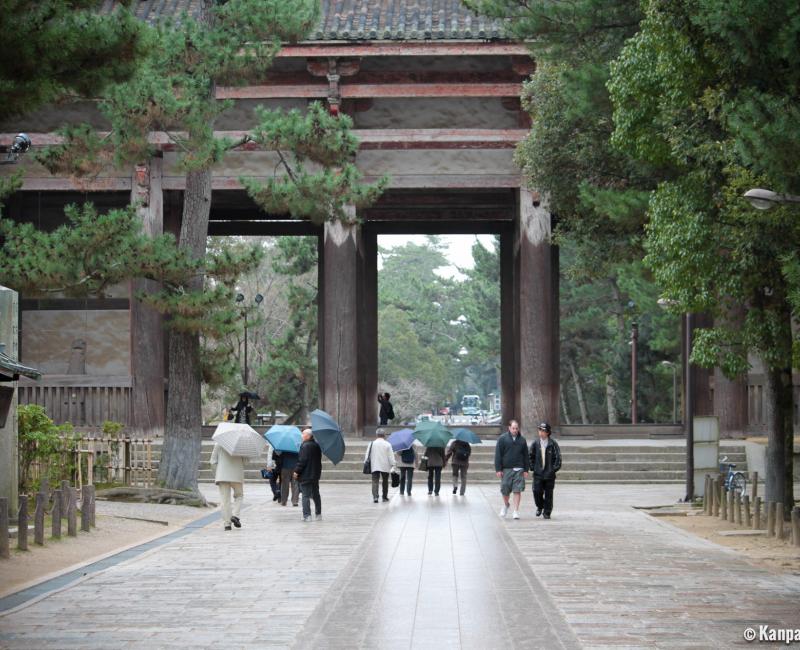 A great temple and its secondary pavilions
Todai-ji in fact does not consist of Daibutsu-den alone and extends far beyond its walls, mingling with the central park of Nara on its Northern side. Its most Eastern part also houses other temples such as:
Hokke-do,
Kaidan-in,
Shoso-in, or
Nigatsu-do.
Of less imposing and ostentatious dimensions, these pavilions are pervaded with a quiet atmosphere and richly decorated. It also opens onto the beautiful Wakakusayama hills.
To top it all, a museum was also opened by the main gateway in 2011. If you are simply curious or a lover of historical artefacts, your eyes will be treated to a feast of beautifully crafted cultural and religious treasures.
Needless to say, Todai-ji is an absolute must-see of your visit to Nara.