Kofuku-ji
The Introductory Temple to Nara
Add to my favorite places
Kofuku-ji is a Buddhist temple affiliated to Fujiwara clan, located in Nara. The architectural complex includes several pavilions among which some are listed as National Treasures of Japan, such as the five-story pagoda. It is one of the main temples of the Hosso Buddhist branch and it was listed in the Unesco World Heritage List in 1998.
🚧 Renovation in Progress
Ongoing reconstruction and renovation works on the Five-Story Pagoda since 2020. Initially planned to last 3 years, the end of the works was postponed due to the significant rise of construction material costs and the need for further surveys of the building.
The end of the renovation works is now scheduled to early 2032. The pagoda is to be hidden by scaffolding and the area partly closed to the public.
First built in Kyoto in 669 by the powerful Fujiwara clan, Kofuku-ji complex had a tumultuous fate including several transfers in Nara's area, under the names Umayasaka-dera or Yamashina-dera, and a final settlement in Nara when the city became the capital of Japan a couple of decades later.
As many other temples in Japan, it was destroyed several times by fire 🔥 - even stricken by lightning! - during successive wars to weaken its political and religious power. The last great damages occurred in the 18th century.
Closest to Kintetsu Nara station, but on the way to Nara Park from JR Nara station, Kofuku-ji temple is a good starting point to visit Nara, even though it might not be its top attraction.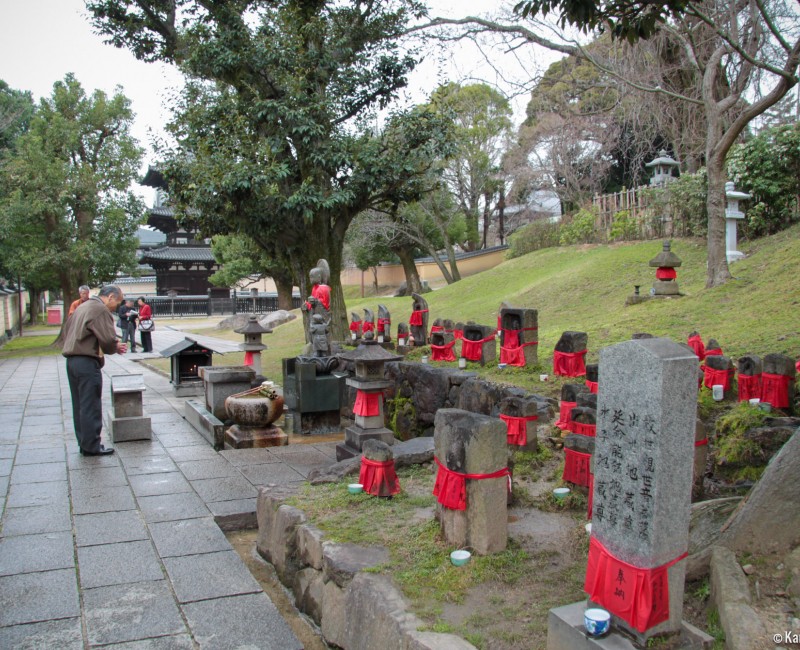 Nara in a nutshell
Walking the street lined up with shops, visitors arrive to Sarusawa pond, in front of which a platform of a moderate height offers a first panorama -although limited – of the city, and a view on Kofuku-ji's highest pagoda. The five-story pagoda indeed culminates at about fifty meters height and was restored for the last time in 1426. It is the second tallest pagoda in the archipelago, and it is one of the proud symbols of Nara.
The temple's grounds are home to a multitude of disparately sized buildings that makes it a complex: among its pavilions and pagodas, many are listed as National Treasures of Japan. At the culmination of Kofuku-ji's influence, between 150 and 200 buildings were standing in the temple's grounds! So, it is not surprising that the place is also where one of the most beautiful treasure halls of the country stands.
Shika deers stroll between the buildings and the never-ending renovation works. Many travelers stop at Kofuku-ji on their way to the indispensable Nara Park, a must-see in the city. However, the visit of Kofuku-ji can also be enjoyable on the way back, when all the other temples in Nara have closed at the end of the day.