Imayotsukasa
One of Japan's Best Sake Breweries
Add to my favorite places
Imayotsukasa is a traditional Japanese sake brewery located in Niigata, on Honshu Island central Chubu area. Visiting the brewery is one of the most interesting activities of the city, and its sake is considered one of the purest in the world.
Niigata City alone can boast about a dozen of sake 🍶 breweries, including Imayotsukasa, whose production is one of the most praised in the world. If Niigata area's sake benefits from such a good reputation, it is also thanks to its geography: winter is very cold and snowy, and the snow melt supplies a very clear and incomparably pure water. This very specific water is the prerequisite ensuring the perfect rice cultivation and fermentation. In the same manner as for French wines, it is virtually impossible to recreate the same quality elsewhere.
Imayotsukasa Brewery was founded in 1767 and still uses the traditional brewing techniques, without any artifice, nor additional ingredients beside rice and koji (a type of mold used in the saccharification process of rice starch), allowing its sake to use the junmai label. Displaying an architecture of the Edo period, the brewery building is divided into three parts, with the first one sheltering casks for rice polishing and fermentation. The techniques and the fermentation processes naturally vary according to the type of rice used for sake brewing.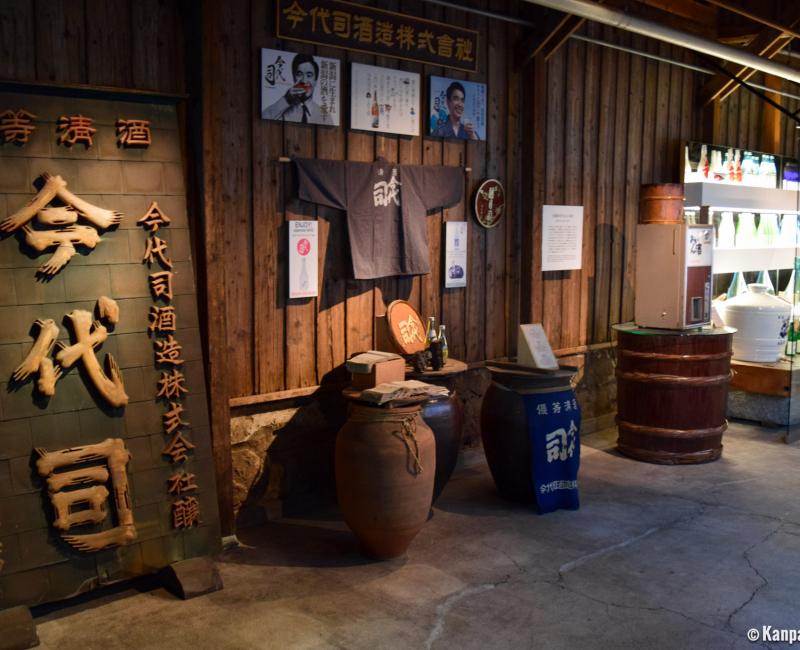 The tour continues in a small museum dedicated to Imayotsukasa Brewery's history since 1767, with its successive owners, brewing methods and other explanations that sake amateurs will be happy to discover. Among the anecdotes, there is a story about how the other breweries were so profit-oriented that they watered-down their sake, whereas Imayotsukasa always stayed true to its tradition to produce a quality sake. The main explanations are translated into English.
Lastly, shortly before the exit, a third part is dedicated to the brewery shop as well as to the display of the various awards Imayotsukasa received, including an "Excellence Prize" in 2015. The company also created a specific bottle for the Yokohama DeNA BayStars baseball team, labeled Shirahoshi. Various bottles of all shapes are on sale, including one designed in red and white, the colors of the koï carp. The sightseeing tour naturally ends with a sake tasting session.
Excessive drinking put your health at risk. Alcoholic beverages should be consumed in moderation.
Imayotsukasa Brewery is not just any brewery, but one of the best and of the oldest, and exhibits its history as well as all the details of its products' composition. The visit is free upon prior reservation with the friendly staff.
This article was written after a tour sponsored and organized by Niigata and Tsuruoka cities. Kanpai has been invited and guided but keeps a total freedom of editorial content.