Saito Villa
The Traditional and Historical Domain in the Heart of Niigata
Add to my favorite places
Saito clan's villa is a former summer estate of 4,500km² located in downtown Niigata, in Chubu area on the western coast of Japan. Dating back to the early 20th century, the three buildings surrounded by a beautiful garden are a major attraction of the city as they feature Japanese traditional esthetics.
Built between 1917 and 1920 by Kijuro Saito, the villa was used as a venue to receive politicians and celebrities. The ensemble is composed of the main two-story wooden house, a warehouse and a tea room. Tatami mats and dark floorboards cover the flooring, creating a contrast with the vivid colors of the garden. The garden was thought in the purest tradition, with huge pine trees and maple 🍁 trees growing around a pond sustained by a small waterfall. It is a beautiful scenery in all seasons.
Historical context
Saito family's company, Mikuni-ya, thrived at the end of Edo period (1603-1868), and became one of the three biggest conglomerates in Niigata. They indeed developed their own sake 🍶 brewery, and organized maritime shipments in early Meiji Era (1868-1912). Profits generated by these activities helped the Saito's buy lands and invest money in the area's economy.
A Visit enlightened by traditional dances
In some occasions, it is possible to attend Geisha's dance performances, accompanied by musicians playing traditional instruments such as shamisen and koto.
Their appearance, with pale faces and traditional kimono 👘, is stunning, and no picture can do justice to their beauty in real life. It is impossible to take one's eyes off their peaceful and slow dances.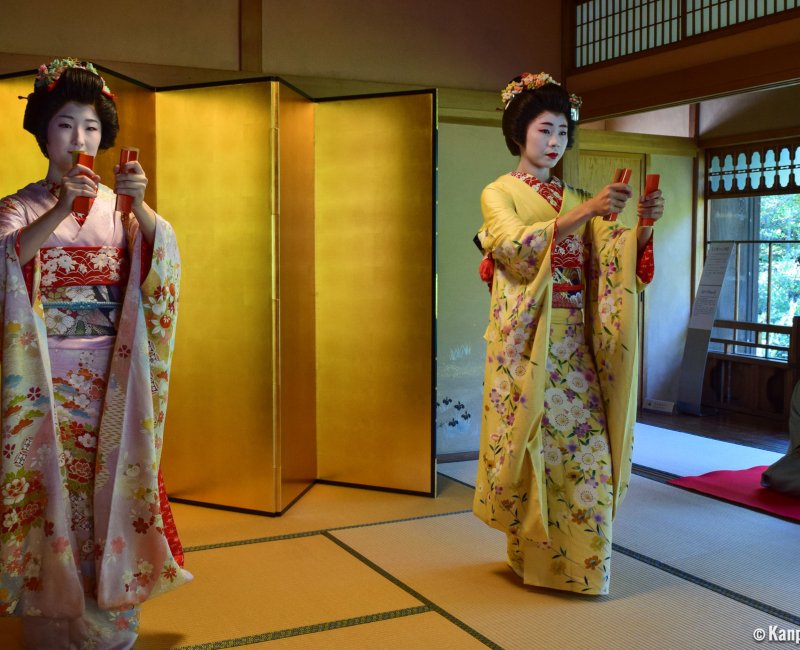 After the show, they entertainment with a kind of jan ken pon game (a kind of Rock-paper-scissors) that was played at the time. In this high-level version of the game, players must keep a certain rhythm when hitting on a drum as well. The one who loses the round must rotate on themselves while still playing the drum. Losing two rounds in a row means you have definitely lost the game.
Ikinari-ya Restaurant
A stone throw away from Villa Saito is a renowned restaurant: Ikinari-ya. Its building were constructed around a garden of black pine trees with an artificial pond. Eleven rooms of various sizes and adapted for different occasions are marvelously decorated, featuring the red-crowned crane, the emblem of the place. The finest dishes are served here, with a choice of pickled vegetables grown in the area, where organic food is prominent.
The restaurant's history is three hundred centuries long, dating back to Genroku Era (1688-1704), the Golden Age of Edo period. At the time, customers and performers were transported to the restaurant in rickshaws.
This article was written after a tour sponsored and organized by Niigata City and Tsuruoka City. Kanpai has been invited and guided but keeps a total freedom of editorial content.