Senjogahara
The Hike in the Heart of a Protected Marsh
Add to my favorite places
Senjogahara is a high plateau wetland located 1,400 meters above sea level, along Yukawa River between Lake Chuzenji and Lake Yunoko, in the mountain area of Okunikko in Nikko. Also named a marsh, moors or peatland, this natural landscape spreads on 400 hectares. Its scenery is beautiful in any season.
Tourists primarily know Nikko as an important heritage site, but it is also a renowned mountain destination, specifically Okunikko's area, which belongs to the city's National Park, located a few kilometers west to the main station. Many outdoor activities are available, and notably hiking in Senjogahara marshland.
Surrounded by high mountains covered with evergreen trees, the wonderful landscape varies through the seasons and accommodates alpine flora and wildlife. Summer is bustling with the abundant blooming of cotton plants, azaleas, and Japanese meadowsweets. A pick of frequentation arise in autumn 🍁 when the landscape is overflowing with vivid colors, especially on the weekends. In winter, the snow covers everything in white, and is a favorable environment for a snowshoeing or a cross-country skiing session.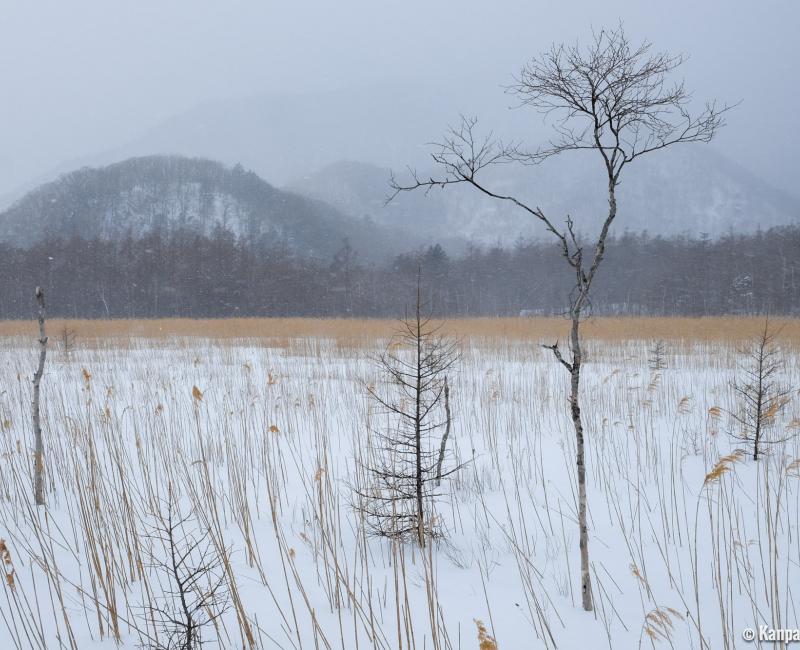 A protected natural scenery
This preserved natural space is to be discovered only by designated trails, going off-road is strictly forbidden as there is a risk to damage the biotope. The trails are earthen or wooden paths, slightly elevated from the ground at the most humid places. The vastness of the plain and its quietness are striking to visitors. There is no need to go all the way to Hokkaido to enjoy wide natural spaces, and temperatures in summer are refreshing all the same.
Bird-watching amateurs will be thrilled by the variety of wild birds that can be observed. It is also possible to encounter larger animals, such as the Asian black bear that also lives in the area. We recommend ringing the bell to warn these animals of your presence, and of course, to bring back your garbage.
As the area is mostly flat, the hike is easy and accessible to most travelers, including families with children. The longest path offers a three-hour walk. We recommend however to make sure to dress appropriately, with several layers of clothes, and to bring a snack. As a matter of fact, there is no vending machine or local restaurant in the marshland. The only eateries available are at the beginning of the trails and near the observation platforms.
Seasoned hikers may visit the neighboring Odashirogahara marshland, with a similar landscape as Senjogahara. The facilities are the same, and they allow walking and observing the millennia old work of nature.

This article was written after tour sponsored and organized by Nikko City. Kanpai has been invited and guided but keeps a total freedom of editorial content.