Tamozawa Imperial Villa Memorial Park
The Emperors' Summer Estate in Nikko
Add to my favorite places
Tamozawa Imperial Villa Memorial Park is a historical residence in Nikko, Tochigi prefecture. The holiday retreat was built in 1899 and sheltered three generations of emperors until 1947. Visitors can now explore its 106 rooms with a view on a beautiful and charming Japanese garden.
The Tamozawa Villa is sure to leave a trace in the travelers' mind, as it is not only an unusual historical discovery, but also one of the very few places in Japan to offer a direct insight on the imperial institution, unlike Tokyo and Kyoto's Imperial Palaces, of which only the outer walls are viewable.
This large house is the result of the original blending of existing buildings, in a patchwork of different architectural styles and periods. Its main features are:
Parts of an ancient feudal residence of the Edo period (1603 – 1868) for the Emperor's lodging, in the purest Japanese tradition with wood and sliding doors,
Parts of a private estate and villa built by the local wealthy merchants family, the Kobayashi during the Meiji Era (1868 – 1912), and,
Several extensions added during Taisho Era (1912 – 1926) to house the servants.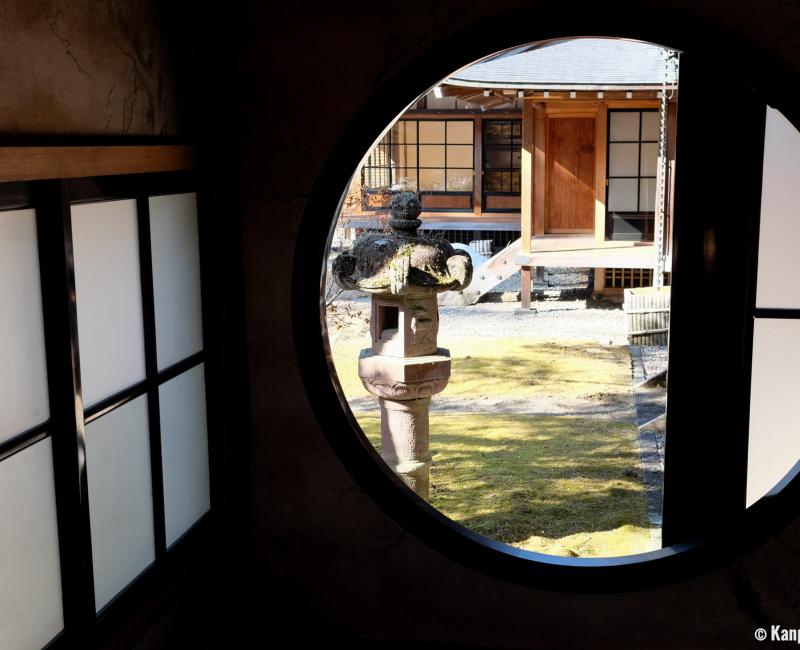 The first steps in the house can be confusing, as the rooms look like an eclectic museum mixing classical furniture, a billiard table and flowery carpeting. As a matter of fact, Tamozawa Villa is the perfect testimony of early 20th century Japan and its opening to the Western civilizations, which have had at the time a great influence on the Japanese nobility, its way of life and entertainments.
Emphasis is placed however, on the buildings' architecture and the symbolic of decoration. The visit is therefore very informative on the importance of tatami fabric patterns, or of the screw covers on the beams. The interest of the visit lies in the details: the materials used, the mounting techniques and choice of finishes. The villa is thus recommended to an adult and educated public, or at least interested in the sobriety of the traditional Japanese aesthetic.
On a broader scale, a large part of the site's beauty is due to the green spaces. The alpine forest gives privacy to the place, and the view on the Japanese garden is naturally integrated to the inside, with almost not feeling of partition. The perception is blurred by the multiple and large windows in each room to contemplate an embellished view on a well-maintained outdoor.
Nikko still manages to surprise with the Tamozawa Imperial Villa, close to its very popular temples and shrines complex. Most explanations are translated in English and the low attendance allows a leisurely wandering in this place of authenticity and history.
This article was written after a tour sponsored and organized by Nikko City. Kanpai has been invited and guided but keeps a total freedom of editorial content.