Kegon Falls
Nikko's Beautiful Waterfalls
Add to my favorite places
Kegon Falls is a large group of a dozen waterfalls, in the mountains of Nikko National Park, in Tochigi prefecture in the north of Tokyo. The most impressive cascade falls from 97 meters high and is 7 meters wide, a scenery that Japanese people love to admire in all seasons.
Whereas many travelers in Nikko rightfully enjoy the National Park and its wonderful temples and shrines, the region also offers an elevated plateau 20 km west from Nikko downtown, with Lake Chuzenji as its main feature. In the vicinity of the body of water, the large Kegon Falls are often considered by the Japanese among the most beautiful waterfalls of the archipelago.
Access to Kegon Falls is by bus, on the Irohazaka road that zigzags in the mountain. The main stop is on a large parking area in Chuzenji-onsen ♨️, but it can also be interesting to stop at Akechi-daira to visit the belvedere (via a ropeway) and enjoy a first view on the waterfalls with the lake in the background.
Kegon falls' origins are almost legendary: 15 to 20,000 years ago, the eruption of the nearby Mount Nantai produced lava flows that diverted Daiya River and formed Lake Chuzenji, whose water is flowing out 500 meters away at Kegon Falls. The place was named from a Buddhist sutra in the 8th century, at the initiative of monk Shodo and it has never dried up since.
With 97 meters high and 7 meters wide, the main waterfall is one of the highest in Japan, but it is not that impressive compared to, for example, Niagara falls. The water splits up into several smaller falls, offering a pleasant water scenery.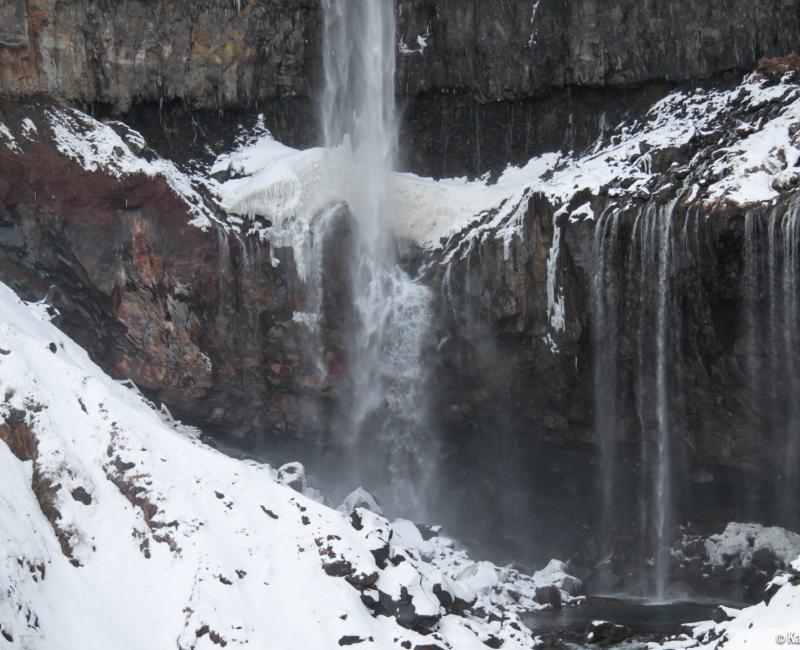 Various views on the waterfall
The visit of Kegon falls starts at a free small observation platform with a limited aerial view. To get to the main platform, one must take an elevator carved into the mountain to go 100 meters below and walk a long tunnel dug into the rock, to the depression.
Despite being composed of several levels, it is relatively small and allows visitors to stand the closest possible to the waterfall basin, while offering a very beautiful reverse angle view on the surrounding mountains crowned by marvelous forests. This variety of seasonal landscapes is one of Nikko's strong points.
From the summer's lush green to the iced snowy winter, the frequentation peak occurs in autumn (especially on the last half of October) to admire the reddening momiji 🍁 foliage. Our pictures, however, were taken in early March.
Upon arriving or before leaving, why not taste some fresh fish from the river, especially the trout grilled on the spot?
On a darker note, Kegon Falls are infamously known as the place where 200 young Japanese committed suicide in the early 20th century. Although rare, this kind of event still happen occasionally.