Mori no Kenja
Classy and Healthy Izakaya Pub in Ishigaki
Add to my favorite places
Mori no Kenja is a Japanese izakaya-style bar located in the outskirts of Ishigaki island's downtown, in Okinawa's Yaeyama archipelago. In a subdued and refined atmosphere, the owner provides his unique cooking and creates original dishes and medicinal drinks using the natural resources of the island.
The izakaya Mori no Kenja is in a quiet street, a bit away from Misakicho central port district in Ishigaki. Renowned throughout Japan for its unique culinary world, the owner and chef Jun Suzuki welcomes about 20 guests every evening.
Born in Matsumoto, Jun Suzuki fell in love with the island culture of the Yaeyama islands after a cycling trip throughout Japan. He settled in Ishigaki-jima in 1995, opened his gastronomic venue in 1997 and named it "Mori no kenja" that is to say "the wise man of the forest," in reference to the owl 🦉, the animal symbol of wisdom and knowledge in Western folklore. That is why the place's decoration is entirely themed on the owl and the forest.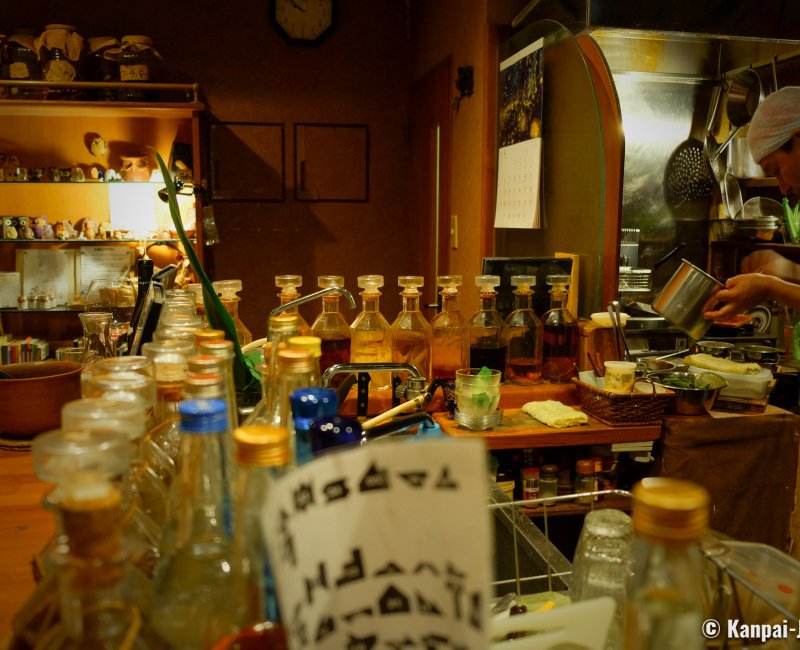 Creative cuisine with medicinal accents
Jun Suzuki does his best to offer a 100 % home-made, healthy cuisine using natural ingredients grown on the island. Therefore:
Fruits, vegetables, aromatic herbs and spices are harvested in Ishigaki;
Fish and seafood are caught is the area;
As well as pork and beef meat that are bread locally through reasoned agriculture.
In his cooking laboratory, he creates and tries new recipes before serving them to the clients. In addition to the classical Japanese alcohols, there is a large array of fruit and plants liquors and eaux-de-vie made here. The bottles, labeled with the list of their main ingredients, are displayed on the counter.
Excessive drinking put your health at risk. Alcoholic beverages should be consumed in moderation.
Clients feel like being in a kind of herb shop where the properties of medicinal plants and herbs were harnessed for gastronomy. Moreover, the chef guarantees that his authentic and natural cooking can help preserve a good health.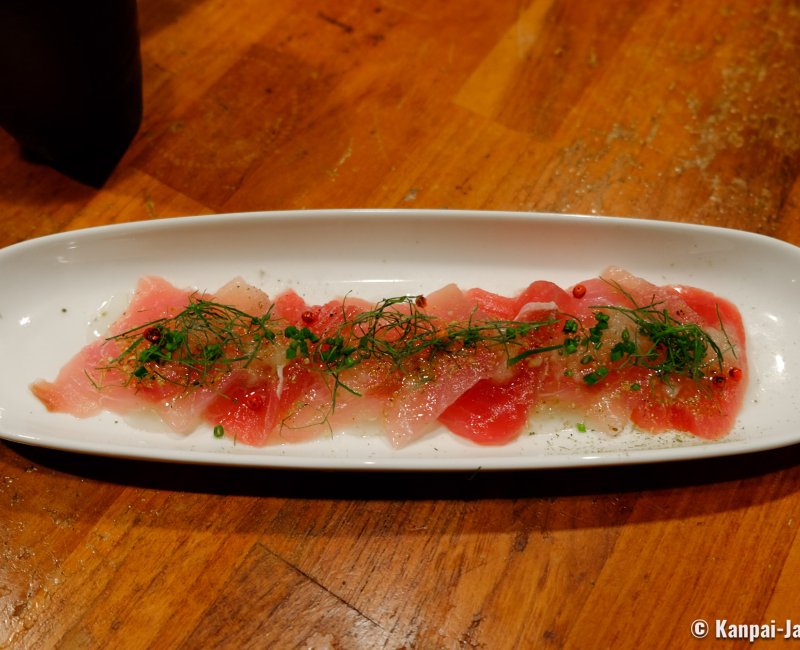 The dishes served at Mori no Kenja are different from Okinawa's traditional cuisine, based on chanpuru and soba noodles, and have a more refined look with western influences, especially:
A revisited version of ratatouille spread on a garlic flavored toasted bread;
Wagyu tender beef served sliced like a roti, to enjoy with mustard; and,
Raw fish served in a carpaccio with a wild herbs and pepper seasoning.
The izakaya also specialized in making tempura fritters with the island's vegetables, such as Okinawa's staple food, the goya bitter gourd. These fritters are indeed very light and delicious. Unusual dish amateurs may also enjoy the local jimami tofu made from peanuts and served cool or fried.
Mori no Kenja serves a refined and upscale food, for a higher budget than the average Japanese bar, in a quiet and mellow ambiance. We particularly recommend this place for a delicious romantic evening date. Note that advance reservation by phone or directly at the restaurant (if going to Ishigaki during the lower touristic season) is mandatory and cash the only mean of payment accepted.