Izakaya Nishiki
The Friendly Bar in Ishigaki
Add to my favorite places
Izakaya Nishiki is a Japanese bar located in Misakicho port district on Ishigaki Island, in Yaeyama subtropical archipelago. While it only opens in the evening, the venue is equally popular among locals and tourists, who come here to enjoy delicious Okinawan food in a friendly atmosphere.
After a full day of enjoying excursion on Ishigaki-jima and the island's turquoise sea, it is time to return to port and find a pleasant eatery to spend the evening. When looking for a popular place in Misakicho, the main entertainment district of the island, you'll find the bar Izakaya Nishiki, that has good Japanese reviews.
Upon entering the vast hall of the bar, you are pretty sure the experience won't disappoint you. Whether coming alone or with company, there is room for everyone in this izakaya:
Single seats at the counter;
Large tables with benches; and,
A few traditional low-rise tables on an elevated floor covered in tatami.
The friendly atmosphere is due both to the patrons, mostly locals and regulars, and the staff who are welcoming new faces and start chatting without hesitation. Guests immediately feel helped and at home. On a side note, Nishiki is the meeting place for the area's fishermen, as the bar's manager is also a fisherman by trade.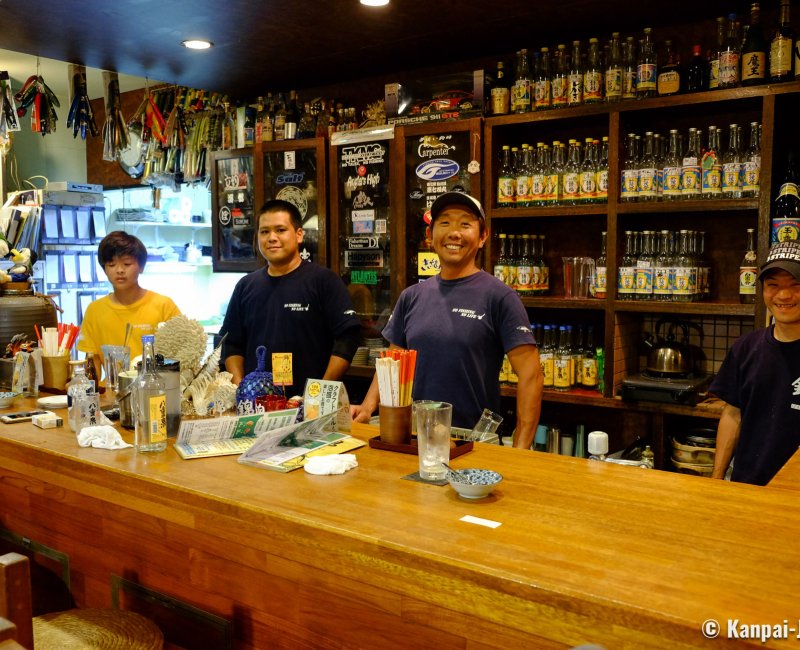 Simple and tasty island cooking
The menu includes lots of small dishes to share with friends. They are made from very fresh seasonal products, sourced from local fisheries and agriculture. Let's have a glimpse on the variety of the delicious dishes available:
Sets of sashimi, including tuna caught in the sea near Ishigaki;
Cooked shellfish, such as crab or prawns;
Grilled pork meat;
Jimami tofu, a local specialty made from peanut milk;
Typical Okinawan salads with umi budo sea grapes or including octopus and broccoli; and,
Various stir fried dishes in the chanpuru style, such as the must-try goya chanpuru bitter gourd, thin somen noodles (somin chanpuru), the original water spinach and garlic (ensai chanpuru) or cuttlefish ink (ikasumi chanpuru).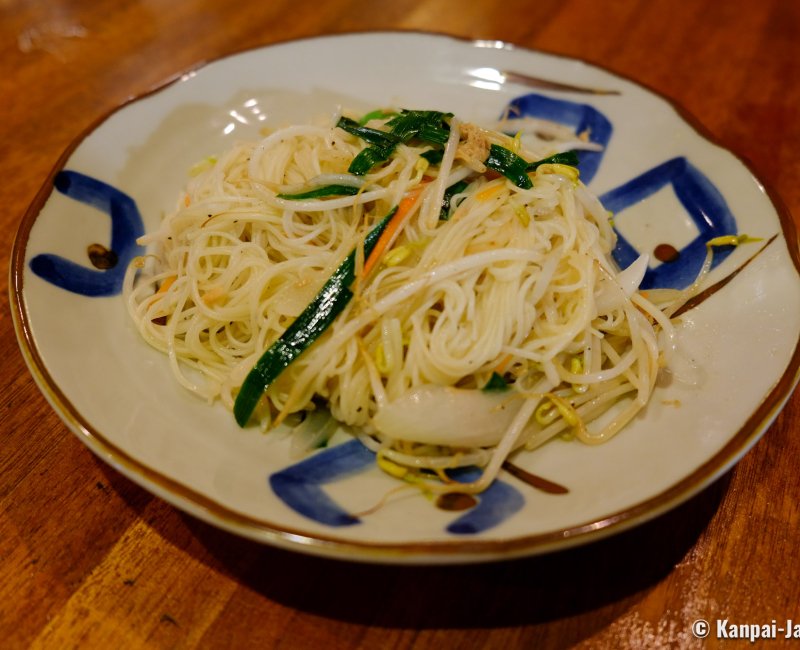 The food can be paired with the classical spirits of the archipelago, such as Orion beer 🍺 or the Yaesen awamori brewed on the island.
Excessive drinking put your health at risk. Alcoholic beverages should be consumed in moderation.
Izakaya Nishiki is an address we recommend for its delicious and traditional food of Ishigaki. One can eat early in the evening and even come with children. The friendly and laid-back atmosphere allows for encounters and exchanges.