Shimajiri Mangrove
Miyako-jima's Largest Aquatic Forest 
Add to my favorite places
Shimajiri Mangrove is a natural tropical forest near Shimajiri village, on Miyako-jima island in Japan's Okinawa archipelago. A short raised promenade is laid out to offer insights on this specific ecosystem's wildlife.
At the northern end of the island, the 1-kilometer long Shimajiri Mangrove Forest is Miyako-jima's largest natural marine forest. This ecosystem's originality is that it developed in a cove, but not in the vicinity of a river, as the island does not have any. There sea water and freshwater of underground springs blend to create the brackish water necessary for a mangrove to thrive.
Despite its relatively small size, the forest harbors 5 different mangrove species, such as Rhizophora mucronata (Yaeyama Hirugi), Bruguiera gymnorhiza (Ohirugi) and Kandelia obovata (Mehirugi). These buttress roots shrubs are usually found on the coastlines of the Indian and Pacific Oceans.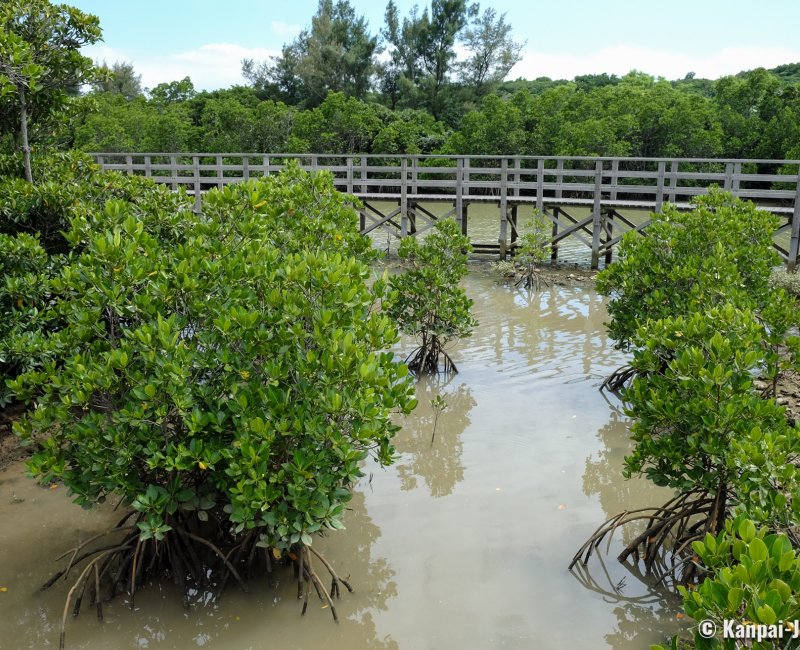 Easy stroll on a raised boardwalk
The mangrove forest was designated Natural Monument of Miyako Island in 2000 and arrangements were made for walking visitors so that they don't damage the site or disturb the wild animals. From a free parking lot, equipped with public lavatories, the path unfolds on a stilt boardwalk and a stone bridge. The walk is pleasant, easy and short: it takes only half an hour.
From their slightly raised situation, visitors can observe the mangrove shrubs and the local wildlife. At low tide, the humid and muddy ground is crawling with small amphibians such as mud-skippers and tiny red crabs that quickly hide in the mud when sensing any unusual movement. The mangrove forest is also attractive for birds and insects that can find an interesting food source in the tropical vegetation. On a side note, and in order to limit insects' bites and stings, make sure to bring an efficient insect repellent when visiting Shimajiri forest.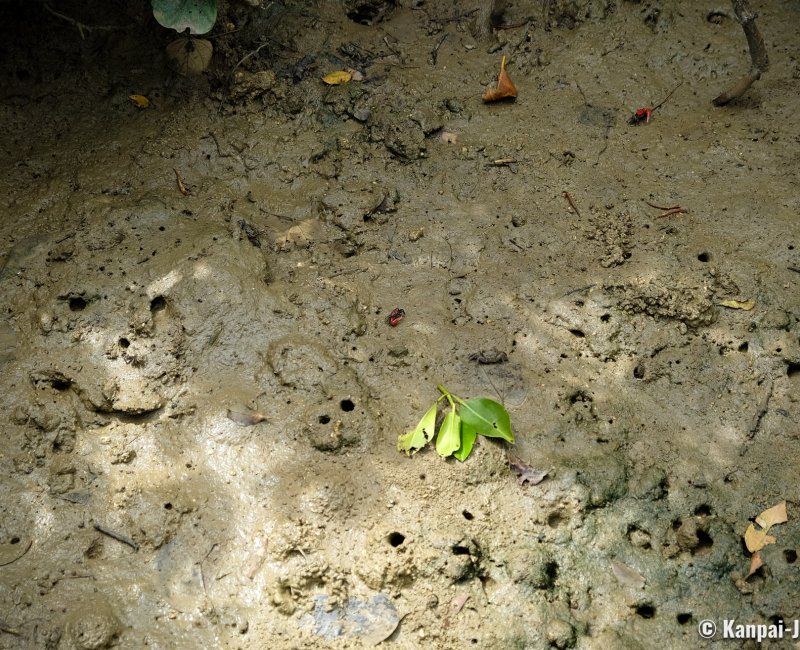 As it is necessary to walk the same way to go back to the parking, we do not necessarily recommend going past the stone bridge, but to turn around there. The nearby Miyako Island Underwater Park is a nice complementary visit and allows to admire fishes living in the coral reef from large underwater windows. Lastly, we recommend mangrove forest amateurs to try exploring the beautiful and wild Iriomote Island, located off Ishigaki-jima in the neighboring archipelago.