Irabu Ohashi Bridge
Miyako-jima's Blue Crossing
Add to my favorite places
Irabu Ohashi is the longest non-tolled bridge in Japan with its 3.54 kilometers long connection between Miyako-jima and Irabu-jima islands. The structure was achieved in 2015 and, akin to a concrete-made sea dragon, elegantly crosses the turquoise water of the archipelago. The sides of the road have parking areas to enjoy the landscape for a little bit longer.
Miyako-jima's scenery is renowned for its bridges connecting the main island to the islets surrounding it while providing a smooth circulation for inhabitants and tourists. Renting a car 🚙 or a motor scooter is advantageous to easily move around Miyako archipelago.
Irabu Ohashi bridge is the latest large-scale work inaugurated in 2015 and connects Hirara Port in Miyako-jima's downtown to the south-east of the small Irabu-jima island on the road 252. Its majestic, streamlined silhouette is one of the iconic views of Miyako. It is impossible to miss and its crossing is worth the detour, especially for those discovering the place for the first time.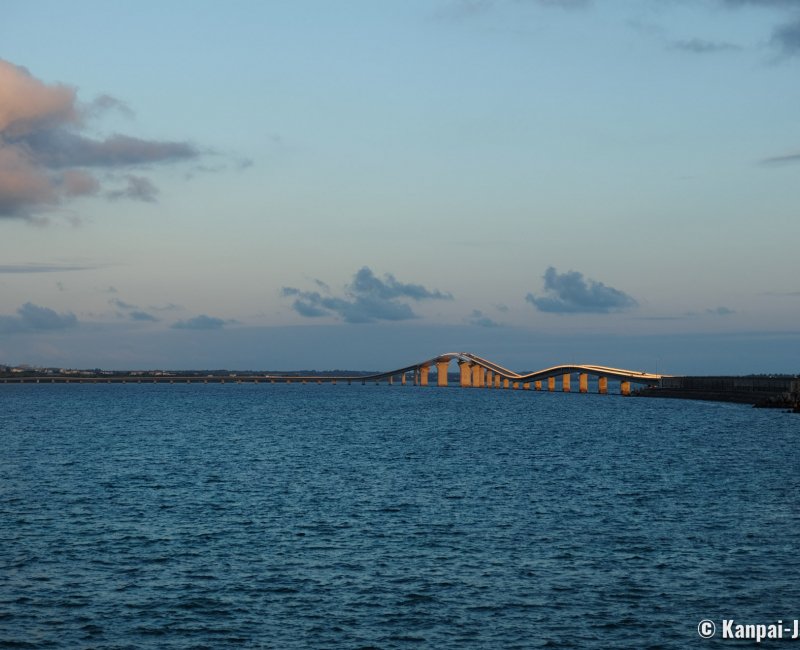 Wave-like construction on the sea of Miyako islands
The bridge matches the geographic features of the site, and its curvy construction seems to be undulating on the turquoise sea, like a modern days' dragon. The structure therefore displays a certain elegance, and its view does not spoil the paradise-like landscape, on the contrary it even gives it a unique character.
Visiting the bridge is recommended on a sunny weather to enjoy to the fullest the wonderful hues of blue of the water and the sky blending together. Amateur photographs should wait the end of the afternoon when the sun rays highlight the concrete structure of Irabu Ohashi bridge. At night, the bridge is a nice place to watch the stars.
Irabu bridge can be crossed at will as it is toll free. The road has two lanes and parking areas on both sides to stop and take pictures in a safe spot or just contemplate the scenery.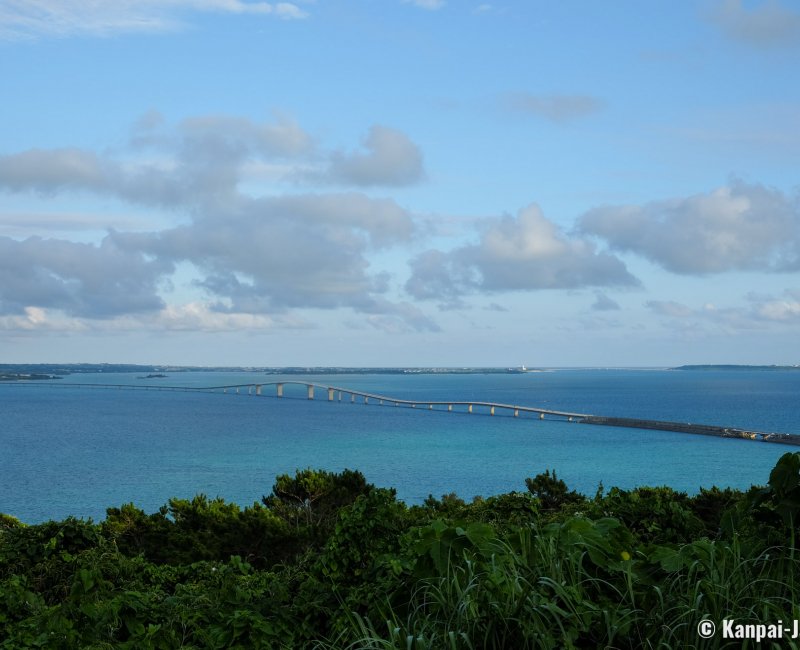 Makiyama Observatory on Irabu-jima
For a higher viewpoint, we recommend Makiyama Observation Deck (牧山展望台), which is standing on a hill near the exit of the bridge on Irabu-jima. The concrete balcony is a few meters high and offers a nice and full panorama on Irabu Ohashi. On a clear weather day, it is also possible to see 2 other great engineering works of Miyako: Kurima and Ikema bridges.
The surroundings of Irabu Ohashi also offer good spots to admire the structure:
An underneath view on Irabu Island's side; or,
A panoramic view from the entrance of the bridge on Miyako-jima.
A new rest area named Irabu Ohashi Umi no Eki was created in 2020. It includes a souvenir shop and a restaurant with a view on the sea and the bridge.