Miyako-jima
🏖 Dream Beaches on a Rural Island 
Add to my favorite places
Miyakojima is the largest of Miyako islands, located 290km (180mi) south-west to Naha, the capital of Okinawa prefecture. Japanese people have made it one of their favorite summer vacation destinations to enjoy sunbathing on the beach and aquatic activities such as diving or snorkeling.
Miyako-jima is the perfect postcard of Okinawa and is an ideal destination to practice dolce far niente on the seaside. The island's wonderful tropical coastlines and its large and beautiful beaches with turquoise water specifically are its greatest and attractive hallmarks. Miyako's somehow flat topography is also renowned for its panoramic view on sunsets, with unobstructed opening on the horizon.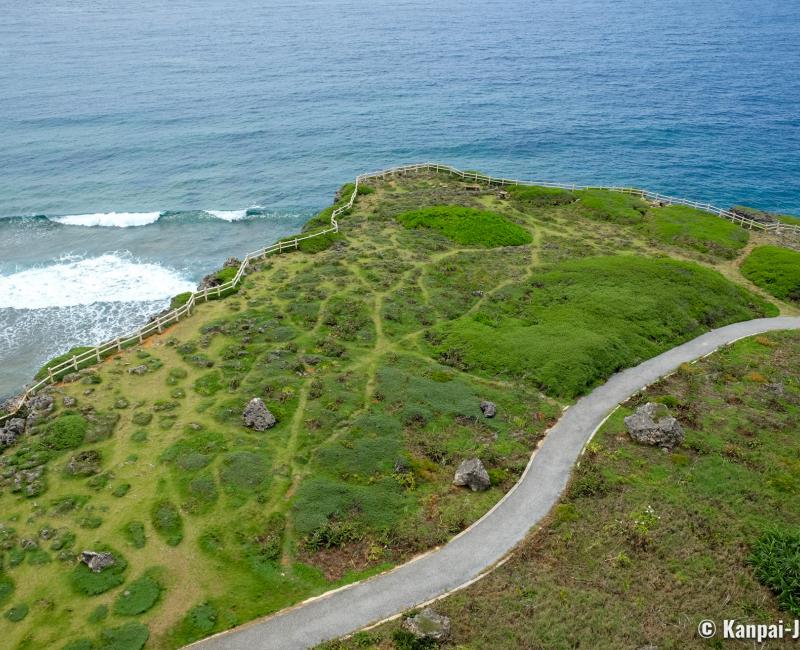 A country island preserved from mass tourism
Beyond seaside tourism, Miyako is an agricultural island and most of its lands are occupied by cultures, and notably by sugar cane fields. Visitors therefore discover a very rural scenery, with few modern urban equipment except for the handful luxurious resorts nestled along the coastline. The roads are dotted with small and quiet hamlets, and the lively city center of the island, named Hirara, spreads around the eponymous port from which most of ferries and boats sail. The port is also located close to the local airport.
It is highly recommended to rent a car 🚙 to move around the island. There is indeed a city bus network, but buses are not very frequent and not very convenient for those who are not used to it. It is also possible to use two-wheeled vehicles such as motor scooters or bicycles, as interesting alternatives for short excursions. The road circles the island, and it is easy to drive around over one day. Distances are short: about thirty kilometers (18,6mi) between the northernmost and southernmost ends of the island.
Local specialties are the same as in other areas of Okinawa archipelago:
Soba noodles,
Wagyu beef,
Bitter gourd dish goya champuru, and,
Hamburgers (due to the U.S. military presence).
The local salt factory Yukishio Salt Museum is open to the visit and sells all kind of products related to salt, available in drinks, seasonings, or ice creams to eat on the spot.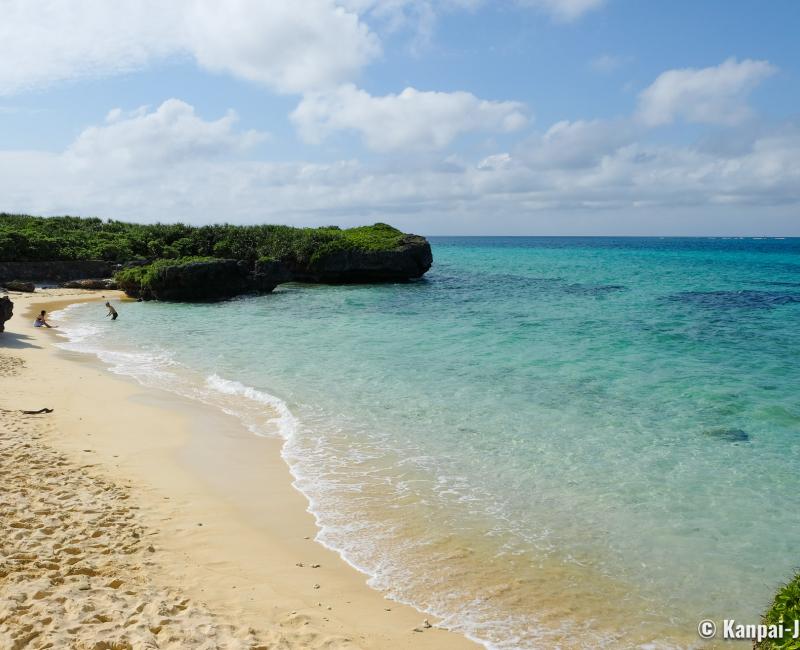 The most beautiful fine sand beaches in Japan
Most of the activities and places to see are located along the coastline. Here is a selection of the most beautiful beaches and rocky capes that are also natural observatories:
Yonaha-Maehama in the south-west, is a large white sand beach, ideal form swimming and water-based sports of all kinds,
Higashi-Hennazaki in the south-eastern end of the island, is one of Miyako's most beautiful landscape, with its rocky cliffs and a lighthouse open to the visit,
Yoshino Kaigan and Aragusuku, in the south-east, are two lovely beaches with shallow waters very suitable for observing aquatic animals and corals with a mask and a tuba,
Nishihenna at the north-western end, is a narrow cape whose charm is somehow impaired by the windmills standing on it,
Sunayama Beach 

🏖

in the north, is a nice sand dunes beach that recalls of a paradise wild land.
Public beaches are free to access, and usually equipped with toilets 🚽 and shower facilities. There is also sometimes an eatery to grab some snack. However, they do not have, or very rarely, supervised swimming area. Panels are displayed to give advice and inform about potential dangers: stings from jellyfish, sea anemone or big venomous starfish. In case of such emergency, call 118.
The ideal vacation day in Miyako includes diving or snorkeling sessions in the morning and relaxing at the beach in the afternoon. Aquatic excursions are generally to be booked in advance and most of the time scheduled on the morning. For example, at Sun Island Miyako, allow ¥18,500 (~US$123.62) for a morning dive, with three 40-minutes sessions at about 17 meters below sea level with the discovery of natural underwater caves or shipwrecks included.
Otherwise, if you want to experience a little bit of the classical Japanese tradition, go to Shigisa Hotel 🏨 to enjoy its outdoor onsen ♨️ hot springs in a tropical ambiance (open from 11 a.m. to 10 p.m.).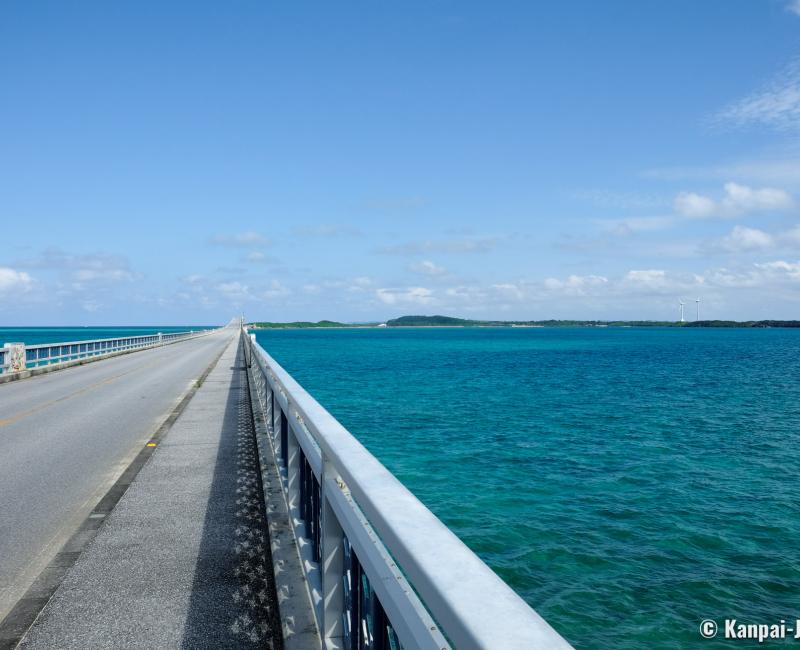 The bridges connecting to the other Miyako islands
Another characteristic landscape of Miyako-jima is its three bridges that cross the deep blue waters of the East China Sea to connect to the smallest neighboring islands:
Irabu Ohashi bridge, towards Irabu and Shimoji islands, quickly accessible from Hirara,
Kurima bridge towards the eponymous island, located in front of Maehama beach; and,
Ikema bridge towards the eponymous island near the northern end of the island.
They are a good getaway from the main island and allow the discovery of even wilder and remoter areas.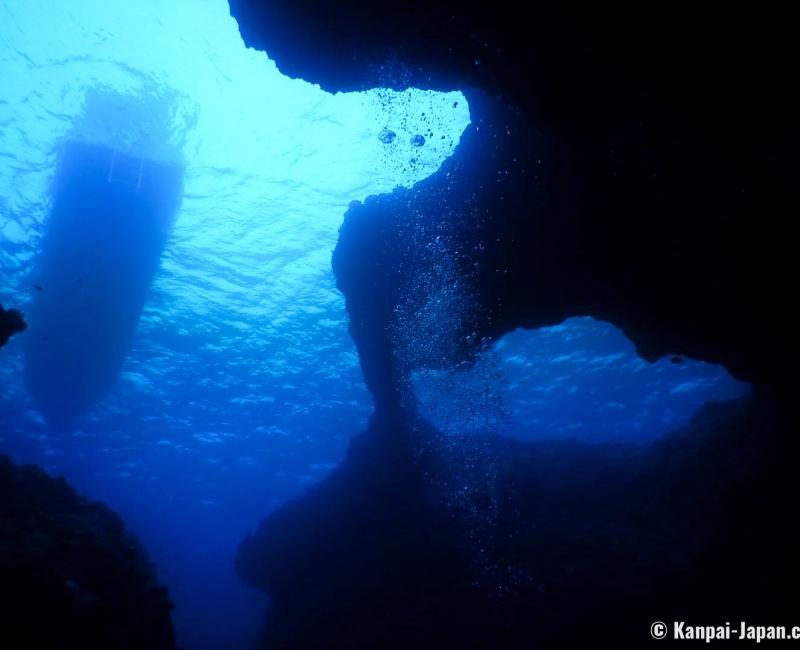 A destination for sun, beach and diving in Japan
There is close to none historical heritage on the island. In Hirara's downtown, there is only one modest Miyako-jinja shrine, and the Grave of the Tuyumya which is quickly explored. It is possible to attend local crafts or cooking workshops but most of them are provided in Japanese only. However, do not hesitate to go to Miyako Island Underwater Park (宮古島海中公園 Miyako-jima kaichu koen) where an immersed glassed walls room allows to watch the seabed and its dwellers. In addition, stroll in the city's botanical garden for a comprehensive discovery of the local flora.
Miyako is naturally best enjoyed under the sun and on good weather days. We recommend avoiding the rainy season ☔️ (from mid-May to late June), and the typhoons 🌀 season (August and September). The many wonderful colors of the island are enhanced by a dominant blue, and hues of green, white, and grey, and will make for a beautiful memory of this little Japanese Eden.