Okunoshima
🐇 Rabbits' island
Add to my favorite places
Okunoshima or Okuno-jima is a small island located in Japan's Inland Sea, attached to Takehara city in Hiroshima Prefecture. Its surface is 70,000 m². It is known for its numerous free rabbits and belongs to Setonaikai National Park.
Cute was not always the best adjective to describe the island. Indeed, it used to be an industrial site, housing an electronic and a chemical plant, producing weapons during WWII. From this not-so-glorious past, only abandoned rabbits stayed on the island. They naturally quickly reproduced, and more rabbits were introduced in the 1970s, so that they are now the main attraction and inhabitants of this small island. About 1,000 rabbits live on the island.
It is possible to stay on the island in a Japanese room with tatami in the unique Kyukamura Hotel 🏨. Then, wander across urban ruins looking for these cute little animals, which quickly appear. We advise visitors to rent an electric bike 🚲 to easily tour the island. However, the access to the heart of the island, and especially its peaks from which visitors can observe a pretty coastal panorama, is closed for an undetermined duration (probably due to the bad weather in 2018). There are no cars 🚙, and only one bus tours very slowly to prevent accidents.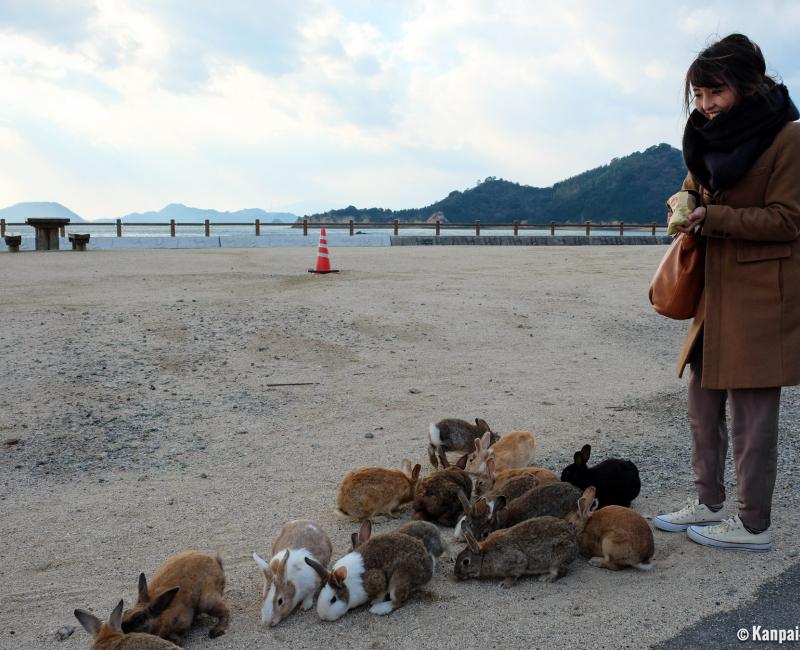 Rabbits are everywhere: They wander on roads, in forests, or inside abandoned buildings. They are wild yet tamed thanks to humans feeding them. The main activity of the island consists of selling food to visitors before they take the ferry ⛴️ back so that they can feed the rabbits, providing the possibility for photos and selfies with the furry friends.
There are strict rules regarding rabbits and the whole island:
No hunting or transporting rabbits;
No touching rabbits on roads, on sidewalks, or in front of the main entrance;
No approaching rabbits' mouths with fingers;
No giving rabbits human food;
No littering;
No releasing domestic rabbits on the island.
Moreover, only authorized food can be given to rabbits so that they do not become sick (and to help the local economy). It is sold at ferry jetties, on the continent side. A pack of food costs about 100 to 200 yen 💴.
Okunoshima can be defined as a pleasant visit between an animal park and walk along the sea, appreciated by families and animal lovers. It is also an interesting destination for sea bathing and camping in summer.
This article was written after a tour organized and sponsored by
Hiroshima
International Tourism Association. Kanpai has been invited and guided but keeps a total freedom of editorial content.