Tomonoura
Ponyo's lovely fishermen's village
Add to my favorite places
Tomonoura is a port town on the shores of Seto Inland Sea, in Bingo, a region located in the south-east of Hiroshima prefecture. The peaceful atmosphere of this fishing port enwrapped in nostalgia and its steep landscapes inspired Studio Ghibli and American cinema.
Tomonoura harbor hosted filmmaker Hayao Miyazaki in 2005, when he imagined the animated movie Ponyo on the cliff by the sea, and also was the shooting set for The Wolverine in September 2012. The place is still appreciated for its old-fashioned atmosphere reminding of Edo period (1603-1868) and symbolized by its iconic Joyato lighthouse.
Under Fukuyama city's administrative jurisdiction, Tomonoura belongs to Setonaikai National Park and offers picturesque views on Seto Inland Sea and its lovely archipelago of rocky islands covered in forest. Its cultural aspect aside, Tomonoura is attractive for this landscape, that can be admired from the port or from the mountainside.
Tomonoura touristic's aspect can be enjoyed with a simple stroll in the village's narrow streets. Wandering from temples to cafés, between wooden houses and local shops is pleasant, and allows to have a taste of a serene way of life, in contrast to many Japanese frantic urban environments.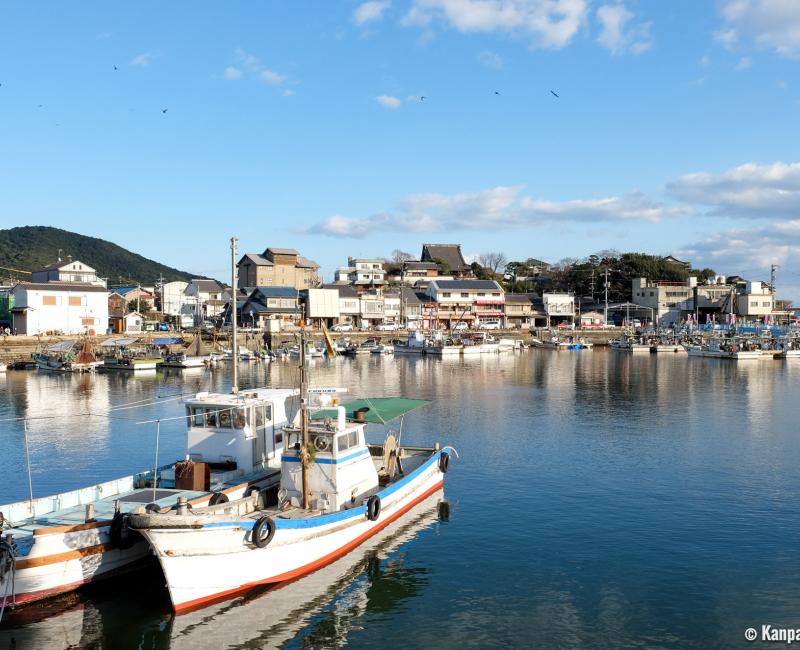 As for the specialty dishes, feel free to try a sea bream freshly fished in the morning. The local sake 🍶 Homei-shu is more of a medicinal liquor to revive when tired or after a cold and is to drink preferably in winter.
Despite its small size, Tomonoura hides several temples and shrines, nestled near water or in the forest. The most renowned is Fukuzen-ji, with its traditional tatami room Taichoro, offering a wonderful view on Benten-jima and Sensui-jima islands, that are accessible to visitors by boat from the port. Moreover, Fukuzen-ji shelters an admirable Maria Kannon Statue, trying to conceal its Christian features in a traditional Buddhist representation to avoid incurring the then anti-Christian feudal power's wrath.
Tomonoura somehow resembles the neighboring Onomichi, and it's quite common for tourists to visit these two places successively on a two-day tour. The sweet souvenirs of these beautiful sceneries remind of an old-fashioned Japan, strongly rooted in today's everyday life despite the advent of modernity in Japanese civilization.
This article was written after a tour organized and sponsored by
Hiroshima
Prefecture's Tourism Information Center. Kanpai has been invited and guided but keeps a total freedom of editorial content.