Shimanami Kaido
The Wonderful Ride on the Bridges of Seto 
Add to my favorite places
Shimanami Kaido is an asphalted road itinerary connecting Honshu and Shikoku Islands in Japan. Completed in 1999, this cycling or walking course strides along Nishi-seto highway and crosses several suspended bridges and small islands of Seto Inland Sea. This sport and open-air oriented excursion offers a rejuvenating breeze of marine air.
Shimanami Kaido is a tribute to island Japan, with wonderful views of the sea and the land intertwining before a mountain ridge background. The itinerary winds on 7 bridges and 6 small islands connecting Onomichi (on Honshu) to Imabari (on Shikoku):
Mukaishima, Innoshima, Ikuchijima in Hiroshima prefecture,
Omishima, Hatakajima and Oshima in Ehime prefecture.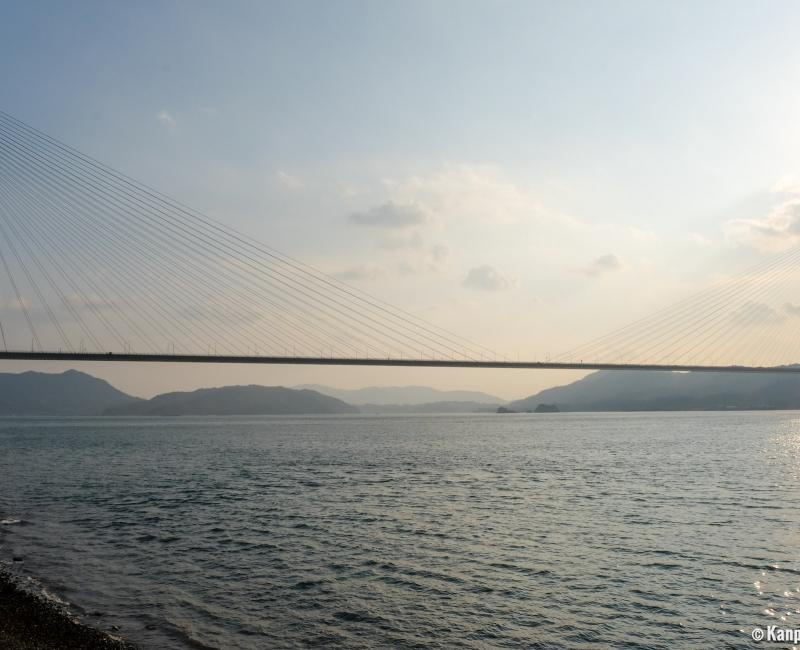 A wonderful cycling course
Bicycle amateurs will be delighted by this cycling course offering several itineraries to chose according to one's athletic level. The 70km long route can therefore be crossed in one or several days. Long-haul travelers may take only their essentials and send their luggage to destination via takkyubin delivery service. Traditional Japanese inns are available on the way for stopovers.
There is no definitive way of riding on the Shimanami Kaido: the public bicycle rental service has established several shops along the road where it is possible to rent or return a bicycle. Moreover, it is also possible to follow the same road by car 🚙 or by boat. Thus, there is no requirement to cycle on a round trip. Even sportive excursions can be easy and comfortable in Japan.
Naturally, warm and sunny days are the best to cycle up the gentle slopes, and cyclists are consequently more numerous on these periods. About 1h is necessary to cross a bridge and an island at a moderate pace. Several types of bicycles are available for rent: we recommend at least a geared bike 🚲 or even an electric bicycle to better enjoy the ride without unnecessary fatigue.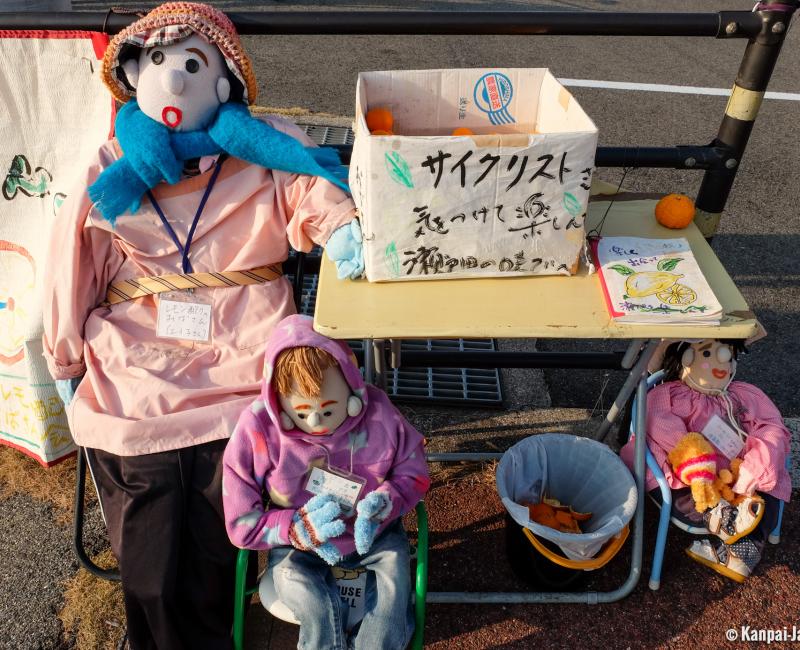 Discovering Seto rural islands
There are plenty of occasions to taste the local specialties. Every so often, on the side of the cycling road, fresh food stalls provide delicacies to eat right on the spot. In this lemon production area, citruses refresh and fuel cyclists' courage to pedal and ride up the bridges. At the top of the slopes, while the wind blows your hair, just stop to take a picture of the wonderful panoramic views on the coasts, and play the 多々羅鳴き龍 tatara nakiryu: wooden chopsticks creating vibrations amplified by the structure when played on the bridge's guardrail.
Fisherman's villages, small ports, beaches 🏖, salterns, temples, a shipyard… The various landscapes encountered offer a nice insight on the quietness of rural destinations, happily forsaken by mass tourism.
This article was written after a tour sponsored and organized by Hiroshima Prefecture Tourism Association. Kanpai has been invited and guided but keeps a total freedom of editorial content.