Mii-dera
The great Buddhist temple complex in Otsu
Add to my favorite places
Mii-dera is a vast temple of the Tendai-jimon Buddhist sect, located on the foot of Mount Hiei in Otsu. It is renowned for offering one of the eight most beautiful views on Omi (former name of Shiga prefecture), the region around Lake Biwa. The temple is also known under the name Mii no bansho, meaning the "Evening bell at Mii."
Mii-dera, originally named Onjo-ji, was founded in 672 by emperor Tenmu in memory of his brother. The site was hugely remodeled throughout the centuries and wars between temples. The last destructions were caused by warlord Hideyoshi Toyotomi (1537-1598) and his successor Ieyasu Tokugawa (1543-1616) committed to rebuilding the temple.
Nowadays, Mii-dera attracts visitors mainly on the beginning of April, when the temple grounds are embellished by the 1,500 cherry trees 🌸 blooming. The surroundings of the temple are especially beautiful, with a flowered walk along Lake Biwa's canal. An observation platform offers a view on the buildings' roofs and the surroundings, up to the Lake. In autumn, the temple is also the perfect viewing spot for koyo 🍁, the reddening maple leaves.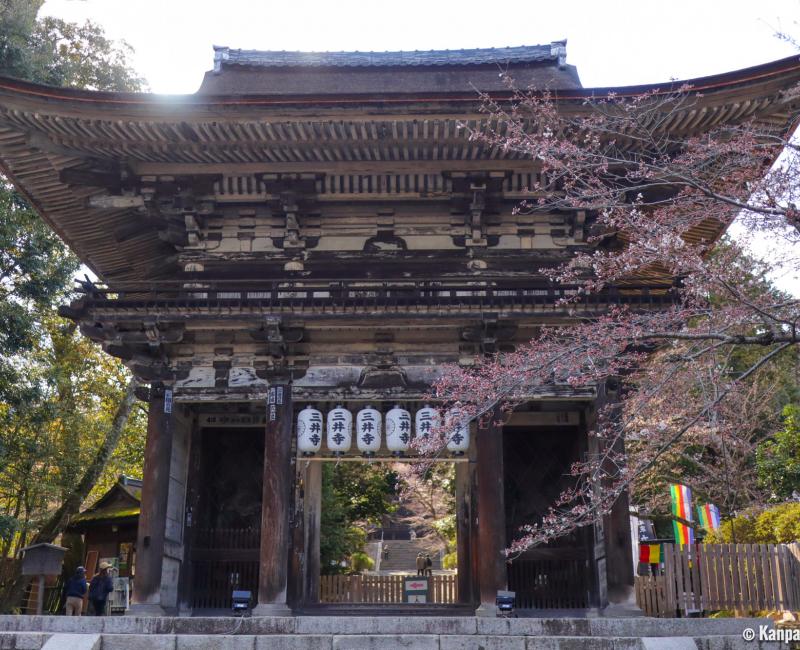 The visit lasts at least one hour, necessary to have a look on all the buildings, whose most important is the main hall Kondo (listed National Treasure of Japan). There are also several pavilions listed as Important Cultural Properties:
Niomon gate, the great entrance to the temple;
Issaikyo-zo, the Sutra hall;
Kannon-do Hall dedicated to the deity, the panoramic view on lake Biwa is visible from its terrace;
Akaiya, shelters the miraculous natural spring that gave its name to "Mii-dera," meaning the "temple of the three wells."
Another historical landmark is the famous bell "Benkei no hikizuri-gane," popularized by the legend of Benkei the warrior monk. As Benkei was in training at the temple, he stole its bell in an angry moment to bring it to Mount Hiei. Once at the top of the mountain, Benkei vigorously hit the bell, which rang "eenoo eenoo," meaning in the local dialect "I want to go back." Dumbfounded, Benkei decided to respect the object's wish and to give it back to the temple. It is said that the trace of Benkei's hit is still visible on the bell.
This pleasant and relaxing visit is mainly an outdoor activity. There is however a small museum exhibiting beautiful fusuma sliding doors, painted and covered with gold leaves. Moreover, for an additionnal ¥1,000 (~US$6.61) per person, visitors can book a session with a Mii-dera monk to learn how to make their own Buddhist rosary.
This article was written after tour sponsored and organized by
Otsu City's Tourist Association
. Kanpai has been invited and guided but keeps a total freedom of editorial content.