Izakaya Tough
The Tiny Hidden Bar in Sasebo
Add to my favorite places
The izakaya Tough is a little bar in downtown Sasebo, in Nagasaki prefecture in Kyushu. The pub settled in one of the former bomb shelters, dug in the rock by the inhabitants during World War II. This original place is a true dive in the city's recent history while having a drink and a good time.
During World War II, cities in Japan were encouraged to built bomb shelters to protect the population from the Allied forces' air-raids. Sasebo was a specific target due to its military arsenal so galleries were excavated in a small mountain of the center of the city, therefore easily accessible for the inhabitants. In 1945, about 60% of Sasebo harbor was destroyed by bombings. People who sought refuge in the galleries survived and lived there while they were reconstructing their burnt down city.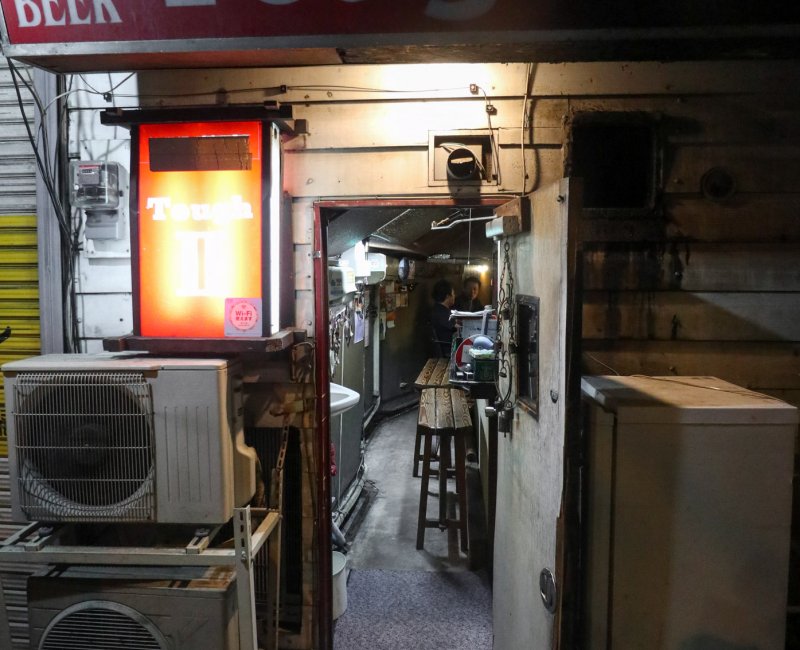 Bomb shelters converted in yokocho
Nowadays, this bomb shelter village still exists, and the inhabitants call it Ton-neru Yokocho, the "backstreet tunnels". This little alley, very typical of Japan, is stemming perpendicular to the main street, and serves several shops: bars, eateries or boutiques that settled in 6 to 16 meter-long, tight and windowless tunnels. These very narrow and long spaces can't even accommodate two persons side by side and the very low ceiling enhances the shrinking feel. Claustrophobic beware!
With the neighboring Tono-o Market and its flavors of Sasebo cuisine, Tonneru Yokocho is one of the most surprising places to go out in Sasebo, for Japanese as well as international tourists. As a matter of fact, this one-of-a-kind yokocho is a testimony of the inhabitants' will to live and recover from the fire 🔥 and destructions after the war.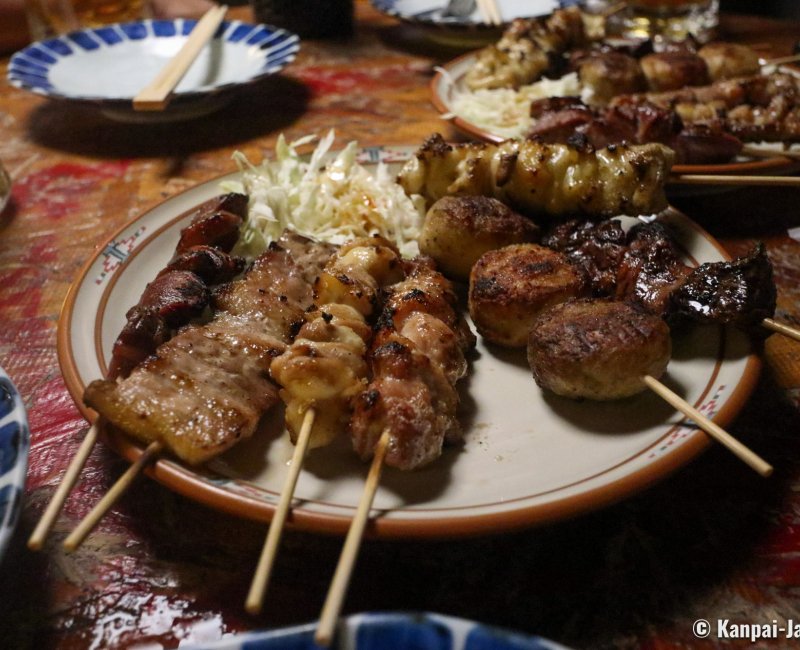 A bar equally narrow, friendly and good
Among the bars at the yokocho tunnel, we choose the izakaya Tough, settled in a bomb shelter since 1993. With its small red sign and its almost invisible door, this bar is like a time capsule. Once inside, it is easy to imagine the life conditions at the times, and mementos of the war still appear in carefully selected decorative objects.
Regarding food, the izakaya serves the classical Japanese grilled meat skewers yakitori, as well as more "Westernish" dishes such as chili con carne or seasoned beef balls with teriyaki sauce.
You might not feel at ease in the beginning, but after a few minutes speaking with the waitress, you will come to realize the atmosphere is friendly and joyful. To the point that one forgets the stuffy aspects of the architecture to enjoy an evening with a handful of happy few, chatting while drinking a fresh beer 🍺.
This article was written after a tour sponsored and organized by
Tokyo
Metropolitan Government
#
KYUSHU
×TOKYO. Kanpai has been invited and guided but keeps a total freedom of editorial content.