Hana no Mai Edo-Tokyo Museum Mae Izakaya
The Chanko-Nabe Restaurant in Ryogoku
Add to my favorite places
Hana no Mai Edo-Tokyo Museum Mae is a bar and restaurant located under the railway of the Sobu line, next to the Edo-Tokyo Museum in Ryogoku district. While enabling the mingling of tourists and locals, the place offers a pleasant atmosphere for trying chanko-nabe, the sumo wrestlers' traditional hotpot.
Hana no Mai is a chain of izakaya, the typical Japanese pubs where friends gather for a drink and sharing delicious dishes. Usually, these convivial places are only opened in the evening and do not provide full restauration services. However, Hana no Mai Edo-Tokyo Museum Mae, in Tokyo's sumo wrestlers' district, is opened from lunch time to dinner.
This address is ideal to taste the famous chanko-nabe, the traditional staple food of the sumotori. Their high-calorie diet and the mandatory after-meal nap are designed to help them build up fat and gain enough weight to challenge other wrestlers in national tournaments.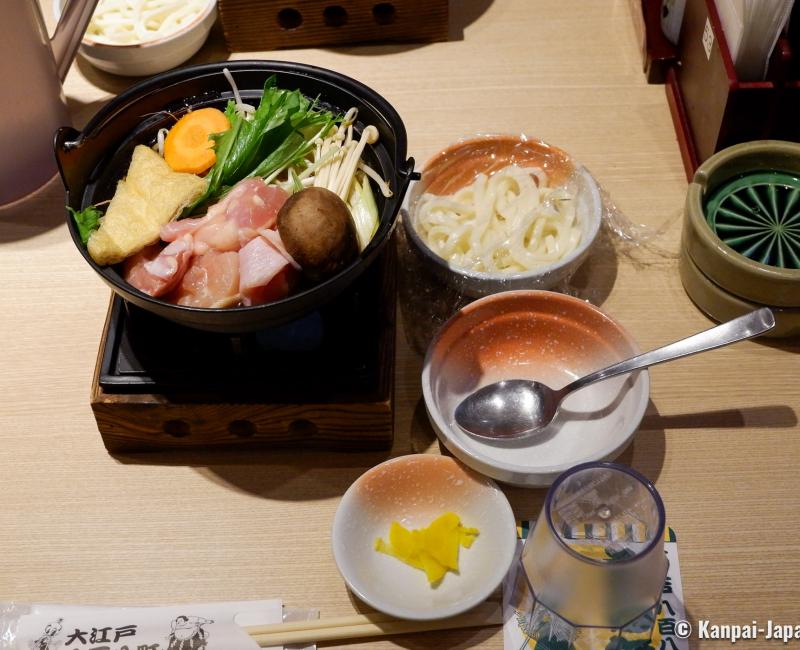 The traditional recipe of chanko-nabe
Like a fondue or a Japanese hotpot, the chanko-nabe recipe is rich in proteins, quite simple to cook but requires a time-consuming preparation. A large quantity of ingredients is indeed necessary, such as meat, fish (or shellfish), and vegetables, that must be sliced beforehand, for example:
Chicken,
Prawns,
Chinese cabbage,
Daikon white radish,
Leeks,
Carrots,
Mushrooms,
Mung bean sprouts,
Firm or fried tofu.
A broth made of soy sauce, dashi and mirin (cooking sake 🍶) is prepared in the meantime. The ingredients are immersed one after the other in this broth for simmering, starting by the meat and the vegetables that are the longest to cook. Chanko nabe is ready to eat when all the ingredients are tender and piping hot. A rice or noodles bowl can be served on the side, as well as a plate of tempura fritters for the heartiest appetites.
At Hana no Mai Edo-Tokyo Museum Mae izakaya, clients cook their ingredients themselves, in a traditional Japanese cooking pot named nabe, put on a small table stove. It makes a very convivial dish to share with friends. Once the ingredients are cooked, one scoops them up with the wooden ladders provided, and pours them – meat, fish, and vegetables – with a little bit of broth in an individual bowl to eat. Japanese beer 🍺 is the popular drink to pair with this meal.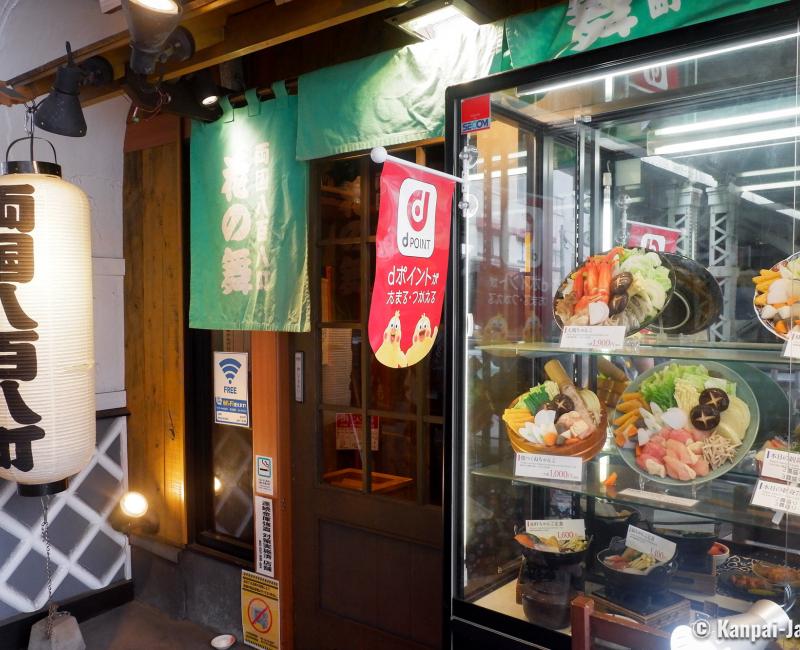 The traditional plebeian atmosphere of the old Tokyo
The restaurant's room is typical of the simple and popular eateries in Japan, with large tables arranged like a cafeteria, and private spaces for small groups or single customers. The decoration is themed on Ryogoku district, sumo wrestlers with several paintings of them adorning the walls, or reminding the Edo period (1603 – 1868) when Tokyo was the feudal capital of the shogun. Traditional songs are played in the background and a few small televisions broadcast the latest matches.
Among the tables, the arena for sumo wrestling has been reconstituted. It was built to the official dimensions required by the Japanese Sumo Association (Nihon Sumo Kyokai) and is frequently hosting sumo shows very similar to those of the national competitions. On the weekends, and especially Saturday evenings, demonstrations of traditional Japanese wrestling thus take place in the middle of the restaurant Hana no Mai Edo-Tokyo Museum Mae. Customers come to have dinner or just a drink while enjoying sumo wrestling matches. Other shows are also held each month such as traditional songs concerts or performances inspired from Japanese folklore.
In Western countries, fondues or hotpots are often seen as comfort food ideal in winter. However, chanko nabe is served all year round, and in several variations and sizes to accommodate all tastes and appetites. Even more than for the good taste of the food, this restaurant is recommended as it is affordable, located near Edo-Tokyo Museum and offers a convivial atmosphere that is ideal for groups.