Sumida Park
Along the Sakura River in Asakusa
Add to my favorite places
Sumida Park is a green space on the eponymous river side overlapping Taito and Sumida wards in the heart of Tokyo. It is a very popular walk in spring thanks to its hundreds of light pink cherry trees, whose blossoms can also be admired when cruising on the river.
With few others such as Shinjuku Gyoen and Ueno Park, Meguro River or Chidorigafuchi, Sumida Park is one of the most popular places for visitors to admire sakura 🌸 (cherry blossom) during their short flowering in the spring.
What is called "Sumida Park" includes the aisles located on both banks of the eponymous river, which runs through the heart of Tokyo towards Odaiba. It is located only a few dozen meters from the famous Senso-ji, the great temple of Asakusa so popular with tourists (and sellers of all kinds).
The walk in Sumida-koen has the merit of providing a significantly less confined perspective, which spreads over several hundred meters. Certainly, urban style is not magically avoided all around it, as shown by these bridges crowded with traffic or the inevitable Tokyo SkyTree nearby. But, filled with Yakatabune (restaurants on the water) or short cruises (like Himiko), the vastness of the Sumida-gawa offers a very valuable aquatic lung.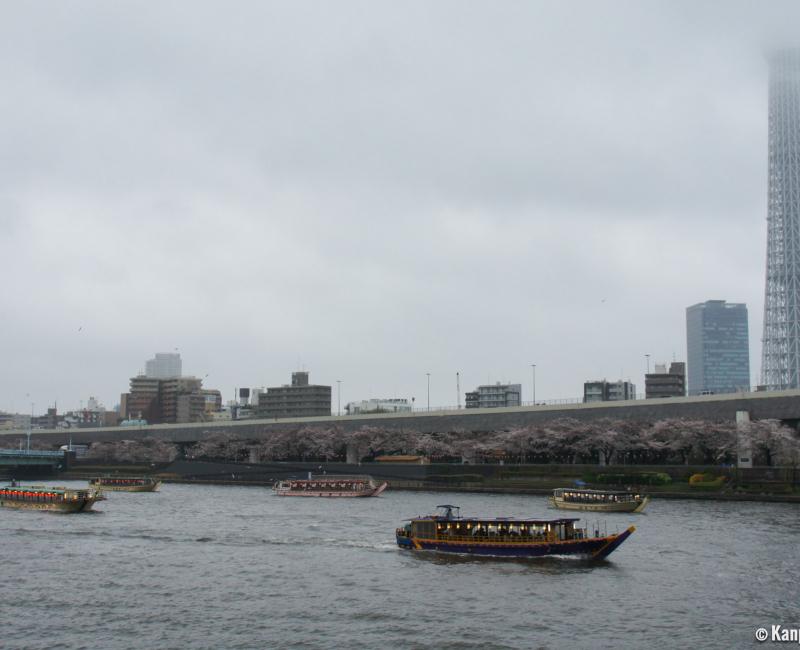 Photos accompanying this article were taken during a (very) rainy ☔️ early afternoon, but in normal times and at this level of flowering, crowds flock at Sumida Park to stroll under the cherry trees. In early evening, some sakura are also lit up to enhance the experience.
Note that fireworks 🎆 are also shot on the last Saturday of July, attracting again many (many) onlookers.