Tokyo Dome
Baseball Mecca and Thrilling Rides
Add to my favorite places
Tokyo Dome is a stadium located in Bunkyo ward in the north of Tokyo. It can shelter up to 55,000 spectators, especially for baseball competitions. Attached to the stadium is Tokyo Dome City, an entertainment facility including an amusement park and a shopping center.
In the same fashion as Kokugikan for Sumo, Tokyo Dome is THE arena for baseball matches and international tournaments in the capital. Inaugurated in 1988, it is one of the oldest covered stadiums in Japan, and an iconic place for baseball, the national sport in the archipelago despite its American origins.
Baseball fans can visit Toyo Dome any time: the stadium museum and the Yomiuri Giants official shop are open all year long.
The recent building Meets Port offers several event venues, among which Korakuen Hall is set with a ring for boxing and martial arts tournaments, a theater and even a concert hall.
Tokyo Dome City
Tokyo Dome City, a little town dedicated to entertainment, took roots around the stadium. The most famous of its buildings, LaQua, is divided in several parts: an amusement park, a spa and a shopping mall.
The thrilling rides are of course what strike the visitors first, as well as their passengers' screams. The Ferris wheel "Big O" and the famous roller coaster "Thunder Dolphin" are intertwined together and with the surrounding buildings, creating a unique modern structure.
LaQua's first floor is dedicated to water attractions:
A 13-meters high waterfall,
Water Symphony, a fountain synchronized with music shows, and,
An original shooting game, in immersion under the sea.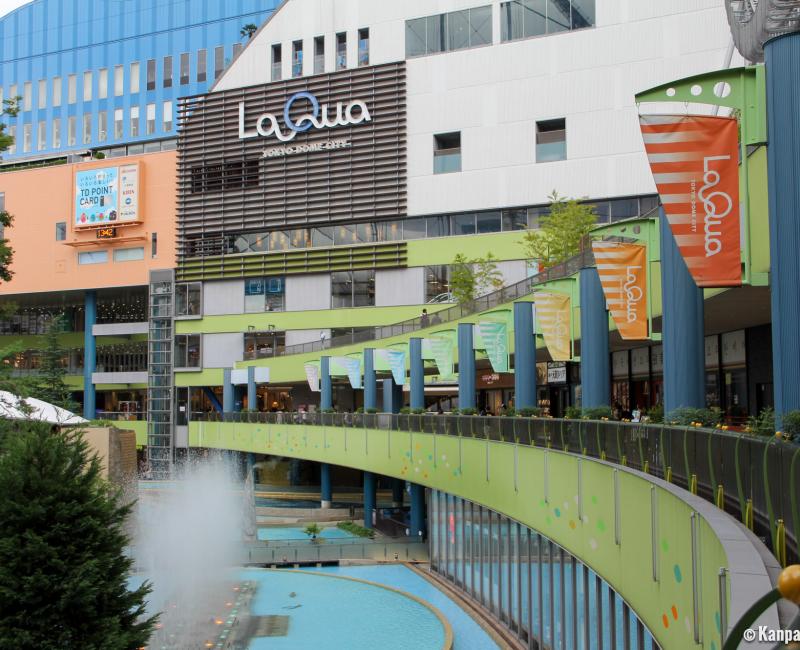 The spa is one of the largest onsen ♨️ resort in Tokyo. Water is taped from a natural hot spring 🌸 located 1,700 meters underground, and the spa offers a wide range of skincare and traditional relaxation, including an outdoor bath. However, it is recommended to go on a weekday to avoid the crowd and the additional fees applied on weekends.
A plethora of fashion shops, restaurants, cafés, and tea rooms are an invitation for visitors to stay a full day, inside or enjoying the terraces.
Tokyo Dome City's real asset is the variety of its attractions, indoor as well as outdoor, to have fun with friends or to bewitch (and rejoice) children. In total, five universes are open to discovery:
LaQua,
Parachute,
Viking,
Geopolis, and
Splash Garden.
There is no room for culture-oriented tourism, it is all about classical and universal entertainment.
The price ranges are as flexible as intricate. There is no entrance fee, but attractions are charged, either individually or by a combined ticket, whose prices vary according to the terms of use.
As in most of amusement parks, a longer stay is possible thanks to a judicious accommodation offer at Tokyo Dome Hotel 🏨.