Ushi-Tenjin Kitano-jinja
The Hidden Shrine of Weeping Plum Trees 
Add to my favorite places
Ushi-Tenjin Kitano-jinja is a small Shinto shrine located in Bunkyo ward, in the north of downtown Tokyo. Close to the famous Koishikawa Korakuen, it is especially beautiful during the plum trees blooming season in February. The place is a nice off the beaten tracks discovery when visiting the capital, neglected by tourists as it is not easy to reach.
Ushi-Tenjin Kitano-jinja's origins date back to the 12th century, after Sugawara no Michizane, a great man of letters deified as Tenjin, appeared to Minamoto no Yoritomo (1147 - 1199) in a dream. As he was seating on an ox, Michizane foretold two fortunate events would befall Yoritomo, which became reality the next year. Yoritomo thus decided to build Ushi-Tenjin Kitano shrine as an expression of his gratitude to Tenjin.
The shrine is not easily found, even though it is in the center of Tokyo, which adds to the pleasure of its visit. It is a confidential place that could be discovered by chance while wandering in the residential areas of the capital. The stone and wood entrance is discreet, with only a sign written in kanji characters. Then a steep stairway leads to Ushi-Tenjin Kitano-jinja's plaza.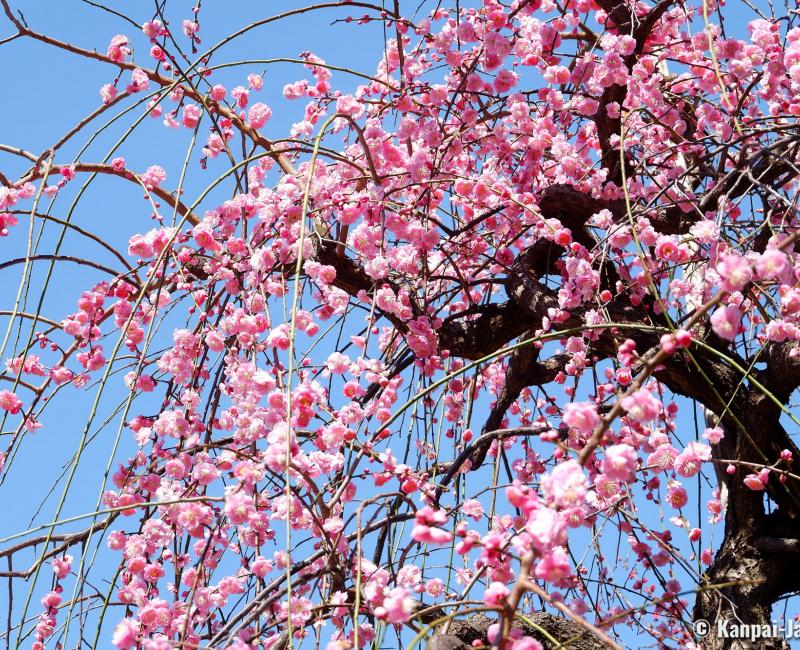 Oxes and plum trees: Michizane's attributes highlighted
The sacred enclosure is of a small superficies, and many arrangements details add to its charm, especially:
Two crouching statues of oxes (Tenjin's messengers) siding the shrine's main hall,
The wooden panel used to tie the omikuji papers to ward off ill luck is shaped as an ox,
The ema votive plates are particularly beautiful, with drawings of plum flowers and oxes.
In February and until early March, Ushi-Tenjin Kitano-jinja's grounds are beautified by the blooming of plum trees. The stairway is sheltered by beautiful pink and red plum flowers. Then the main hall is surrounded by wonderful weeping plum trees shidare ume. During the festival Ume matsuri, events are held on the weekend, such as tasting of amazake (a sweet soft drink made from fermented rice) or traditional Japanese deserts made with plums.
Ushi-Tenjin Kitano-jinja is a relaxing break between more touristic sites, such as the large Koishikawa Korakuen garden or Tokyo Dome City amusement park, at a stone's throw away.