Kagurazaka
Tokyo's French Neighborhood
Add to my favorite places
Kagurazaka is a small area surrounding Iidabashi station at Shinjuku's easternmost part next to Chiyoda ward, in the center of the Japanese capital. It is famous for sheltering a large French community, with many typical French stores and eateries. Kagurazaka's traditional streets yokocho are also remains of its feudal past in relation with the Geisha of Tokyo.
Kagurazaka Hills, a long avenue and heart of the neighborhood, is a good place to start the visit. As its English names implies, the street unfolds on a soft incline lined with a succession of restaurants and shops on about a little bit more than one kilometer. Thanks to its low-rise buildings, the trees growing along the road and quite narrow sidewalks, Kagurazaka's area oozes a pleasant provincial warmth. An additional interesting point for pedestrians: the street is closed to car 🚙 traffic every day during lunchtime as well as on Sundays and holidays from noon to 8 p.m.
Midway through the street, opens the entrance of Zenkoku-ji, the neighborhood's Buddhist temple. It was founded in 1595 and is affiliated to the Nichiren sect. Bishamonten, a god regarded as the protector of warriors and one of the Seven Lucky Gods associated with fortune in battle is worshipped. Higher on Kagurazaka-dori, Akagi shinto shrine tops the area. It was completely renovated in 2010 under the direction of famous architect Kengo Kuma, and now offers its visitors a unique modern setting associating glass and wood. A small café in its grounds welcome customers for a refreshing break before continuing the exploration.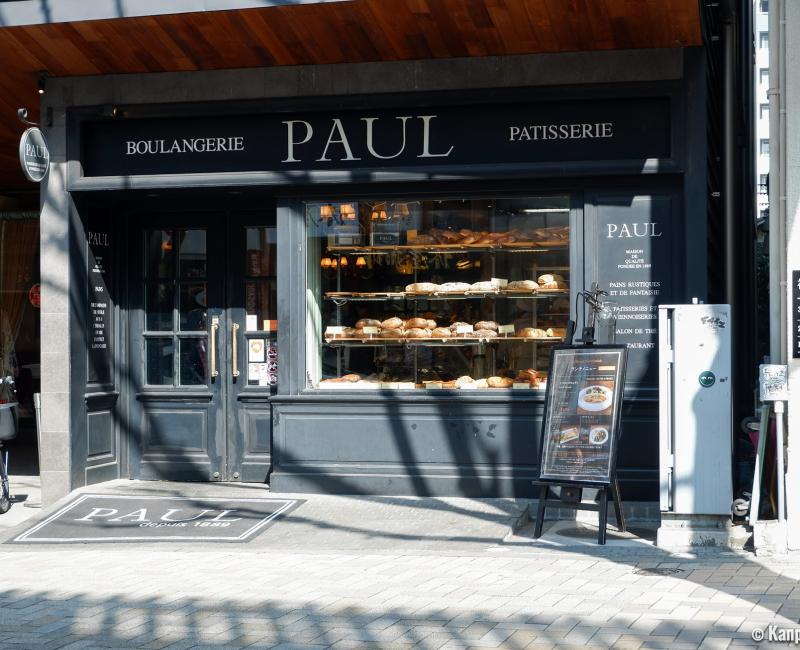 Regional French food on display
The neighborhood's soul is hidden in the backstreets. It would be a shame to miss them as the real interest of Kagurazaka lies in these timeless adjacent alleys. Partly thanks to the vicinity of Institut français du Japon and Omeisha French bookstore, a large French community has settled in the area. Many storefronts are appealing to French expatriates and display regional decoration or specialties. There are, among others:
Lugdunum, a small attractive eatery with a refined cuisine from the city of Lyon and an early 20th century decoration,
Bretagne, serving water-mouthing galettes with cider, and its well-stocked delicatessen shop,
Coquillage, a small restaurant with a large array of French dishes,
Maison de La Bourgogne, a wine bistro, ideal for an aperitif with friends.
There are of course many other French shops and eateries and homesick French expatriates are welcome to further explore.
The discreet presence of Tokyo's Geisha
Kagurazaka is also one of the six hanamachi (Geisha districts) of Tokyo still in activity. The cultural tradition can be sensed in the labyrinth of narrow cobbled alleys of the area that are named yokocho. Old-fashioned Japanese buildings shelter ryotei, the luxurious traditional style restaurants where Geisha perform upon appointment. Lucky travelers may encounter Geishas at nightfall when they go their evening engagement.
Another local institution is particularly well hidden: the sento Atamiyu, a neighborhood public bath renowned for its Mount Fuji 🗻 mural painting that amazes its customers.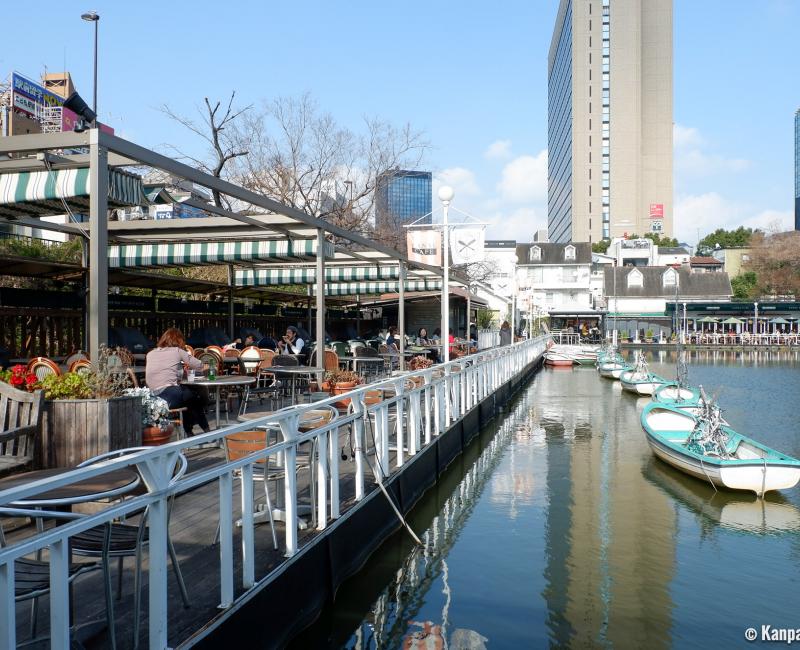 A detour in the former moats of Edo Castle
At the foot of Kagurazaka-dori's slope, not far from Iidabashi station, stop by Canal Café. Built on the bank of the canal (that was part of the Tokugawas' castle 🏯 moats) the brasserie-restaurant spreads out its large terrace above the water on clear weather days. This type of layout is rare in Tokyo and this outdoor atypical relaxing area invites to sunbathing and enjoying a quiet moment temporarily suspended for the noises of the city.
The walk in the French neighborhood ends when reaching the heart of Chiyoda. Ushigome Bridge (very beautiful under the cherry blossoms in the beginning of spring 🌸) crosses the canal and connects to Tokyo Daijingu shrine. The place of worship is renowned for traditional Shinto weddings, and its beauty is sure to please visitors who can even attend to the many daily prayers performed by the priests.
Kagurazaka is frequented by French cuisine craving gourmets. Note that prices can be expensive, and are naturally higher than in France. Despite an international front, the old traditional and luxurious district, a stone's throw away from the imperial power, is still discretely alive and await visitors who understand the sober refinement of authentic Japanese façades.
On a side note, the main neighborhood's matsuri is held every year in late July and includes Awa-odori dance performances.