Kanda Myojin
The Great Akihabara Shrine
Add to my favorite places
Kanda Myojin is a glowing ancient Shinto shrine, located in the north-east of Chiyoda ward in Tokyo. Sit atop of a hill, it offers a pleasant spiritual break amidst the bustling urban Japanese capital. The very important and popular Kanda Matsuri festival is held every two years, around mid-May.
Kanda Myojin is a stone throw away from Akiba and generally presented as Tokyo electrical and otaku city's shrine. However, geographically speaking, the shrine is actually located in the more central Chiyoda ward, specifically in Kanda district, and its access is easier from Ochanomizu. The place offers a marked contrast with the somehow bobo area surrounding it.
Founded in 730, the shrine went through a tumultuous history, as many in Japan. Initially built in Shibasaki, near Otemachi, it was moved in Kanda area in 1603 at the beginning of Edo period, then again in 1616 to its present location on a hill. The main pavilion was destroyed by the Great Kanto earthquake in 1923, and rebuilt in concrete in 1934, which allowed it to withstand the incendiary bombs during WWII.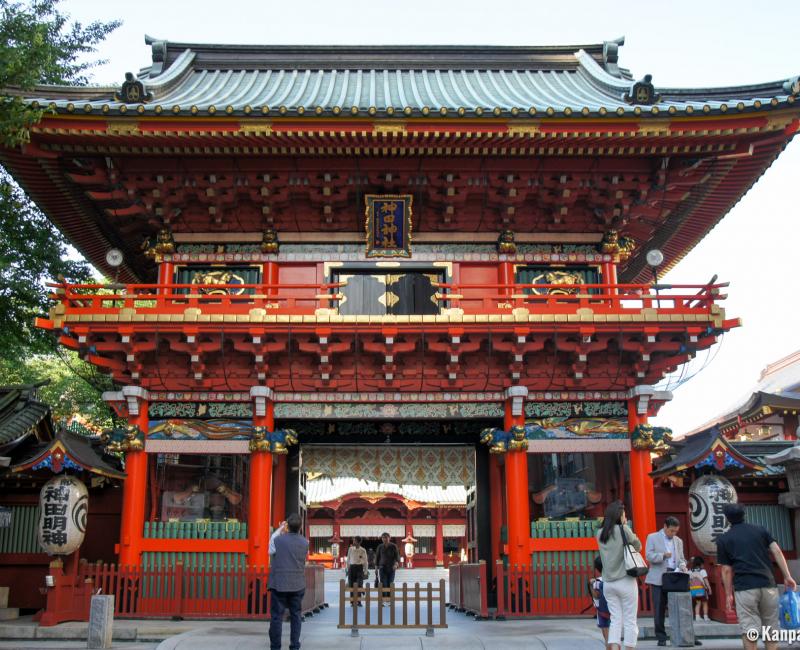 Kanda Myojin's main entrance, Zuishin-mon gate, was rebuilt in cypress wood on two levels in 1995. The shrine was initially dedicated to protecting Edo's inhabitants, and three kami deities were enshrined:
Daikokuten, god of wealth and trade;
Ebisu, popular protector of fishermen and businessmen; and,
Taira no Masakado, an important 10th century samurai, who was deified after his death and whose tomb is located near the initial location of the shrine in Otemachi.
Video games and manga related events
Thanks to these three gods, Kanda's shrine is particularly appreciated by salarymen and businessmen working in the district. Its attractiveness is enhanced by its neighboring situation with Akihabara to the point that the ema wooden plates used to write a wish to the gods display manga drawings. Even lucky charms are designed to please IT fans, with computer chips shapes! Allow ¥1,000 (~US$6.78) for this unusual souvenir.
Recently, various events in connection to the Japanese popular culture were staged in Kanda Myojin:
Due to the Coronavirus pandemic in August 2020, the shrine's Noryo Matsuri festival was held online… in the Switch game Animal Crossing (see the video below);
Festivals and celebrations
Kanda Myojin is usually a very quiet place, a haven of peace in such a vibrant neighborhood. There are however four notable occasions on which this peaceful atmosphere is disturbed.
First for Kanda Matsuri, one of the three biggest festivals in Tokyo since 1600, held every odd-numbered year, during a weekend in mid-May. Kanda Myojin is the starting point of the processions.
Then, around January 6 each year, people come to pray for success in business for the coming year.
Daikoku Matsuri shortly follows, a little bit before mid-January each year, during three days.
Lastly in November each year, the more informal ritual celebration of Shichi-go-san is dedicated to children.