Tokyo National Museum
The Largest Art Collection in Japan
Add to my favorite places
Tokyo National Museum is a complex gathering several exhibition halls, located in Ueno, in Taito ward in the north-east of the Japanese capital. Inaugurated in 1872, it is the oldest national museum in the archipelago. It also shelters the highest number of National Treasures and Important Cultural Assets of Japan in the same place.
Tokyo National Museum (or TNM), as a classical cultural visit, proposes visitors a chronological course to discover the evolutions of arts throughout Japanese civilization's long history.
Five great exhibition halls
The various collections are dispatched between five exhibition halls, built in a large Japanese garden dotted with a couple of tea houses of traditional architecture.
Honkan: the main building and the oldest, inaugurated in 1938, was listed as an Important Cultural Asset in 2001. It houses the largest gallery of the museum, dedicated to Japan and its artistic refinements from Antiquity to Edo period. The collection focuses on the diversity of exhibited artworks (kimono 

👘

, porcelain, armor, sword, calligraphy, etching, etc.) rather than on quantity. The inner space is vast, and the circulation is easy. The displays encourage contemplation: very few artworks are exposed in each room, and the numerous seats invite visitors to become spectators.
Heiseikan: is another space dedicated to Japanese art, with an archeological approach, and rooms displaying artefacts and earthenware dating back to Jomon and Yayoi prehistorical periods, as well as the first historical eras, Kofun and Asuka, among others.
The Gallery of Horyuji Treasures: renovated in 2016, this modern exhibition hall shelters a cultural and historical heritage of prime importance. More than 300 treasures from Antiquity were donated by Nara's Horyu-ji temple to the Imperial family, and are exhibited for the greatest delight of art amateurs.
Toyokan: this gallery is dedicated to Asia and exhibits permanently artworks and craftworks from China, Korea, and Central Asia up to continental Asia's western borders.
Hyokeikan: is characterized by its green dome, this last construction of western style architecture is also listed as an Important Cultural Asset. It is not opened to visit beside some specific events.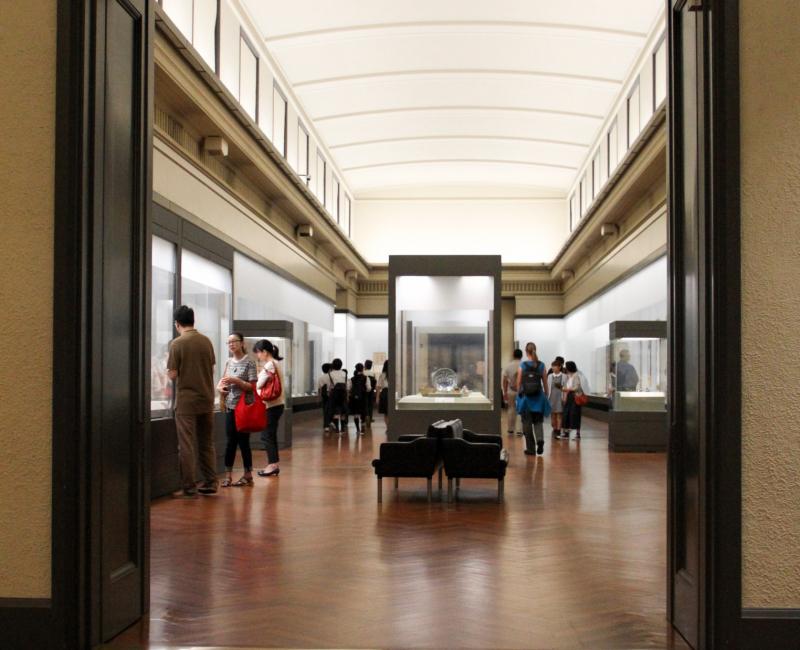 A visit aimed at connoisseurs
Visiting Tokyo National Museum requires a minimum knowledge of Japan's history. The exhibition is indeed, mirroring Japanese aesthetics, refined and scarce on the staging as well as on explanations about artworks. We can thus regret the lack of comprehensive English translation for important calligraphies or scrolls. The information displayed is often reduced to the bare minimum: author, period, and materials.
The vastness of the complex requires time to explore the collections, and includes restaurants to eat on site, food stalls as well as more traditional restaurants offering a wide range of dishes at affordable prices. The museum entrance fee, despite its price, is quickly rewarding considering the importance of the collection. The museum's shop, however, sells some very pricey souvenirs.
In the same area, we also recommend visiting the National Museum of Nature and Science, or Tokyo Metropolitan Art Museum.